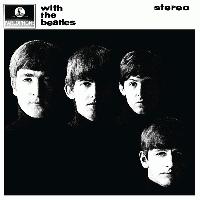 Release Date: 1963 | Tracklist

After the happiness and overall lightweight "Please Please Me," The Beatles came out with the darker, bleaker, and altogether more serious "With The Beatles." Why, might you ask, is the album darker" Well, there's a lot more John here than Paul, and after all, Paul was writing much more lightweight and bouncy music at this point, as opposed to John's darker and less optimistic material, giving the album an overall darker mood. Of course, there's also the dark album cover with the black and white photo and each Beatle sporting a frown, as opposed to the happy faces on their previous album, which points towards the band's growing seriousness.

However, it was not just seriousness that was improving. The band also showed huge improvements in songwriting, showing that they were much more confident in their originals by starting the album with five consecutive originals, all of which are excellent except for the disappointing "Little Child." "It Won't Be Long" is an urgent rocker that's superior vocally, and "All I've Got to Do" is a great ballad which features a great vocal from John. After that is the album's best track, "All My Loving" which was one of The Beatles most melodic songs of the period, as well as George's first composition in the surprisingly excellent "Don't Bother Me." The three other originals aren't quite as good, with "Hold Me Tight" being the weakest of the three, but "I Wanna Be Your Man" features a great vocal from Ringo and a catchy chorus, and "Not a Second Time" features a great lead vocal from John.

Like "Please Please Me," there are six cover songs, and although they pale in comparison to the originals, they are still mostly good. "Till There Was You" is the first cover, and it's probably the best, featuring great acoustic guitar playing from George. "Please Mister Postman" comes after that, and it was certainly an odd choice for a cover. Although it features great group harmonies, The Beatles cannot improve it enough over the original to make it good. "Roll Over Beethoven" is the next cover, and although it is a good performance, the song would have been better suited for John to sing. However, the rest of the covers are very good. "You Really Got a Hold on Me" is an atmospheric song, "Devil in Her Heart" features great singing, and "Money" features yet another great vocal from John.

Although The Beatles were still prone to having filler on their albums, this album proved that The Beatles were quickly improving as songwriters, and remains one of The Beatles better albums from their early period ("Please Please Me"- "Help!").