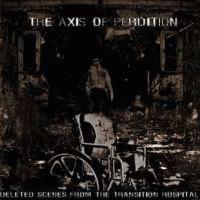 Release Date: 2005 | Tracklist

Album name: Deleted Scenes From The Transmission Hospital

Well where do I begin, this band are simply fantastic! I cant really compare it to anything apart from visuals. Think Silent Hill, mental asylums, the dark, dying, trapped, isolated, claustrophobic, then imagine (if you can) what this sounds like. This is what deleted scenes from a transition hospital sounds like. This is the shape of atmospheric music to come (in my eyes). I have read in magazines that this band are black metal, but I would say its far too advanced to be what most people consider black metal. There is black metal elements there, and definatly a black metal musical ideology to create a dark, fearful and inhuman atmosphere.I think the concept of the album is a mental asylum or something equally as frightening, but it definatly reminds me of an abandoned mental hospital

The drums on this record sound awsome, they are not used often but when they are, they have a huge impact. The vocals are out of this world, there is a distinct lead vocal, that strikes fear into the hearts of every man, then there are many other voices through-out the album ranging from ghost like monotone speak to moaning and groaning of madmen. The guitar work is really good, its also very sparse like the rest of the "instruments" but is very very heavy. The guitar is the only thing that really relates this music literally to black metal, some of it is very black metal-esk but with alot more doom and gloom.

Quick track synopsis;

1. Starts of with atmospheric sounds, not sure what they are, the middle section of this song is where all the music is. its pretty slow, but sounds so so dark and so so heavy. definatly a track to check out.

2. Not alot to say about this track, some people might call it a "filler" but its definatly in a legue of its own. Alot of the tracks on this album are like this, they are just 3-4mins of the scarest sounds imaginable.

3. My personal favorite The vocals really shine on this track, they are introduced near enough straight away and are really spine chilling. Theres some screaming in the middle that sounds like a madman getting tortured. After about 5minutes this track slows right down. We are left with massive gaps of noise and distortion, then ever 4 bars or so we are treated to a huge guitar chord. The all of a sudden as if out of no where, here comes a jazz piano part, a nice slow walking bass line, then jazz guitar and jazz drums. Over the top of all this out of no where jazz is white noise and crackling, with ghost like moaning vocals that make the whole thing fit together. Trust me I know random jazz sounds bad, but it fits really really well.

4 . see track 2.

5. This song sounds rather black metal meets Cult Of Luna. Clean vocals come in at about 5 minutes, they sound like another madman, this time a ranting madman, like a priest gone wrong.

6. Another Great track. This track has a great build up towards the end, the drums get super fast, then it all goes again, just like that, back to that creepiness that is...."atmosphere".

7. This track is another filler track like track 2, but extra good, there is a voice on it that seems like the only sane voice on the album, talking about all hellish things. I can imagine this being the doctor working in the asylum, writing his memoirs of how he is slowly going crazy. There is nice drums really low in the mix on this track.

8. The last track! only 12 minutes until the insanity ends! Alot of atmosphere on this track guys, the song doesnt really kick in for about 7 and a half minutes and its goes again in another 3. Just to remind you that your not alone in the hospital, the voices are still there.


I know it seems like I havent given songs like track 2 the time of day. But really I have, its hard to describe these tracks, but they are essential for the CD as a whole. The atmospheric sounds are done brilliantly, I cant begin to explain it, but its real scarey stuff.