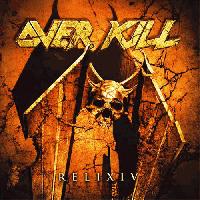 Release Date: 2005 | Tracklist

Overkill's latest release, "Relix IV", shows Overkill digging up some of their past thrash roots, and mixing it with some good old new Overkill Heavy Metal. Compared to their 2003 release, "Killbox 13", this album is thrashier, but not as heavy, and I really appealed to the power used in Killbox, but this album is better in different ways as well.


The album starts off with the longest track, "Within Your Eyes", and it bores me for a good two minutes. It starts off the album slowly and anxiously. By about the 1:30 mark, it picks up into what you'll see much of later on during the album. Blitz's voice is as good as always, and the band sounds fine.

"Love" is one of my favorite tracks on the album. Besides the name, is a great song, and you can listen to it many times over, and pick out new stuff each time. I love (heh), the chorus in this song too. Great song!

After Love, "Loaded Rack" comes into play, and it continues where Love left off. Cool opening and following riff. Another wicked chorus is in this song (Overkill has many of my favorite chorus'). Great song!

"Bats in the Belfry" is again an amazing song. The beginning is my favorite. You'll want to listen to the whole song just because of the intro, and the first 10 seconds for that matter. The only section I don't care for is around the 2:30 mark. I just don't care for the guitar sound during that part, but around 3:15, Linsk has probably the best solo in the album. Great stuff!

"A Pound of Flesh" returns Overkill to their Thrash days. It sounds like newer aged music, but it brings back that old day Thrash feeling that you love. A fairly quick and to the point song. At the 1:45 mark, there's a wicked beat that goes on. Mallare's drums and D.D's Bass are awesome as always. Great song!

"Keeper" could very well be my favorite track. The guitar riffs are great and very Linsk type. That's what I love about Dave. The chorus is again great, but my favorite parts during this song are where Linsk rips up on the guitar. Great song!

"Wheelz" is a boring song, as is the name. There's nothing special here, just a filler.

"The Mark" is another nomination for my favorite track. For about the first 2 and a half minutes, Mallare doesn't stop his double-pedal, but after that the song slows down, and down, towards its ending. Great song!

"Play the Ace" is another fairly boring song. Slower song, and the only cool part is nearing the end, where it picks up. It's not that I don't like Overkill's slow tunes, it's just that this one kind of sucks.

The last track, "Old School", expresses the 'Kill's punk type roots. I still haven't found out whether it's a cover or not, but either way I don't care for it.


Overall, this is a great album, but I wouldn't recommend it to a begginnning Overkill listener. It's good, but compared to most of the other Overkill albums, it's mediocre. If you like Overkill, deffinetly try it out, and if you're all about the 'Kill, deffinetly pick it up, you'll like it. It takes a while to really begin to enjoy it, it took me a few listens before I decided to finally review it with a very positive review.