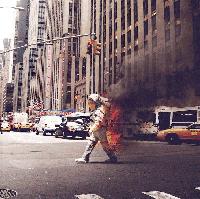 User
Soundoffs 18
Album Ratings 297
Objectivity 53%
Last Active 04-14-13 8:51 pm
Joined 12-22-12
Forum Posts
1
Review Comments 1,460
Emotional Connections

This list includes albums that I could connect to the most. They inspire or fit well with certain emotions that I had at the time. What's your most emotional album? For me, I connect best with sad music. Other times, I connect well with hopeful sounding music. Lastly, there are those albums that sound the best to me when I am upset. Here are 26 that I feel a strong connection with:
1
Jets To Brazil


Orange Rhyming Dictionary



When I switched schools, I rarely kept in touch with old friends because I quickly
made new ones at my new school. However, the one friend that I still talked to,
Sam, would always talk about music with me whenever he was bored which I
always enjoyed. One day, it had been a while since we had talked and I was ready
for a super long list of music from him that he thought I should check out but
instead he just sent me one album, and it was this one. I had never heard of the
Australian band Jets To Brazil, but their blend of solid alternative rock songs and
beautiful acoustic tracks really interested me. I fell in love with a song on the album
called "Sea Anemone". Also, the last song on the album, "Sweet Avenue". They are
both very special songs that make me think of the days spent at my old school with
Sam and all of my other friends.
2
Filter


Title of Record



The weekend after my dad told my mom he wanted a divorce, I was a pretty upset
kid. Obviously. I didn't know what to think. Anyways, I had made a promise that I
would go up to Iowa with my dad to watch an ISU game. I thought that maybe
some football would take my mind off of things at home, so I piled into the car on
Friday night and we made the three and a half hour drive up there. On the way, my
dad barely spoke to me. He had brought a stack of Filter CD's. By the time we
returned on Sunday, back to KC, we had exhausted Filter's discography. I never
figured out why my dad was so set on Filter at that time in his life, but during the
trip one album stuck out to me the most, Title of Record. "It's Gonna Kill Me", "Take
A Picture", "I'm Not The Only One", and "Captain Bligh" are songs that I still really
enjoy listening to, to this day, but they always drum up memories of that trip.
3
Eels


Electro-Shock Blues



E, the frontman of Eels had a rough life. As soon as he began to be a recognized
guy in the industry he had to deal with a whole lot. His mom died during the
recording process of his first album and soon after he lost his sister. These events
led up to the release of Electro-Shock Blues. An album painted with emotion. I
wouldn't be doing it much justice if I tried to summarize it. If you haven't heard it
already, I would give it a listen.
4
Calvin Harris


I Created Disco



You folks may know Calvin Harris as the electronic producer who does similar work
to David Guetta. He lays down a sick electronic track and collabs. with massive
stars like Rihanna to pump out electronic pop music that the hit music station
immediately grabs and overplays until we all just want to fucking scream. But that's
not how I view him. Or, at least that's not all he used to be. I Created Disco is
Calvin's debut album and it is a whole lot of fun. It's funny. It's damn good party
music too. On this album, on almost every song, he drops some heavy bass over
some memorable synth lines and silly vocals. I listen to this CD when I am in a good
mood and I never fail to include a couple songs from it on my party playlists. Recs:
"Neon Rocks", "Merrymaking At My Place", and "Colours"
5
Chevelle


Wonder What's Next



Purely an album that I love to listen to when I am angry, Chevelle's "Wonder What's
Next" sparked there mainstream success and my love for them. From the opening
brutal guitar riff of "Family System" to the end, I love the album all the way
through. This album is probably my favorite harder rock album of all time. I listen to
it when I lift weights. I listened to it when I had to run the mile in high school each
year as a test in physical education. I listened to it when I mowed the lawn
because I had to have music that was ridiculously loud so that I could hear it over
the drone of the riding mower engine. This album is full of all those
memories/emotions from the days that I happened to listen to it. Each song seems
to pull up a different year, a different location, and a different season for me.
6
Gorillaz


D-Sides



The first CD I ever bought was the Gorillaz s/t CD and so I always followed the
band closely with each release. Unlike most fans, D-Sides ended up being my
favorite. Songs like "68 State", "Hong Kong" and "Kids With Guns (Hot Chip Remix)"
are some of my favorite songs by the band. The whole album has dark and ominous
overtones... (for me atleast) ... I don't know why I feel that way about it, perhaps
it is just the menacing album cover. Haha.
7
Audioslave


Audioslave



"Cochise", "Show Me How To Live", and "Gasoline" are the best songs on this album
hands down. This album makes me want to do one thing and one thing only: DRIVE
FAST. Those three songs are some of the best driving songs around, along with
The Black Keys and some heavy NIN maybe? Ah, maybe I will make a driving list
sometime. I always include those songs when I burn a CD for a long drive. There's
not too much more to say about this album... Other than the fact that I LOVE Chris
Cornell's voice. So unique. So great.
8
Beck


Guero



My dad was never a big Beck fan but I convinced him to pick Guero up, a couple
days after it came out, on his way home from work. I had gone in to the AFB that
day with him to play some golf with my buddies, but they had all gotten rides back
with someone else. So when we were driving back listening to Guero, we got to
spend a little bit of time listening to music together, which rarely happens. Guero is
a weird album, but isn't all of Beck's material weird? YES. I would suggest the songs
"E-pro", "Girl", "Hell Yes", and "Rental Car". Those were our favorites. I let my dad
hang on to the CD after I ripped it to my laptop, but I wonder if he ever pulls it out
and remembers the day when we first listened to it together.
9
Ben Folds Five


The Unauthorized Biography of Reinhold Messner



I have always LOVED Ben Folds' piano playing and his hilarious personality. I would
probably say that I enjoy listening to his solo career better than when he was with
the Five, but that doesn't mean his Five material is garbage - far from it. The
Unauthorized Bio... is an album I picked up at Hastings for $3.99 because of its age
and lack of popularity. It was tossed in a sale bin carelessly but I was quite excited
when I found it for such a low price. I drove home in the dark letting the notes of
"Magic" wash over me. I always think back to that night drive when I play this
album and the girl I was with at the time floats into my head. Music is so nostalgic.
10
Bright Eyes


I'm Wide Awake, It's Morning



When my dad got re-married I acquired a few step-siblings, one-being a step-
brother. I wasn't sure about the whole situation at first because things were a little
awkward. However, when we began to talk about music, things got a lot more chill
between us. I remember asking him his favorite album and he told me two. This
one.. and the one right below it on this list. Everytime I listen to this album, which I
learned to love, and hear Conor Oberst's angelic vocals and incomparable
songwriting I will think of my stepbrother and silently thank him for introducing me
to such lovely collection of music.
11
Counting Crows


August And Everything After



If you haven't read the entry above, I would recommend doing so before reading
THIS entry. Although I had heard a couple songs off of Counting Crows' debut
album, I had never given it a full listen until my step-brother, Matt, suggested it. It
opened my eyes to the true talent of the band and it also replaced Hard Candy as
my favorite Counting Crows album. It IS filled with songs that lean to the sadder
side, and is good for a rainy day. I don't listen to a whole lot of mainstream
alternative rock anymore, but on the occasion I do, it's usually this album.
12
Death Cab For Cutie


Transatlanticism



"Title and Registration". That song is the main reason I chose to include
Transatlanticism, even though there are a large number of other great songs from
this album. Ben Gibbard's vocals beautifully fall over a simple guitar riff and a
bumping drum loop. When that chorus comes in, you know it is something special.
Another downer album that makes me think about my life and the future. Am I
keeping myself from being as happy as I can be?
13
Elliott Smith


Elliott Smith



The s/t album of Elliott Smith is arguably his darkest album. Songs like "Christian
Brothers" and "St. Ides Heaven" will remain favorites as long as I live. Elliott writes
lyrics like no one else can and really knows how to draw the emotions out of me.
There is a place in my heart and a story in my head for ever song.
14
Grandaddy


Sumday



Grandaddy, another band, that you may not have heard of is a lo-fi, space-rock,
alternative band centered around frontman Jason Lytle. His voice is higher-pitched
than most and beautifully unique. His vocals are ultimately my favorite part. The
first song I heard by Grandaddy is "Now It's On", the opener of this album. My
favorite song on the album is, "The Warming Sun", a mellower track.
(Lyrics: But in real life... You're in another world; You're with another guy)
Guys, I am sure most of us have been in that situation before.
Beautiful song right there, beautiful album as a whole.
15
Radiohead


In Rainbows



Even though Radiohead is one of the bands that belongs on a "most-influential",
"most-unique", etc. list, I decided to include it in this list because there is a story
that goes along with it. About a week before my dad moved out, he came home
from his job at the AFB and he came up to my room. He said he stopped by the BX
because they were having a huge music sale. (At the time, the music that I
listened to was mainstream rock like Foo Fighters.) So he continued on to say that
I may not like this album, but Radiohead was a HUGE band that all of the music
critics love. I know it's sad that I was young enough to where the first I had heard
of Radiohead was with such a late album in their discography. He gave me the CD
and left. I put it in and sat on my bed. I listened to it all the way through two times
in a row. It was unlike any CD I had ever heard before, he was right. It was years
later before I even indulged in Kid A, or OK Computer because I was content with In
Rainbows. I listened the FUCK out of that CD. It probably is the tightest emotional
bond that I have on the entire list. Anyways, being more specific, let's talk about
the song "Nude." It is my favorite Radiohead song to this day. It sent me into a
spiraling depression and helped me to climb back out. I don't know where I would be
without that song. If you have speakers with good bass, "Nude" sounds blissfully
awesome. I hope I get the chance to thank Colin Greenwood in person one day for
his bass riff in that song because it makes me feel like none other.
"Now that you've found it, it's gone...
Now that you feel it, you don't...
So don't get any big ideas...
They're not gonna happen..."
16
This Will Destroy You


This Will Destroy You



I almost always include my favorite post rock album in my lists, but it is for good
reason. If you haven't heard it yet, you have GOT to check it out. Songs like "Villa
Del Refugio", "The Mighty Rio Grande", and "We Move On Tracks of Never Ending
Light" are so full of emotion. Hopefulness, sadness, amazement, awe... they inspire
so many feelings that well up inside.
17
Elliott Smith


Either/Or



Again with the Elliott Smith. There is not a whole lot to be said about the guy. He
committed suicide as well in the early '03. Another great musical mind that had so
much left to contribute. He wrote music like "Needle In The Hay" from his s/t album
that is purely about shootin' dat heroin, which ultimately came to be a large part of
his life. I feel bad for the guy. When I am sad, Elliott Smith is usually what I will
listen to first. Either/Or is my favorite album of his. A reason that I like Either/Or
best is because the production is a lot higher quality than his first s/t album. "2:45
a.m." is an excellent song to listen to at 2:45 a.m. by the way.
18
LCD Soundsystem


This Is Happening



"Dance Yrself Clean". The first track on This Is Happening is the main reason why I
decided to include it. That song is just fucking orgasmic. Whenever I hear it I want
to dance, I want to ski (because of JP Auclair's Street Segment ski video that this
song was included in). When I got my first car, a 2001 Toyota Solara, my buddy
and I realized how kick-ass of a speaker system it had (suprisingly) and so we
loaded up a CD with some hard hitting bass lines. This song was track 1 because
somewhere around 3 mins. 20 secs. This song goes nuts. One of my favorites songs
of all time. Definitely a fun one.
19
Massive Attack


Heligoland



When I got into longboarding, I used to load up my iPod with new music I
downloaded that I hadn't had a chance to listen to yet, so that when I got into
town, I could board around and listen to some new tunes. I had heard previous
releases of Massive Attack and thought they were pretty incredible, but none
struck a chord like Heligoland did. Especially the songs: "Pray For Rain", "Psyche",
and "Paradise Circus". I remember the clouds were thick that day, and no matter
how much fun I was having on my new board, the songs were bringing me down.
And sometimes when that happens, I fall in love with them.
20
Grandaddy


The Sophtware Slump



Another Grandaddy album. Yeah. I like 'em. Jason Lytle is a musical genius in my
mind. I would definitely recommend his two solo albums as well. This "sophomore"
album of Grandaddy means just as much to me as their third album above. I will
always keep my Grandaddy music on my iPod. It's too bad their music is so hard to
describe, but there really is no way to summarize accurately how it makes me feel.
21
Bon Iver


Bon Iver, Bon Iver



My ex-girlfriend, Morgan, was a huge Bon Iver fan. Our relationship's song (however
cheesy that may be) was "Skinny Love." We chose that song because we both
loved it and even though it is sad, and about a teetering relationship, we embraced
it as our own. I never would've guessed that song's meaning would come in play to
the future of our relationship. When we broke up, I couldn't bear to listen to For
Emma, Forever Ago (Bon Iver's first album) for a long time afterword, so I moved
onto his second album. Filled with memories of my first love, my ears rang with
Justin Vernon's voice as it all become much too familiar. Still, a lovely album, it was
a picture book of memories, in song form.
22
Third Eye Blind


Third Eye Blind



Third Eye Blind's s/t album is a perfect album in my eyes. There are no bad songs.
And to be honest, that is an extremely hard for me to say, because I am usually
very critical. Almost always, I can pick out a couple songs that I wouldn't care to
listen to again. That is not the case with this album. It is chock-full of hits as well
as songs that the average listener may not have heard on the radio before. The
tone of this album is a melancholy one, when the guys at 3EB aren't rocking out. I
like to listen to it when I am feeling down. Songs like "How's It Going To Be" and
"The Background" exemplify my emotions at that time.
23
E*Vax


Parking Lot Music



This album is the ultimate electronic album. When I went to Florida with my dad and
sister, I was wayyy into Ratatat at the time. This was my first large vacation with
my dad since my parents' divorce and I felt a lot of things for him - anger, sadness,
and confusion. After exhausting Ratatat's discography on the beach, I came upon
the solo work of Evan Mast, one of the two Ratatat guys. He released this album
under the name "E*Vax" and when I first heard it, I was so much more intrigued
than I had been with ANY of Ratatat's music. Parking Lot Music is an album that
sounds best with headphones. It's buzzes, clicks, chirps, and echoes are an
ambiance like no other.
24
Nine Inch Nails


Still



The mellowest of all Nine Inch Nails releases, this "acoustic" EP collects songs from
the past few albums and converts them into new, raw, beautiful, and emotional
music. It is a completely different listen than the original versions and Trent
Reznor's undying talent for the piano is evident. It is one of my favorite NIN
releases to date, because it is so different from the rest.
25
Sparklehorse


It's A Wonderful Life



One of the saddest albums of all time in my opinion, containing THE saddest song of
all time (once again in my opinion) "Sea Of Teeth." It brings tears to my eyes each
time I hear it. Sparklehorse's frontman, Mark Linkous, committed suicide almost a
decade ago and this album never fails to remind me of the limitless contributions he
could've made to the musical world. A great listen.
26
Soul Coughing


Lust in Phaze: The Best of Soul Coughing



I remember I first heard Soul Coughing's song "Sleepless" at the Zumiez in
Independance Mall. It was a weird-sounding genre that was verrrry chill. I whipped
out my smart phone and Shazam'd the hell out of it. So when I got home that
night, I downloaded Soul Coughing's greatest hits and I was very very impressed. It
was unlike anything I had had before, but I really enjoyed it. It's relaxing, yet still
heavy sounding. Great percussionssssss.