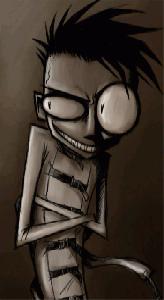 User
Reviews 14
Approval 91%
Album Ratings 495
Objectivity 93%
Last Active 06-06-15 3:47 pm
Joined 07-16-12
Forum Posts
89
Review Comments 2,749
House Md Season Ranking

Since I don't have TV anymore, I'm not really interested in any shows, but House fascinated me somehow, especially cause he is damn similar to me, and after watching the laste season on DVD this week I thought it was about time to finally make a definitive ranking of all it's seasons.
1
Season 3

Nothing surpasses that. I really like some things about every season and most of them are great anyway, but in it's third year the show really did everything right. The number of really outstanding episodes is up to a dozen, maybe more, and even the obvious filler material is worth watching, especially because of the seasons perfect balance of it's medical and personal parts. With that it never becomes boring and episodes like "Airborne", "Informed Consent", "Half-Wit" or, above all, "One Day, One Room" didn't just offer something new to the show, they were written as precise as it get's and are mostly played terrific.
2
Season 6

Beginning with "Broken" this season really has a head start. These two episode are so deep, broad and, for the lack of a better word, meaningful, that it's almost sad the show goes back to normality after that. But besides delivering once again great episodes almost without any filler through the whole season, the temporary focus on Wilson and Cuddy in their respective episodes and the whole team in "Lockdown", respectively, keeps it fresh, which S 5 just didn't manage. With the personal lives of House and his team getting more important almost every year, there also quite a few interesting developments in the background, like the divorce of Chase & Cameron or Taub's failing marriage.
3
Season 2

Can't really decide if to go with S2 or S6 first, but both are simply great. Bringing in Stacy, his long lost love, wasn't revolutionary, but they managed to keep it them both intelligent and witty, never getting too dramatic throughout the first half of the season. And their final episode, "Need To Know", ends more than good with Wilson's speech about House hating himself. Then we have the the second part of "Euphoria", damn great played from Omar Epps as Foreman. But the big plus here is the high level they maintain throughout the whole season, without real filler material and just the right pace and depth.
4
Season 4

It took time for them to make the whole idea of finding a new team fit into the show, especially because of the huge cast in the first episodes. After more and more applicants get fired, it really takes off though. With House commiting "alomst-suicide", him mocking smply everyone all the time and treating a patient stuck on north pole they, all this plays to his strenghts. The real "magic moment" of the season and maybe the show entirely has to be the seasons two-episode finale. In "House's Head" and "Wilson's Heart" everything is perfect. The first being an excellent way to show his way of thinking (maybe he's a little high, but still), the latter is in the pole position for the most emotional part of the show, and it definitely isn't too much here. The little setback are the mediocre episodes you get thrown in every now and then, but still a great season.
5
Season 1

Sure, the cases are all fresh, House's behaviour is as fresh as possible and his interactions with other people display his personality nicely. But, the whole season is a bunch of single good, sometimes truly great ("Three Stories", "Maternity",...), episodes, rather than offering a cohesive background story. The Vogler arc, was okay, especially it's dramatic end (with the excellent clash of House and Vogler about the patien's treatment), and Cameron loving House was interesting, but they didn't dig deep enough to make it really perfect. Still, when it comes to looking at the episodes one for one, it's great work.
6
Season 7

In point of writing there's not much wrong here. "A Pox On Our House", "Two Stories" or "Family Practice", all damn fine pieces of House stories. But hte whole idea of him and Cuddy finally getting together, albeit inevitable, didn't work out too well, even if they had they're funny and emotional moments. But, the breakup episode and the finale were a great idea, altough they might seem odd to some people, they were overstatement in the right way.
7
Season 5

I'm a sucker for the personal and emotional side of the show rather than the medicine (which is still great), but they overplayed it here. The strange way of dealing with Amber, Wilson simply moving away, didn't satisfy anyone. And to substitute this potentially great arc with the whole Thirteen story was in no way an improvement. Still, with episodes like "Last Resort", "Simple Explanation" (such a great way to deal with the suicide) and "Under My Skin", it still has it's great moments.
8
Season 8

Well, somehow I expected the show to end with a bang. And it just didn't. Except for the great episode with Chase's stabbing and the excellent acting in the last three or four episodes there's nothing out of the ordinary for the show, even if it is still interesting and funny on the whole. The boring addition of Adams and the crappy finale were particularly disappointing. After Wilson's decision, House should have died in that fire and this whole "I don't want treatment"-thing doesn't make sense for Wilson in any way.