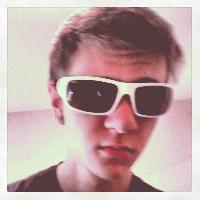 User
Album Ratings 336
Objectivity 44%
Last Active 07-05-12 7:48 pm
Joined 07-05-12
Forum Posts
0
Review Comments 45
Favorite 5 From 1995 (my Birth Year)

I was born nearly 17 years ago, and I've been looking for some great albums released that year. I discovered that 1995 was a pretty great year for metal.
5
Radiohead


The Bends



1995 marked Radiohead's second release, which I think is vastly better than Pablo
Honey. In fact, I would venture to say that it's their third best album (next to OK
Computer and Kid A)
4
Opeth


Orchid



Opeth's debut, of course, was not nearly as good as their more famous works (Still
Life, Blackwater Park, Ghost Reveries) but it laid the foundations of what would
become one of the most unique metal bands ever. Orchid was one of their three
albums (their first three) that had black metal influences, and they are plentiful on
this album. At the time of the release, I'm sure people were confused and
astounded by the blend of black metal, death metal, and folk music!
3
Strapping Young Lad


Heavy As A Really Heavy Thing



1995 was also the year that Devin Townsend (among my two favorite musicians)
would begin his extensive career. Heavy As A Really Heavy Thing is exactly as the
title suggests. Pure, raw energy. This album is complete with humour, death
growls, intensity, everything you could ever ask for from Strapping Young Lad. This
will always be my favorite SYL album.
2
Death


Symbolic



In 1991, Death began their road towards more progressive music with their
release, Human. Symbolic was their third album in their road to becoming
progressive, and by 1995, I would say they perfected it. Symbolic offers complex,
progressive passages, but still stays true to Death's death metal signature
(something that The Sound of Perseverance got carried away with) Although I
prefer Human over Symbolic, I would say that Symbolic is Death's best album.
1
The Smashing Pumpkins


Mellon Collie And The Infinite Sadness



Not only is Mellon Collie the best album of 1995, I would say it is the best album of
the 1990's, and probably my favorite album of all time. This album has everything
to offer. It has the soft songs, the heavy songs, the catchy songs, the beautiful
songs, and it has two quality hours of music. Now this may sound biased because
I'm a huge Smashing Pumpkins fan, but if you listen to this lengthy double album, I
guarantee that you will have a positive feeling towards it. In my eyes, I only see
perfection.