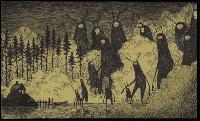 User
Reviews 1
Approval 100%
Soundoffs 16
Album Ratings 715
Objectivity 94%
Last Active 01-21-13 7:08 pm
Joined 05-20-11
Forum Posts
3
Review Comments 2,793
Top 5 Pokemon

Becuase it's a cold and rainy day, I will rank pokemon. These are my top 5 favorites at the moment so please post your's. The albums are my recs. seriously, get these albums, they are incredible
1
Isaac hayes


Hot Buttered Soul





Gengar: Gengar is just the best. He is one of the best offensive pokemon, because all you have to do is use hypnosis and then dream eater and the fight is over. Really cool personality, he fucks with people like any self respecting ghost should, and he?s like a less pretentious Alakazam only better. Gengar wins and you lose.

2
Paul Gonsalves


Tell It the way it is!





Ditto: Ditto is one of those pokemon that you need to have just because of his breeding skills Put him with any pokemon (non legendary) and just give him like 5 minutes and you?ll get an egg. He does not even care if you?re a boy, girl, or a robot he WILL get you in them sheets. He?s got mad skills, and it?s funny because he looks like a fucking dweeb but he smashes so much from both genders. He?s like the woody Allen of Pok?mon in that regard. And you know what? Woody Allen has made some good movies, so that?s why ditto must be number 2.

3
Grinning Deaths Head


Golden Dawn





Tyranitar: This guy is the most badass pokemon out there that?s non legendary. He will fuck shit up, and he?s so intense that whenever he comes out a sandstorm starts. Even if it?s fucking raining, a sand storm starts holy crap. He has some type difficulties but other than that he?s like the perfect battle pokemon. He?s like that one really tough and scary friend that you always are intimidated by, until you actually get to know him and he has a heart of gold. And like having a really tough friend, if you get on his good side, he will beat the shit out of people you don?t like.

4
Ben Webster


Soulville





Mewtwo: if there was ever a counter argument for cloning, then Mewtwo is that argument. Horrible genetic experiments messed him up, and no matter how many berries you give him and no matter how much you battle with him he never loves you. Now that I think about it, he?s a gigantic asshole, but he?s a badass. Someday I will break through his cold exterior and help him get over his traumatic past, but for now he?s just unstoppable in combat so m/.

5
Advantage Lucy


Have a Good Journey (1996-2000)





Pikachu: gotta go with the classics here. Everyone has to have that one pokemon that is pretty weak but still gets used all the time. Pikachu is so cute, and he shoots lightning bolts so he?s a winner. He may be a tool at times, but he?s loveable anyway. I know they don?t like becoming a raichu but I evolved it anyway because fuck you I do what I want.