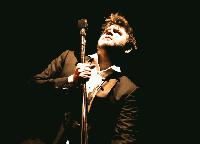 User
Reviews 10
Approval 98%
Soundoffs 36
News Articles 9
Band Edits + Tags 8
Album Edits 19
Album Ratings 1347
Objectivity 90%
Last Active 02-05-17 3:01 pm
Joined 04-11-11
Forum Posts
17
Review Comments 8,572
Miles, Miles, Miles

Am rockin' an absurd amount of Miles at the moment. It's SO DAMN GOOD. rStill can't get into bitches brew though, god knows how I try
1
Miles Davis


A Tribute to Jack Johnson



My personal favorite at the moment. His most straight up rock album, 'Right
Off' is a monster of a groove with some badass John McLaughlin riffing, and
a truly unhinged solo from Davis. Herbie Hancock later wanders in with
some groceries to deliver a storming section on what sounds like a toy
organ. Flawless.
2
Miles Davis


In A Silent Way





The album that got me into his electric period. Supreme.

3
Miles Davis


E.S.P



Somewhat underrated mid-60s Miles, and his first excursion with perhaps
his greatest group (inc. Hancock and Shorter). Very similar to Kind of Blue, if
a tad more adventurous, and good few shades less genius. Served as a
lead-up to....
4
Miles Davis


Miles Smiles



His greatest non-electric album, except for KoB. The musicianship is
stunning, the grooves mellow,and the interplay borderline-telepathic, even
by Miles' standards. Shorter's sax playing is in particular a delight.
5
Miles Davis


Dark Magus



'Cause I put this on most lists, so it should go on the Miles Davis one, right?
Deep, nasty, paranoid funk, delivered with the maximum of grit and the
minimum of melody. Oppressive, heavier than any metal, and goddamn
amazing.