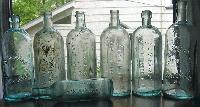 User
Reviews 1
Approval 100%
Soundoffs 1
News Articles 1
Band Edits + Tags 0
Album Edits 1
Album Ratings 157
Objectivity 59%
Last Active 10-15-12 6:04 pm
Joined 03-03-11
Forum Posts
0
Review Comments 756
Songs That Portray Your State Of Mind

What songs describe your state of mind at the moment, lyrics-wise or other?
1
Radiohead
Creep

I think this song was made just for romantically frustrated nerdy guys such
as myself. Anyone with such an experience with love immediately feels like
they can identify with it, when in reality the parallels may not be so direct.
But the song's popularity can probably be explained by its universal
applicability. I can't help it, listening to it depresses me, but then I keep
listening.
2
Something Else
Depressing

Why can't you make a list with one item?