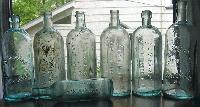 User
Reviews 1
Approval 100%
Soundoffs 1
News Articles 1
Band Edits + Tags 0
Album Edits 1
Album Ratings 157
Objectivity 59%
Last Active 10-15-12 6:04 pm
Joined 03-03-11
Forum Posts
0
Review Comments 756
What A Week

A classmate of mine died Tuesday night. He fell from a bridge here in town. Imagine that, dying in your senior year of high school... You never think something like that will hit so close to home. We weren't very close friends, but in a class of 140 students, of course we were friendly. Hell, I had him over for "playdates" a few times in 3rd grade or so. It's still so surreal, anyway here's a few related musical musings.
1
Devin Townsend
Funeral

This song's taken on a whole new meaning to me, his funeral was today. Never had
someone close to me die before, and this song puts my feelings better musically
and lyrically than I could ever hope to. God, it even drizzled today as they loaded
the casket into the hearse.
"Tell me why he went, it seems to be/ An element to this mystery/ It's so cold
today, so I get away, and I'm left behind with nothing but words"
2
Brand New
Jesus Christ

I finally gave into the hype and listened to this album, turns out it's worth it. Any
similar suggestions? I dunno what I'd call this music, I just want more like it.
3
Bright Eyes
Road to Joy

Something about this really connects with me, this song more so than the others
on the album. Anyone have any recommendations?