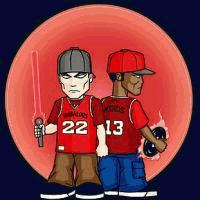 User
Reviews 3
Approval 100%
Soundoffs 43
Album Ratings 210
Objectivity 70%
Last Active 07-27-11 11:02 pm
Joined 01-10-11
Forum Posts
3
Review Comments 140
Favorite Hip-hop Songs

Not ranked except 1 is 1.
1
Jedi Mind Tricks
Uncommon Valor (A Vietnam Story)

It transports you, consumes you, changes you. From a group (read: Vinnie
Paz) that usually raps about nothing except gang-life, boxing, and Islam
comes a haunting tale of Vietnam's horrors courtesy of a guest appearance
by R.A. the Rugged Man. R.A. tells his father's story with a flow resembling
the same machine guns he raps about in this true rap classic.
"Call me Thorburn, John H., Staff Sargent/Marksman, skillin, killin, illin/I'm
able and
willin/Kill a village elephant/Rapin and pillage a village/Illegitimate
killers/U.S. military guerillas"
2
The Sugarhill Gang
Rapper's Delight

The full version. The insane, sprawling, quarter-hour rap extravaganza that
gave hip-hop its first push to start spinning on its axis. The ultimate party
song, the ultimate bragging song, a seminal rap milestone.
"Now what you hear is not a test, I'm rappin to the beat/And me, the groove, and
my
friends are gonna try to move your feet/See I am Wonder Mike/And I?d like
to say ?hello?/To the black, to the white, the red, and the brown/The purple
and yellow/But first I gotta/Bang bang, the boogie to the boogie/Say up-
jump the boogie to the bang bang boogie/Let's rock, you dont stop
3
Eminem
Kim

MMLP is the record that got me started with hip-hop. It's the over the top
violence and scathing wit of Eminem that makes the record a classic, and no
song better exemplifies this than "Kim". Sure, "Stan" is more meaningful
and in much better taste, but no song truly captures a man's psychotic rage
better than "Kim".
"Sit down bitch, you move again I'll beat the shit outta you!/Don't make me wake
this baby, she don't need to see what I'm about to do/Quit crying bitch, why you
always make me shout at you?/How could you?/Leave me and love him out the
blue/Aw, what's the matter Kim, AM I TOO LOUD FOR YOU?!"
4
Madvillian
Accordian

MF DOOM's lyrical complexity and the stoned-stupid-simplicity of his song
structures are rapidly making him my favorite rapper. Combined with
Madlib's dense production, this 2 minute masterpiece packs more allusions
than some rappers do in several full length songs.
"In living, the true gods/Givin' y'all nothing but the lick like two broads/Got
more lyrics than the church got 'Ooh Lords'/And he hold the mic and your
attention like two swords/Or even one with two blades on it/Hey you, don't touch
the mic like it's AIDS on it/It's like the end to the means/Fucked type of
message that sends to the fiends/That's why he brings his own needles/And get
more cheese than Doritos, Cheetos or Fritos/Slip like Freudian/Your first and
last step to playin' yourself like accordion"
5
Nas
It Ain't Hard to Tell

Illmatic is the all-around greatest rap album of all time. Nas's lyrical genius
on this album that even he himself couldn't replicate it. The amazing beat of
this song combined with lyrics that are genius even by the standards of this
album make it one of my favorite songs ever.
"Deep like The Shining/Sparkle like a diamond/Sneak a uzi on the island in my
army jacket lining/Hit the Earth like a comet, invasion/Nas is like the
Afrocentric Asian/Half man, half amazing"
6
Kanye West
Monster

I have an unhealthy obsession with MBDTF. It's insanely good. ?Monster?
truly captures just what a monster (hehe) Kanye is. Mind-blowing guest
verses (I'm looking at you, Minaj) certainly help.
"Think you motherfuckers really really need to cool down/Cause you will never
get on top of this/So mommy best advice is just to get on top of this/Have you
ever had sex with a pharaoh?/Put the pussy in a sarcophagus/Now she claiming I
bruise her esophagus/Head of the class and she just want a swallowship/I?m
living the future so the presence is my past/My presence is a present kiss my
ass"
7
The Notorious B.I.G.
Juicy

It's legendary for a good reason. The radio-friendly production does nothing
but embellish Biggie's rags-to-riches tale into something truly other-worldly.
The funky bassline, the lovely chorus, and his loose, rugged flow make
'Juicy' what it is.
"It was all a dream/I used to read Word Up magazine/Salt'n'Pepa and Heavy D up
in the limousine/Hangin' pictures on my wall/Every Saturday Rap Attack, Mr.
Magic, Marley Marl/I let my tape rock 'til my tape popped/Smokin' weed and
bamboo, sippin' on private stock/Way back, when I had the red and black
lumberjack/With the hat to match"
8
Vinnie Paz
WarMonger

Vinnie Paz's lyricism truly shines on his solo release. The entire first verse
is
rhymed here, the sampling and production sound just as pompous as the
rapper, and the punchlines hit like small trucks. Sorry, but I have to quote
the whole first verse here. "My fist enters in your temple like an obelisk/It's
blackness, darkness, abyss of joblessness/Everything you do is small, my
shit is monstrous/I murder devils and any of their accomplices/My brain
function on other levels of consciousness/My brain function on other levels
of pompousness/You're listening to the bass and treble of godlessness/My
thirty-eight will spit hate and level the populous/My esophogus breed the
evil that just demolishes/Whether or not you're a believer in the
Apocalypse/Y'all shit is sweeter than two faggots that's locking lips/It ain't a
rapper competing with my obnoxiousness/It ain't nobody that's equal to my
accomplishments/The Desert Eagle is legal and it astonishes/The AR15
diesel and blow your mom to bits/It's hard to catch me, I'm Thurman
Munson and Carlton Fisk"
9
Celph Titled
Primo's Four Course Meal

Celph Titled is the best rapper alive. He's the funniest member of the
legendary Army of the Pharaohs, but I don't mean he's a joke; he has the
greatest punchlines of any rapper, ever. In my opinion, he also the greatest
voice. His wit is unmatched.
?And I don't care if you worship/I'll put a bullet in your temple/Leave you
bent and crippled/Wife and kids get sentimental/Your best soldiers
incomparable to my B-team/Fuck Nas, ?Mission Impossible? be my thief's
theme/Each beam I aim multiplied by 8/You gettin fucked on your album and
gettin raped on mixed tapes/I kick with a flipped face targetin system/Heat
vision like the Predator/I'm slaugterin victims/The harder I hit em, nigga the
better they know/Call up the reverend and we bringin holy shit to ya show?
10
Immortal Technique
Peruvian Cocaine

A multi-character epic in just 5 minutes. Told from the point of view of
multiple levels of the cocaine trade, from the coca field worker to a corrupt
CIA official, it shows off Immortal Techniques social commentary while giving
several other rappers a chance to shine. "Honey I'm home/Nevermind why
our bank account's suddenly grown/It's funny, we're so out of this debt
from this money we owe/Would've ya...mind if I told you I had two
governments overthrown/To keep our son enrolled in a private school/And
to keep ours tummies swollen/C'mon, our fuckin' home was built on the
foundation of bloody throats/The hungry stolen of they souls, of course this
country's runnin' coke/I took a stunted oath to hush the one's who
know/But CIA conducts the flow of these young hustlers who lust for
dough"