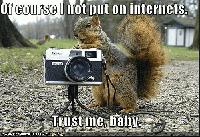 User
Album Ratings 15
Last Active 07-26-10 9:51 pm
Joined 07-26-10
Forum Posts
0
Review Comments 11
Finally

Went to FYE last night and picked up some albums I've been meaning to get for a while. Here is what I picked up.
1
The Dillinger Escape Plan


Option Paralysis





After many people have told me to pick it up, I did and I must say it's my favorite album of 2010 easily. Farewell, Mona Lisa is a classic in my opinion.

2
Wretched


Beyond The Gate





Picked up their first album about a year ago, and didn't like it too much. After reading some reviews on here of Beyond The Gate, I bought it and gotta say they've improved greatly.

3
Iron Maiden


The Final Frontier





It's Maiden, simple as that. Heavy metal legends.

4
Corpus Christi


A Feast For Crows





Always been a fan of this band. I haven't given this album a proper listen yet, but from what I've heard on a couple songs, I'm liking it.

5
Impending Doom


There Will Be Violence





Basically the same as Corpus Christi. I don't expect epic, ground breaking stuff, but I'm a fan of this band, so it's natural for me to pick up the new album.