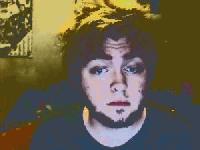 User
Reviews 24
Approval 97%
Soundoffs 1
News Articles 4
Band Edits + Tags 10
Album Edits 18
Album Ratings 2167
Objectivity 92%
Last Active 04-09-11 7:12 am
Joined 06-22-10
Forum Posts
66
Review Comments 981
Jung Personality Test

My psych teacher is making us all take a Jung personality test and then write a paper explaining our personality types. What personality type are you? Test is here --> http://www.humanmetrics.com/cgi-win/jtypes2.asp
1
AC/DC


Back in Black





Logical Sensory Extrovert (ESTj): Overseer. Examples include Lyndon B. Johnson, Andrew Jackson, and Bette Davis. ESTJs live in a world of facts and concrete needs. They live in the present, with their eye constantly scanning their personal environment to make sure that everything is running smoothly and systematically. They honor traditions and laws, and have a clear set of standards and beliefs

2
Miles Davis


Bitches Brew





Logical Intuitive Extrovert (ENTj): Chief. Examples include FDR, Bill Gates, and Harrison Ford. ENTJs are natural born leaders. They live in a world of possibilities where they see all sorts challenges to be surmounted, and they want to be the ones responsible for surmounting them. They have a drive for leadership, which is well-served by their quickness to grasp complexities, their ability to absorb a large amount of impersonal information, and their quick and decisive judgments

3
Animal Collective


Feels





Ethical Sensory Extrovert (ESFj): Supporter. Examples include Don Knotts, William McKinley, and Mary Tyler Moore. Guardians of birthdays, holidays and celebrations, ESFJs are entertainers. They enjoy and joyfully observe traditions and are liberal in giving, especially where custom prescribes.

4
Brian Eno


Another Green World



Ethical Intuitive Extrovert (ENFj): Mentor. Examples include Johnny Depp,
William Cullen Bryant, and Dr. Martin Luther King, Jr. ENFJs are the benevolent 'pedagogues' of humanity. They have tremendous charisma by which many are drawn into their nurturant tutelage and/or grand schemes. Many ENFJs have tremendous power to manipulate others with their phenomenal interpersonal skills and unique salesmanship.
5
Kanye West


My Beautiful Dark Twisted Fantasy





Sensory Logical Extrovert (ESTp): Persuader. Examples include Madonna, Ernest Hemmingway, and Donald Trump. These are the ultimate realists. Extraverted Sensors are at one with objects and experiences now, in the only living, pulsing moment that ever really exists. The Sensor is compelled to see, touch, taste, smell and feel all that moves, wafts, tingles, tinkles, scintillates, vibrates or resonates.

6
The Who


Live at Leeds





Sensory Ethical Extrovert (ESFp): Entertainer. Examples include Bill Clinton, Picasso, and Marilyn Monroe. For the ESFP, the entire world is a stage. They love to be the center of attention and perform for people. They're constantly putting on a show for others to entertain them and make them happy. They enjoy stimulating other people's senses, and are extremely good at it. They would love nothing more than for life to be a continual party, in which they play the role of the fun-loving host.

7
The Flaming Lips


Zaireeka





Intuitive Logical Extrovert (ENTp): Originator. Examples include Alexander the Great, George Carlin, and Walt Disney. ENTPs are idea people. Their perceptive abilities cause them to see possibilities everywhere. They get excited and enthusiastic about their ideas, and are able to spread their enthusiasm to others. In this way, they get the support that they need to fulfill their visions

8
U2


The Joshua Tree





Intuitive Ethical Extrovert (ENFp): Advocate. Examples include Dr. Seuss, Bob Dylan, and Andy Kaufman. They can't bear to miss out on what is going on around them; they must experience, first hand, all the significant social events that affect our lives

9
The Kinks


The Village Green Preservation Society





Logical Sensory Introvert (ISTj): Examiner. Examples include George Washington, Queen Elizabeth II, and Herbert Hoover. ISTJs are often called inspectors. They have a keen sense of right and wrong, especially in their area of interest and/or responsibility. They are noted for devotion to duty. Punctuality is a watchword of the ISTJ. The secretary, clerk, or business(wo)man by whom others set their clocks is likely to be an ISTJ.

10
King Crimson


Red





Logical Intuitive Introvert (INTj): Strategist. Examples include Augustus Caesar, Thomas Jefferson, and Sir Issac Newton. ...approach reality as they would a giant chess board, always seeking strategies that have a high payoff, and always devising contingency plans in case of error or adversity.

11
Jeff Buckley


Gace



Ethical Sensory Introvert (ISFj): Defender. Examples include Robert E. Lee,
Louisa May Alcott, and Barbara Bush. ISFJs are characterized above all by their desire to serve others, their "need to be needed." In extreme cases, this need is so strong that standard give-and-take relationships are deeply unsatisfying to them; however, most ISFJs find more than enough with which to occupy themselves within the framework of a normal life.
12
Elliott Smith


Elliott Smith





Ethical Intuitive Introvert (INFj): Confidant. Examples include Nathaniel Hawthorne, Chaucer, and Billy Crystal. INFJs are gentle, caring, complex and highly intuitive individuals. Artistic and creative, they live in a world of hidden meanings and possibilities. Only one percent of the population has an INFJ Personality Type, making it the most rare of all the types.

13
Frank Zappa


Hot Rats





Sensory Logical Introvert (ISTp): Craftsman. Examples include Tom Cruise, Frank Zappa, and Bruce Lee. ISTPs have an adventuresome spirit. They are attracted to motorcycles, airplanes, sky diving, surfing, etc. They thrive on action, and are usually fearless. ISTPs are fiercely independent, needing to have the space to make their own decisions about their next step. They do not believe in or follow rules and regulations, as this would prohibit their ability to 'do their own thing'

14
David Bowie


Heroes





Sensory Ethical Introvert (ISFp): Artist. Examples include Ulysses S. Grant, Marie Antoinette, and Steven Spielberg. irst to hear the different drummer. Many eagerly plunge into new fashions, avant garde experiences, 'hip' trends--some even setting the trends. More in touch with the reality of their senses than their INFP counterparts, ISFPs live in the here and now. Their impulses yearn to be free, and are often loosed when others least expect it. The ISFP who continually represses these impulses feels 'dead inside

15
Neutral Milk Hotel


In the Aeroplane Over the Sea





Intuitive Logical Introvert (INTp): Engineer. Examples include Abraham Lincoln, Albert Einstein, and Carl Jung. INTPs are relatively easy-going and amenable to most anything until their principles are violated, about which they may become outspoken and inflexible. They prefer to return, however, to a reserved albeit benign ambiance, not wishing to make spectacles of themselves.

16
The Beatles


Abbey Road





Intuitive Ethical Introvert (INFp): Dreamer. Examples include Virgil, JFK, and George Orwell. INFPs are highly intuitive about people. They rely heavily on their intuitions to guide them, and use their discoveries to constantly search for value in life. They are on a continuous mission to find the truth and meaning underlying things. Every encounter and every piece of knowledge gained gets sifted through the INFP's value system, and is evaluated to see if it has any potential to help the INFP define or refine their own path in life.