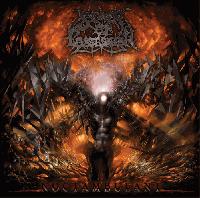 User
Reviews 3
Approval 100%
Soundoffs 3
Album Ratings 157
Objectivity 78%
Last Active 06-29-10 6:59 pm
Joined 06-06-10
Forum Posts
3
Review Comments 39
Most Disappointing Albums Of 2010...so Far.

These albums just failed to deliver...for some reasons or another.
1
Brain Drill


Quantum Catastrophe





*sigh* Why? Why Brain Drill? It's not like the talent isn't there...it clearly is. The music is very technical, and loud, and noodely, brutal...etc, and that's what makes it that much worse. The talent is THRERE. But it's just so boring...and forgetable. You could literally forget a song RIGHT after hearing it. It's like there just playing as fast as possible, with no real goal to create an actual...song. Ugh.

2
Whitechapel


A New Era Of Corruption





Yeah, I don't know what the hell happened between this and This Is Exile. I've read reviews on other sites, and this album seems to be getting generally high scores, which baffles me. Maybe I expecting too much, as this was one of my more anticipated albums this year. Whitechapel was one of the only bands of merit in the deathcore genre...I mean things were promising. TIE was a heavy slab of deathcore with technical riffs, tight drumming, great vocals, and almost proggy elemets at times. There was alot of potential for this album. But it just seems like Whitechapel decided to play it safe in an attempt to not alienate the 'core fans, and remain pigeonholed. The breakdowns have reverted right back to standard affair, coupled with the riffs eing longer and more tedious. The song selection could all be looped, and you'd never know the difference. Each song on TIS had a defining element that separated it from the others. An new era of corruption? Not so much, i'm afraid. And why is Chino from the Deftones on the cd? Seriosuly, why?

3
Rob Zombie


Hellbilly Deluxe 2





First of all what wa she on when he thought of the title, really? I believer i'd quite enjoy whatever it was, maybe it would make this album bearable...If this isn't proof that you should stick to one profession...nothing is. Truth is Zombie's albums haven't been much since Rob's jump to tinsel town. Educated Horses was your girlfriends Rob Zombie album, and this...well should be no one's RZ album. Why is this titles Hellbilly Deluxe 2? Besides the title the share nothing at all remotely similar. This just souds like a RZ tribute album...made by drunken fans. Everything, just sound like filler. The song themselves are just too stupid, and have lost any semblence of his previous work, with almost all industrial aspects removed. I could go on and on..It's not like his movies are that great either, so the least he could do it release either a. a good album or b. a good film, neith of which seem remotely possible at this point.

4
Rotting Christ


Aealo





Yeah, lets completly stop being a dark, grindcore band, and become a "haunting", gotic band...

5
Aeon


Path Of Fire





I remember hearing alot of Aeon, from alot of people. I was told of how underground they were, how great the vocalist was, and how technical and brutal they were. I heard no technicality or brutality to speak of. The music was fairly pedestrian. It wasn't bad, but it had a decent amount of hype. I wasn't a big fan of Rise to Dominate to be honest, but I was expecting something more from the Swedes. Mostly because the potential was there. But all the songs sound too much alike, nothing really grabs you, and that's as far as cannibal corpse worship goes...there's better out there.

6
Dark Tranquillity


We Are The Void





You know once a band becomes great, you compare every new album to their previous work, instead the work of their peers? That's what transpired here. This album just doens't live up to earlier DT albums. Of course, if you compare it to most other bands out there...it's pretty good. But it just seems dialed in. Just average DT, which isn't bad, but when you make a habit of starting out with classic, you kinda have to live up to ti.

7
Trigger The Bloodshed


Degenerate





This is simple. Everything the band plays a decent riff, they play 30 breakdowns that just ruin the song. You keep waiting for a entire song to keep a decent pace, but these guys seem fine with using the same breakdowns over and over as a crutch. It's like they COULD play a decent song...if they wanted to. Which they obviously have no desire to do so.

8
Misery Index


Heirs to Thievery





Traitors was bottomline, a pretty good album. it was nasty, and in your face with a constant barrage of groovy, catchy riffs. Not fancy, but it worked. HTT, just seemed like a step back, or like it should've been released before Traitors. It's seems rougher(not in a good way), and alot less inspired....and ultimately boring. This isn't a bad album, it just failed to expand on what was set with previous albums.

9
Sadist


Season In Silence





Sadist's self titled worked well at doing alot simutaneously. This...well just proves too much of a good thing, is a bad thing. Some songs just go off kilter, throwing too many over the top, wacky, oddly timed riffs in a once, with some borderline avant-garde elemts becoming almost destracting. Worst of all it does what I hate worse, which consists of completelty neglecting that they are playing death metal after all. Seriosuly listen to the opening riff on the title track...it's sounds like a christmas jingle. I ususally love albums like that, but like last years Scrambeled Defuncts sometimes you just wanto focus on the music. While I still enjoy the album, because I love self-indulghent music, it can't really say it's all that great. Also this has to be the worst cover art of all time...a ****** snowman?

10
Defeated Sanity


Chapters of Repugnance





Not really disappointing, because it is still an overall quality album but...it's basically Psalms Of The Moribund pt.II. There's no real growth(it's brutal death, I know), so every song really sounds the same unless you listen to the song non-stop. And the production is really annoying. These guys are playing all these great riffs, and it's just all muddled. There is a diffence between keeping raw, gritty production with keeping all the instruments clear(Hour Of Penance for example), and sadly the "we recorded this in a cave, can't tell this from that" method which DF seems to rely on.