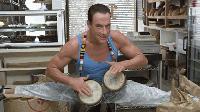 User
Reviews 43
Approval 98%
Soundoffs 102
News Articles 14
Band Edits + Tags 21
Album Edits 29
Album Ratings 926
Objectivity 83%
Last Active 11-17-17 10:33 am
Joined 03-10-10
Forum Posts
15
Review Comments 4,492
You Da Best Sputnik

While my three-year milestone has long since passed, I still planned on commemorating it with a list of all the albums that have left their mark since I started seriously listening to music five years back. I joined Sputnik over three years ago as a naive little shit who thought he knew something. These albums have shown me how wrong I was. The first one is long, but I tried to keep the rest short and sweet, yet still get the point across. Enjoy!
1
Chevelle


Wonder What's Next





University was an intimidating experience for me when I landed there in late 2008. You?re bombarded with so many other people, each with their own identity, personality, and opinions. To truly thrive, you need your own identity, something other people can look at and immediately connect to you. I admittedly had no idea how to truly represent myself at first. This album helped a lot with that. I had never listened to full albums or anything beyond what the radio could dish out. But luckily my best friend from high-school introduced me to this band and I decided to tap into their discography on a lark, starting with this. What I was greeted with was a series of nearly flawless hard rock songs that I could seriously sink my teeth into. Better yet, only a handful of people knew who these guys were, I?d found something hidden and special that I could call my own. It?s where it all started for me, and I have since developed a reputation among my friend group of being a guru of the grittier and aggressive landscapes of rock/metal (by no means an expert yet, but to my friends, absolutely).

2
Metric


Fantasies





I realized quickly how little I knew of the female contributions to music when I was at university. While certainly naive, I kind of assumed only girls listened to other girls sing. When my friend came to me recommending Metric?s 2009 album Fantasies, I was skeptical. The album ended up blowing me away, with hardly a single weak song. I had never grown so attached to a female vocalist before, and listening to Emily Haines here felt like getting to know her personally. The album is warm, friendly, and touching. It kick-started my appreciation for women in music.

3
The Dillinger Escape Plan


Option Paralysis





I was enthralled at the fact that a metal album was getting critical praise on Metacritic early in 2010. I had just finished some exams that day and felt like something fresh. This album was fresher than anything I could?ve imagined. The music was insane, it made hardly any sense, and you couldn?t understand it at first. But I couldn?t stop listening to it, it all somehow worked. This album is what eventually drew me towards other mathcore bands like Botch and Converge.

4
Kanye West


My Beautiful Dark Twisted Fantasy





Rap was always a peculiar genre with me. I would always like some songs, but listening to a full rap album was like pulling teeth. I just came to expect that 80% would be filler bullshit and that rappers were only ever capable of churning out maybe three good songs. I had enjoyed older Kanye hits, but putting this on for the first time, the sheer quality and flow of the album was almost immediate. The guest spots are perfect, the lyrics are memorable, and for the first time in my life an entire rap album stuck with me. It has been the catalyst, sparking my curiosity and seeking out other rap albums, knowing there could be others like this.

5
Karnivool


Sound Awake





Besides rap, another tricky challenge was getting me to listen to songs longer than 6 minutes. While perusing this site?s 2009 highest-rated rock albums, this one came up. But looking at the track-list quickly had me realize I might be in over my head (an 8-min song three tracks in and the final two songs each over 10 minutes? Holy shit). The first listen went so-so, but by the fourth listen all of a sudden it was no longer the shorter songs I liked, rather the longest ones. This album was how I proved to myself that I could endure the longer epic songs music has to offer.

6
Oceansize


Frames





While it?s one thing to be able to listen to a few songs over 6 minutes, it?s an entirely new challenge to listen to an album where there isn?t a single song under 6 minutes. Luckily, Oceansize know how to pull it off better than almost anyone and this hardly took any time at all to click. It gives you an appreciation for how a band can slowly progress a song to a fiery emotional peak, sometimes without even needing lyrics. The music is so full of heart and emotion. I don?t listen to it as much anymore, but it was that album I?d put on if I ever needed to ?feel? music.

7
Porcupine Tree


Deadwing





Oh man, if there was ever an album that came at the right time in my life, this one takes the cake. The summer of 2011 was probably the most depressed I?ve ever been in my life. I was undergoing the consequences of a shitty breakup (admittedly, my fault), working an internship in downtown Toronto that wasn?t paying me, and had just found out I would have to take on a massive student loan to finance my last year at business school. What?s worse, I had no new music in my life to at least temporarily take me away from it all. Music had become such a friend, supplying me with new addictions and interests practically every month, but not here. I randomly picked ?Deadwing? up and gave it a try simply because I was willing to give anything a try. It ended up being exactly what I needed. The variety of music in it, the delicate and luring song structures, and most of all...the confirmation that music can actually help bring you out of a slump in life.

8
Isis


Wavering Radiant





I listened to this album in my final year at university after getting into ?Panopticon? in the summer of 2011. Their other classic ?Oceanic? left me somewhat underwhelmed (not anymore though). I decided they deserved one more shot and this album served as that. I?ve never had an album affect me on an emotional level quite this much. This album has literally gone inside me and rattled my entire system. The climax of ?Hall of the Dead? still sends shivers up my spine to this day, the climax of ?20 Minutes/40 Years? has brought me to tears more often than I can possibly count, and the intro of ?Hand of the Host? can still calm me down even when I?m at my most frustrated. While Chevelle was certainly my ?identity? way back when I first started listening to music, this album perfectly represents my taste in music TODAY and what it has evolved towards over the years.

9
The Dead Weather


Sea of Cowards





When I was moving to Calgary this past summer in 2012, I was given a few days to come here early before my new job started in order to settle into my new apartment. I was kind of disappointed because I still hadn?t found an album to represent this point in my life. Moving out here on my own was such a milestone and I had no album to remind me of that yet. Oddly enough, it wasn?t until a few months later when I put this album on that all of a sudden my mind was filled with memories of that final one-way airplane trip and my first day of work. It dawned on me that I had been avidly listening to this the whole time I was apartment-searching. It was my first taste of blues rock and has since opened me up to bands like Clutch and Jack White?s older band The White Stripes. A hell of a lot of fun.

10
Leprous


Bilateral





Recently was recommended this album, and it could very well turn into that next album I would slap onto this list. Absolutely brilliant. Thanks again to everyone on this site who's helped guide me towards the bands above and develop my appreciation for music.