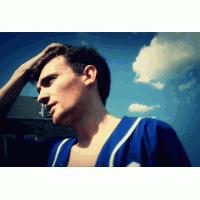 User
Reviews 151
Approval 91%
Soundoffs 15
Album Ratings 202
Objectivity 64%
Last Active 12-19-15 12:17 pm
Joined 12-03-09
Forum Posts
96
Review Comments 1,722
Top 5 Untitled Songs

Since I culled these from my music library, I'm sure I'm missing some rthings. Feel free to rrrrname then in the comments. This is a songs list but I'm rgoing to name the album the songs rrrare ron since you should already know rthe title or lack thereof.rThe top three were of much rrrinternal rdebate, any of them could have been number one.
5
Burial


Untrue



Less than a minute long and a strikingly good opener, it works brilliantly as a
transition from whatever you were doing before you started the album. As soon as
its static soaked essence drifts from the speakers the world takes on a dull grey. A
bus rumbles by, someone nearby murmurs something that you didn?t quite catch,
an ominous tone rises up from the fog, and it ends. It remains nameless, but the
feeling is all too familiar.
4
Neutral Milk Hotel


In the Aeroplane Over the Sea



If you?ve never experienced this within album, it might sound like a boozy good
time. A bagpipe driven, rollicking barnstormer fit for a show closer. In the context
of the album, it is wide-eyed insanity. The narrator, driven insane with an
impossible desire to be with a long dead holocaust victim, falls headfirst into the
mouth of insanity. A sweat soaked fever dream of a song.
3
The Cure


Disintegration



You cannot name this kind of sadness. The grief caused by losing a loved one is
articulated here better than any artwork I have ever come across. As the organ
pushes you out to sea, Robert Smith writes what might be his best lyrics ever.
?Pushing my face in the memory of you again/But I never know if its real/Never
know how I want to feel? is a dead on summation of what happens with all those
memories you still have of a loved one even after they?re gone. You go back to
them over and over, helplessly grasping for comfort only to come up with
confusion. It closes with two lines that break my heart to pieces every time I hear
them, ?I?ll never lose this pain/Never dream of you again?.
2
D'angelo


Voodoo



Giving it the in parentheses ?How Does It Feel? is a bit of a cop out. No one needed
to be asked that by the title, D?Angelo asks it better than it could ever be read.
?How does it feel?? The song conjures up an unholy amount of sensuality within two
minutes and keeps it going and going. Much like the previous entry captured the
feeling of loss so perfectly, this one captures the pure essence of sexual
experience, and essence cannot be named. The way the song builds its climax is
staggering in the way it makes the pay off feel so goddamn earned. Those voices
swirling about each other up and up and up straight through the roof. Just as it cant
get any more rapturous, D?angelo executes the songs final masterstroke. It just
ends, no fade out, no final line, it ends right in the middle of the word ?feel?,
leaving the payoff to you.
1
Interpol


Turn on the Bright Lights



Has an opener ever so thoroughly communicated a bands intention so perfectly?
This song is a sonar map of a city, its alleys and streets, clubs and apartments,
secrets and sins, all lit up by that guitar line that seems to stretch on to infinity. And
if I may give a score to this kind of thing, those 4 high hat hits that come right
before that titanic bassline? 5/5, 10/10, 100/100, A+. No title could describe the
amazement I feel in the face of this mighty opening. ?Surprise? says Paul Banks.
Surprise indeed.