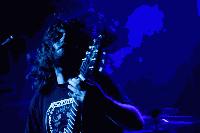 User
Reviews 12
Approval 100%
Soundoffs 28
News Articles 5
Band Edits + Tags 13
Album Edits 28
Album Ratings 348
Objectivity 52%
Last Active 12-10-12 5:17 pm
Joined 10-31-09
Forum Posts
51
Review Comments 2,620
Albums I Am Loving At The Moment

I have kind of fallen off the downloading million of albums at a time boat a while back. 2010, I didn't do as much research as I have done in the past. However, these are albums I will buy, have bought, love, can't wait to be released, and heard enough to love it.
1
Ghost


Opus Eponymous



I am going to review this soon. I just love the retro sound and the way the
songs are done.
2
Deathspell Omega


Paracletus





From what I heard, I can't wait to sink into this album

3
Electric Wizard


Black Masses



I love the new direction of Electric Wizard. I love old and new, but the
production on this album is so nasty that I love it. Always going to love these
guys.
4
Ulcerate


The Destroyers of All





After listening to the live stream, I am looking forward to purchasing this bad boy.

5
The Ocean


Anthropocentric



I honestly don't get the hate that people give this album. Yes, it is no
Precambrian, but the songwriting is still strong. And those that don't like this
guy's vocals, they kind of remind of Poison the Well. I don't know, I think this
album is well done.