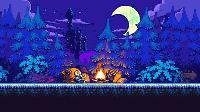 User
Reviews 57
Approval 94%
Soundoffs 145
News Articles 4
Band Edits + Tags 6
Album Edits 42
Album Ratings 1748
Objectivity 74%
Last Active 12-03-20 11:41 am
Joined 03-25-09
Forum Posts
27
Review Comments 33,095
A Gyro Apology & Best Games of 2020

2020 has been a depressing and tumultuous year. C19 has put a strain on all of us and as a result of being indoors, many of us have spent entirely too much time on social media discussing politics. As Kirk aptly pointed out in his Avalanches review, some of us have "lost, minimized, or at least put strain on many relationships due to quarantining, disagreements on mask wearing, etc." I don't think I've ever seen people so divided on every damn subject imaginable until 2020. I lost a few close friends this year due to my views on BLM and my generally confrontational demeanor. I'm not proud to admit that I've acted horribly, engaging in dumb shallow fights about subjects I should have researched more. I put a lot of emphasis on "hard facts" and statistical data, always quick to dismiss how societal and cultural perceptions affect many people. I won't go into specifics, but I've come to see the fundamental errors in my approach to discussing some sensitive subjects this year. To anyone who's been negatively affected by my comments on social media or here, I'm deeply sorry, for whatever it's worth. Now, I'm pretty sure I mocked Potsy and a few others for making lists like these in the past, so yeah I'm a bit of a hypocrite lol. I get the importance of coming clean and owning up to the bad shit you've done and said though, so here I am. Anyway this is prob an awkward as fuck transition, but I kind of wanted to kill two birds with one stone and didn't feel feel it necessary to make two separate lists, since I've been meaning to make "best of 2020" lists, so what the hell -- here are the games I enjoyed the most this year.
1
Gustavo Santaolalla


The Last of Us Part II





Last of Us 2: Without question the most controversial game of 2020 (not including the just recently released Cyberpunk 2077). There's no shortage of YouTube analyses on why this is one of the worst games ever created. They're perplexingly harsh towards the game's narrative and character decisions, as well as accusing Naughty Dog of trying to push a SJW agenda. Honestly, I think all of that is total bullshit. Ultimately, TLoU2 is a story about the dangerous cyclical nature of revenge for the sake of it - something its lead protagonist realizes far too late, but still in time to save a life or two. There's always been this ludonarrative dissonance pervading Naughty Dog's games - just look at the Uncharted games: the cutscenes are totally disconnected from the actual gameplay and as a result we end up seeing two very different sides of Nathan Drake that stand hilariously opposed to each other. TLoU universe inherently makes this disconnect much more prevalent since [...]

2
Gustavo Santaolalla


The Last of Us Part II





[...] they're such story-driven games, and I think this is where a lot of the criticism for the decisions characters make in-game stem from. Looking past this though, TLoU2 features an expertly told story with an interesting twist halfway through the game that turns longstanding genre conventions on their head. It takes a lot of chances and leads the player on an epic journey through a beautifully realized post-apocalyptic world. It could have admittedly made some bolder mechanical decisions to switch up the gameplay formula a bit - but that formula is still potent after 2 full playthroughs, and I imagine it still will be far into the future. 9.5/10

3
Soundtrack (Video Game)


Castlevania: Rondo of Blood





Curse of the Moon 2: CotM2 is 8-bit Castlevania perfection. Unlike its predecessor, the learning curve is rather steep. At times this game seems like some old-school Nes-era levels of bullshit, but if you stick with it you learn that every enemy, every room, every tile has a workaround, and finding them out for yourself is part of what makes the game so rewarding. I played this thing to absolute fucking death this year - about 5 times through to get the true ending and many more to unearth all of its secrets. Indie titles have been making huge strides this last decade and I hope we continue getting obscure gems like this. A love letter to old and new fans of the classicvania formula. 9/10

4
The Clash


London Calling





Tony Hawk Pro Skater 1+2: I probably don't need to even explain why this is so awesome. Anyonr who's played the originals and wants to see them gorgeously reimagined with tighter gameplay (featuring mechanics from later games in the series) will get a huge nostalgia kick from this. Just… for the love of god do not play that garbage ass remaster from a few years back. 9/10

5
Nujabes


Luv(sic) Hexalogy





Ghost of Tsushima: Japanese Assassin's Creed, if Assassin's Creed didn't suck. Yep. 8.5/10

6
Ramin Djawadi


Game of Thrones: Season 1





Crusader Kings III: Talking about steep learning curves, holllllly shit is this game ever hard to pick up. 40 hours in and I'm honestly still completely lost a lot of the time. CK3 is a medieval strategy game and dynasty sim in which you essentially rewrite history in an attempt to conquer lands and pass down your lineage to future heirs. It has a lot of deep and complex systems - its tutorial is some 2-3 hours long and it barely even scratches the surface of what's possible. I'm still finding options to do things I didn't even know existed in the game.This is one of the things that makes it so engrossing, but also the least accessible game of 2020 for newcomers. For those of us masochists willing to study and learn its many systems, the amount of complexity contained within is enough to keep people playing for hundreds if not thousands of hours, and the fact that Microsoft Flight Simulator won strategy game of the year at the 2020 Game Awards is embarrassing. 8.5/10

7
Jake Kaufman


Shovel Knight



Here are other games I played this year but don't have a lot to say about:
Dreams: This game has a ton of potential but sadly not a lot of creators. It's just too hard to find consistently solid content. Hoping it gets more support in the future because the concept is intriguing and I know this could be great. 7/10
Resident Evil 3: Honestly disappointing after the superb RE2 remake, but still a fun few hours to be had. 7/10
Doom Eternal: This is how you do a fps. 8.5/10
Fall Guys: A fun game if you have a good group of friends to play it with, diminishing returns though. 7/10
Nioh 2: fuck this game! 5/10
8
Soundtrack (Video Game)


Witcher 3 - The Wild Hunt



Also a big shoutout to the games that continue to get developer support to improve and add more content to keep the playerbase alive and well:
Bloodstained: Ritual of the Night
Dragonball Fighterz
Blasphemous
Fortnite (just kidding, fuck this game!)
Gwent

Games I didn't get to play much this year but I know are superb:

Wasteland 3
Desperados 3
Demon's Souls Remake (can't wait to play this in 5 years when the PS5 is available)
Cyberpunk will prob be good in a year so I'm gonna wait.