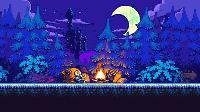 User
Reviews 57
Approval 94%
Soundoffs 144
News Articles 4
Band Edits + Tags 6
Album Edits 42
Album Ratings 1719
Objectivity 74%
Last Active 12-03-20 11:41 am
Joined 03-25-09
Forum Posts
27
Review Comments 32,526
Bloodstained: Ritual of the Night

Anyone else enjoying the hell out of this atm? I grew up on old Castlevania games, my favourite being Symphony of the Night, so I was stoked as hell when this was announced several years ago. Got the Curse of the Moon game to tide me over until this one was complete. Gotta say, Ritual of the Night might be the new king. If you're playing it, what are your favourite bosses/areas?
1
Michiru Yamane


Castlevania: Symphony of the Night OST





Must hear game OST.