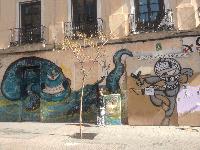 User
Soundoffs 9
Album Ratings 208
Objectivity 73%
Last Active 04-07-12 9:50 pm
Joined 12-26-08
Forum Posts
1
Review Comments 189
Lists
04.07.12
Fresh to Sputnik & eager for your Easte
10.17.10
Music & Caffeine
09.26.10
Goodstuff
01.17.10
Hello,
11.21.09
Lubbin' The Dub,
11.18.09
Sputnik, Sputnik,
11.03.09
Albums To Probably Reveiw,
11.01.09
Shpongggle,
10.28.09
Portishead,
10.24.09
This Is My Current Wish List,
10.13.09
Oops,
10.11.09
Hip Hop,
09.21.09
My My,
09.07.09
I Now Have Some Money,
09.03.09
New Discoveries
08.22.09
Oh God Yes,
08.14.09
Please Recommend
08.12.09
Which Should I Buy First?
More »
Albums To Probably Reveiw,

The almighty Sir Nick Butler (a.k.a. 'Iai') has graced my userpage with a sentence of slight praise. I am honoured and should really do as he bids and contribute some interesting and hopefully readable reviews to the Sputnik Monster Machine, savvy?
1
Shpongle


Ineffable Mysteries From Shpongleland





I feel I should probably justify my latest classic rating, especially sinse it was after only one and a half listens. Also, this album as yet has no reviews on this site, and it certainly needs them because its the best thing I've tasted sinse God knows what.

2
Carl Orff


Carmina Burana





Or some album of this ilk, like Puccini's Tosca or something, because Classical music definately doesn't get enough sex on this site, especially Opera.

3
Antonio Vivaldi


The Four Seasons





OK, this is a bad example for the above statement, but I think I've got a thing or two I could say about this beautifully bombastic and brilliant shredfest from one of the grooviest decades in the history of excellence; the 1720s.

4
The Incredible String Band


The Hangman's Beautiful Daughter





I havn't heard this yet, but apon discovering that practically no one listens to this Acid Folk outfit, I decided I would definately perhaps review it, hopefully.

5
Portico Quartet


Isla





I like these guys, and so should most people.

6
Maximum the Hormone


Buiikikaesu





I know, I know, it's really the most well thought out/skilled/elitist music, but, for reasons undefined, unknown and unusual, I fuucking love it.

7
Keith Jarrett


The K?ln Concert





I've given this a 5 on here, and I think I still stand by it, but we'll see. I want to review this because it's fantastic and very few people know of it here. It's worth a gander, honest.