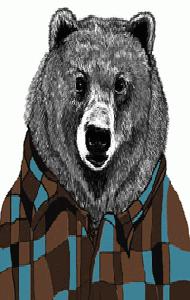 Staff
Reviews 122
Soundoffs 113
News Articles 22
Band Edits + Tags 48
Album Edits 133
Album Ratings 780
Objectivity 67%
Last Active 11-19-17 4:23 pm
Joined 12-15-08
Forum Posts
1,073
Review Comments 2,711
Top 10 2010

My top 10 albums of 2010
10
The Prize Fighter Inferno


Beaver Records EP



I don't care if it was only two songs - they were great! The next Prize
Fighter Inferno album will be superb.
9
Tesseract


Concealing Fate



Tesseract have been great, ever since I first heard their 2007 demo. I was
lucky enough to see them on tour with Devin Townsend and they're
definitely the real deal - great musicians and a great album! Can't wait to
hear One when it's finally released.
8
Tre Watson


Lexicon of the Human Subconscious



This came out of left field with songs like "Charmander use FLameThrower!"
that riffed on the Pokemon themes of yore that no one could really resist.
And ending by improving the hell out of a Lady Gaga song while keeping
her vocals intact? Greatly enjoyable. This has grown on me considerably
since I got it, and has gotten into regular rotation. While I'm not nearly as
fond of Tre's more recent material, Lexicon is really good and fun.
7
Coheed and Cambria


Year of the Black Rainbow



It's a new Coheed album, and while that's pretty much good enough for
me, there's plenty on here to keep impressing. While not quite as most of
their back catalog, a lot of the songs on here are really solid, especially the
ballads - "Far" and "Pearl of the Stars." "Guns of Summer" is a huge
favorite of mine as well. Chris Pennie is a beast.
6
Anathema


We're Here Because We're Here



The title does most of it for this album. It's whispy, relaxed, and bears the
essence of intricate simplicity. Slow down and hush Cynic's Traced in Air and
apply the same attitude, and you've got Anathema's We're Here Because
We're Here
5
Cloudkicker


]]][[[



I'd heard Cloudkicker's "The Discovery" and honestly wasn't too impressed.
So when I heard good things about ]]][[[, I figured I'd give it a try and see
if anything had been improved upon. And there definitely has been a real
improvement - the project winding towards Post-Metal rather than djent
definitely raised it a few notches in my book, and I genuinely enjoyed ]]][[[
a lot, despite its odd song titles and the title of the album itself.
4
Soul Cycle


Soul Cycle



This album quite literally came to me by chance, as I was browsing
MetalSucks and it happened to come on the radio. I liked the track, tracked
down the band, and low and behold, new, "free" album (bandcamp). This
group - really just two guys who are now putting together a live roster -
have some astonishing stuff that sounds really interesting and fresh.
They've gotten hit with the djent label, which I'd call a curse, rather than a
blessing, but really, they don't play into that role much. This album, if
anything, is heavy, progressive instrumental metal, and it's very, very good.
3
Parkway Drive


Deep Blue



This album is mammoth, but each track is really fantastic, making the album
worth listening to over and over again, though in chunks. Being pretty
different from Parkway Drive's previous efforts (at least in my eyes and
ears), this album was a little harder to get into than Horizons or Killing with
a Smile, but it's really worth it once you do.
2
Sufjan Stevens


The Age of Adz



Oh, Sufjan, you crazy bleep-bloopin mastermind, you. NOTHING like Illinois,
but it rivals the brilliance of that album in such a very different way.
1
Orbs


Asleep Next to Science



The sheer amount of creativity and passion I hear in this album makes it a
classic for me. The singing is goofy, the lyrics are goofy, some of the music
is even kind of goofy, despite being incredibly good. It's that slight off-kilter
edge that this band was willing to experiment with and take to some level I
hadn't heard before that makes this album a masterpiece in my eyes.