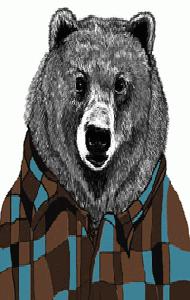 Staff
Reviews 122
Soundoffs 113
News Articles 22
Band Edits + Tags 48
Album Edits 133
Album Ratings 781
Objectivity 67%
Last Active 11-21-17 11:29 pm
Joined 12-15-08
Forum Posts
1,077
Review Comments 2,716
Top 5 Albums I Can't Turn Off

A bunch of albums I always find myself hitting the play button on...
5
Reflux


The Illusion of Democracy



When I'm in the mood for something heavy, this is what I turn to now. It
has spoiled all other metalcore for me, because this presents an attack
from all sides with unparalleled musicianship (ok, well, with the exception of
the vocals being nothing but screams). Truly awesome and a shame that
the group disbanded.
4
Animals as Leaders


Animals as Leaders



Okay, so at first I really wasn't all that into this album, but it's really grown
on me. There's some sort of catchiness to Tosin's playing that eventually
just grabs you and keeps you coming back over and over again. Completely
different from Reflux, but still fantastic.
3
Devin Townsend


Ocean Machine



Somehow, I keep coming back to this album, of all of Devy's. It's got such
raw purity to it and seems a bit more balanced than his later efforts. The
album is just agreeable for so many situations I can't get over it.
2
Scale the Summit


Carving Desert Canyons



Possibly the best instrumental prog ever. This entire album creates such
soundscapes and incorporates such musical mastery in a subtle way that
it's amazing.
1
Cynic


Traced In Air



This album is just so beautiful and unique... It's like ear candy and I can't
get enough of it, it seems.