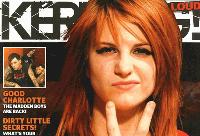 User
Reviews 7
Approval 77%
Soundoffs 5
News Articles 6
Band Edits + Tags 3
Album Edits 2
Album Ratings 196
Objectivity 78%
Last Active 02-25-13 2:35 pm
Joined 09-20-08
Forum Posts
3
Review Comments 1,900
The Best Of 2008: Top 10 Albums

Self-explanatory: my favorite albums of 2008. You know the drill. In no particular order...
1
Anberlin


New Surrender





It's very simple: these guys are the best Alternative Rock band. And that's saying a lot, because the Alternative bandwagon is very large and crowded. But to me, these guys transcend it. After the epic but very consistent-sounding Cities, the Anberlin boys create a much more diverse sounding-record with New Surrender, but remain the same heartfelt, catchy bunch we all love. They've branched out sonically, but the roots are still the same, and every single change only enhances what they already were. New Surrender perfectly personifies what good, quality, innovative Alternative Rock should be.

2
Norma Jean


The Anti Mother





Okay, so the title is laughably awful. The music is awesome. This album was extremely controversial, and seems to be one of those love-it-or-hate-it albums, but to me it is excellent. Norma Jean wouldn't be Norma Jean if they didn't make major shifts in their style from one album to the next. Amazingly, though, they are one of the VERY few bands who can make every single change interesting and at the same time awesome, something they once again acheive with the Anti-Mother. They somehow kept their core the same, while at the same time putting out four very different records. The album is quite unique, and needless to say will totally rock your face off.

3
Death Cab For Cutie


Narrow Stairs





These guys remind me a lot of Anberlin, only significantly more mellow. They consistently put out great albums, that expand and build on each other. They are innovative, yet they are distinctive, and like i mentioned with Anberlin, any change they make is for the better. Transatlanticism is still my personal favorite album from DCFC, but this one came darn close. Contemplative, catchy, and always compelling, Narrow Stairs is one of the few mellow light rock albums that is constantly interesting to listen to, something which cannot be said for it's more successful and popular counterpart, Coldplay's Viva La Vida. Death Cab For Cutie simply owns their genre with Narrow Stairs.

4
The Classic Crime


The Silver Cord





This is one of the most honest and most emotional albums i've ever heard. Enough said. The album musically is pretty generic, but for all of the technically brilliant bands out there, you have to have some good ole' fashioned rock n' roll you can just chill out to, and not feel guilty about listening to some Fall Out Boy/My Chemical Romance crap while you do it. The Classic Crime is just such a band, and The Silver Cord is a perfect album for the genre: not a bad song in the bunch.

5
Unearth


The March





There are so many bands in Metalcore, it can be very hard to distinguish one from the next. Unearth stands out, however, by simply making killer music. They're one of the few Metalcore bands that have put out a lot of fairly similar albums, and yet have had every single one just as well-received as the last one. How do they do it? It's pretty simple: because every single album is undeniably awesome. The March continues the tradition perfectly, with almost every song being a standout. In a year with the absence of a new As I Lay Dying album, Unearth more than makes up for it with The March.

6
House of Heroes


The End Is Not The End





This CD is so unbelievably catchy, it is absolutely IMPOSSIBLE not to sing along! And everyone, even the most jaded metalheads, needs something infectious like this to sing along to. But there's 2 things that make this disc worlds better than your normal Pop/Rock band... 1: House of Heroes is much more musically diverse and inventive than any other popular Pop/Rock outfit, and 2: the lyrics are MUCH more interesting and a lot deeper than anyone else's in this genre, but at the same time they throw in the fun every now and then for an exciting change. The End Is Not The End is a rockin' rollercoaster ride that left me totally exhilarated, and is a complete surprise, but completely deserving of a top-ten position.

7
Jon Foreman


Fall and Winter, Spring and Summer EP's





Now I'm definitely a Rock dude, so something as stripped-down and mellow as these EP's has to be really good to hold my attention. And even though there are 24 songs in this compilation, they did way more than just hold my attention: it totally captivated me. This is some of the most brutally honest music ever created, and as far as i'm concerned, the more honest and passionate music is, the better. Jon also is extremely innovative with his composition, and the different insruments that are used to accent the songs. Individually, his musicianship isn't necessarily brilliant, but it is perfect for what the music is: A stripped-down, southern tinged, emotional acoustic collection. You really feel these songs, like you're actually a part of them. Which is a great feeling.

8
The Gaslight Anthem


The '59 Sound





This is the ultimate album to just chill out to. These guys have an awesome Alternative Rock sound, and they really craft that sound well. There is absolutely no filler, and all of the songs are interesting and totally cool. You feel like these guys really took time to develop this album, unlike many others with similar style. Everyone needs a chill album, and this one delivers big-time.

9
UnderOATH


Lost In The Sound Of Separation





Underoath has been very possibly the most popular Hardcore/Screamo band in the country the past few years, and have managed to not sell out as far as their sound yet. Instead, they have only expanded and enhanced it. Lost In The Sound Of Separation continues that direction, with the brutal breakdowns they are famous for complimented by some of the most melodic and softer material they've don thus far. This album doesn't quite live up to Define The Great Line admittedly, but that record is so epic that the fact that this even comes close warrants a top-ten album position. Some of the most innovative music in the Hardcore/Screamo genre.

10
Starflyer 59


Dial M





This was a band i just kind of stumbled upon one day, and boy am i glad i did. This album is a great mix of acoustic and electric elements driving most of the songs, but they incorporate several other instruments to make their songs unique and totally cool. Every song is so good, you can't help but like them immensely. The vocals also are really cool - they are deep, raw, and masculine, unlike most popular bands today trying too hard to make soaring, melodic vocals. Starflyer simply embraces what they are and what they do, and they do it extremely well. To me, they are one of the best indie groups out there.