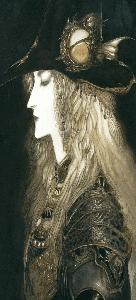 Emeritus
Reviews 28
Approval 98%
Soundoffs 21
News Articles 11
Band Edits + Tags 12
Album Edits 315
Album Ratings 814
Objectivity 67%
Last Active 08-11-17 10:49 pm
Joined 09-16-08
Forum Posts
43
Review Comments 16,202
Angel's Whiskey Encyclopedia

The cool weather is finally starting to roll around, making it the perfect time for one of my favorite earthly pleasures: whiskey. For those that don't know, whiskey is an alcoholic beverage distilled from fermented grain mash and generally aged in wooden casks. Different grains are used for different varieties including barley, rye, wheat, and corn. This list explains a lot about the different types available and some ideas for getting into each variety. However, most of the recommendations listed are the best of the best, so it's probably a good idea to move down in age, reserve, etc. to reach a viable price point.
1
Vond


Selvmord



Scotch - Often regarded as the pinnacle of distilled alcohol, scotch is the whiskey of Scotland.
This is most likely because the Scots have been making whiskey longer than just about
anyone. When referring to origin, there are five different regions associated with scotch:
Highland, Lowland, Speyside, Campbeltown, and Islay. Each region is generally known for
particular attributes in the whiskey's flavor profile. For instance, scotch from the Islay region
tend to have more of a smoky, peaty character, while the heavily sherried scotch from
Speyside is typically lighter with more floral notes. While it is true some of the best whiskey
in the world comes from Scotland, the country also produces its fair share of average and
subpar malts. Angel recommends: Glenfarclas 25 Yr, Laphroaig 25 Yr, Macallan 25 Yr
2
sleepy.ab


Fantasia



Irish Whiskey - Very much known for and associated with whiskey, Ireland actually only has four
distilleries, but those distilleries produce quite a few brands and varieties of whiskey. Ireland's
varietals are usually less smoky and intense than some of their Scottish counterparts since very
few whiskies use peat fire in the distilling process. Not just for Irish car bombs, Irish whiskey can
be just as refined and complex as any other type. Angel recommends: Michael Collins Single Malt,
Bushmills 21 Yr
3
Jan Johansson


Jazz pa Svenska



Japanese Whiskey - Whiskey has become increasingly popular in Japan over recent
years, causing its native distilleries to step up their game and put out some of the best
single malts in the world. Starting out trying to replicate many of the varieties found in
Scotland, Japanese whiskies are starting to develop their own character with distilleries
starting to implement the type of innovation the country is known for. Angel
recommends: Yamazaki 18 Yr, Yoichi 20 Yr
4
Paysage d'Hiver/Vinterriket


Split



Bourbon - What scotch is to Scotland, bourbon is to the U.S.A. It's produced mostly in
Kentucky (named for Bourbon county), although it can come from any state as long as it's a
minimum of 51 percent corn and is aged in new barrels. Though, only the stuff made in
Kentucky can be called Kentucy Straight Bourbon. The traditional mashbill (recipe) is
approximately 75 percent corn, 15 percent rye, and 10 percent barley, but in wheated
bourbons like Maker's Mark, the rye is substituted with wheat to further soften the flavor.
Angel recommends: Pappy Van Winkle's Family Reserve 15 Yr, Blanton's Original Single
Barrel Special Reserve
5
Archon Satani


Mind of Flesh and Bones



Tennessee Whiskey - This is essentially bourbon with one extra step in its production: After
distillation, it's filtered, very slowly, through ten feet of sugar-maple charcoal - what's known as
the Lincoln County Process. Smooth with a sweet finish, this easy-drinking spirit is the reason
Jack Daniel's is the world's best-selling whiskey. Angel recommends: George Dickel Barrel Select,
Jack Daniels Single Barrel
6
Agony


Apocalyptic Dawning



Rye - Bitter and peppery - think rye bread versus corn bread - rye packs a flavorful punch
and used to be the American whiskey. European immigrants found that it was easier to
grow rye here than barley (the main ingredient in scotch). After Prohibition, drinkers
developed a taste for the milder-tasting bourbon, making rye fairly uncommon. However,
it's recently made a big comeback as the whiskey for those in the know, especially
bartenders. Its bold flavors and high alcohol content make it hold up the best in most
cocktails calling for whiskey. Angel recommends: (ri)1, Russell's Reserve Rye 6 Yr
7
Merzbow and Richard Pinhas


Rhizome



Hybrids - Much like mircorbreweries have been doing for beer, microdistillers often experiment
outside the legal defintions of the whiskeys above, producing everything from re-creations of
American whiskeys from the eighteenth century (Anchor) to a blend of Georgia peach juice with
bourbon mash (Leopold Bros.). Whether that's your thing or not, it's kind of cool that many
distilleries are both getting back to America's distilling roots and thinking outside the box . Angel
recommends: Leopold Bros. Georgia Peach Whiskey, Old Potrero 18th Century Style Whiskey
8
Yasushi Yoshida


Grateful Goodbye



Blends - Even though there are a lot of swill blends out there combining leftover odds and ends, there
are superb blends to rival some of the best single malts. Just like distilling the perfect barrel of whiskey
is certainly an art form, so is blending. Master blenders toy with how adding whiskies of different malts
and ages can complement and enhance one another to create something on the palate with a lot of
depth and complexity. It can also be making the best of a bad situation. Not too long ago, Glenfiddich
had the snow pile up on the roofs of some of their warehouses causing them to collapse. The company's
malt master created a very lovely scotch blend commemorating the calamity. Angel recommends:
Glenfiddich Snow Phoenix, Johnnie Walker Swing
9
Alberich


NATO-Uniformen





Canadian whiskey can F.O.A.D.