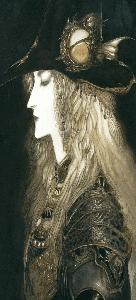 Emeritus
Reviews 28
Approval 98%
Soundoffs 21
News Articles 11
Band Edits + Tags 12
Album Edits 315
Album Ratings 814
Objectivity 67%
Last Active 08-11-17 10:49 pm
Joined 09-16-08
Forum Posts
43
Review Comments 16,202
So I Met John Haughm Saturday...

Drove 12 hours from Atlanta to Chicago with some friends to see Agalloch. Well, worth it, as it turned out to be one of the best live shows ever and we got to chat with their frontman after the show. Been there done that, and yes, I got the fuckin T-shirt.
1
Velnias

An outstanding live performance complete with animal bones and sage burning.
2
Indian

Worst band I've ever heard. Ever. And that is saying a lot. A sad excuse for sludge worsened by deafening feedback and high-end. However, it did not ruin the night.
3
Subarachnoid Space

One of the strangest bands I've ever seen. But in a good way. The music seemed like something best enjoyed in performed live.
4
Agalloch

Dream setlist. Absolutely euphoric performance. I was mesmerised from start to finish. The band used dry ice and incense to blow scented smoke across the venue. And according to John, they're going to try and play more in the States once their new album is released next year. He said he may even indulge our request for an Atlanta date even after warning it probably wouldn't be a packed house.