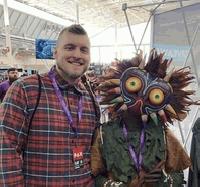 User
Reviews 14
Approval 98%
Soundoffs 77
News Articles 11
Band Edits + Tags 382
Album Edits 1,148
Album Ratings 4974
Objectivity 83%
Last Active 12-25-16 8:42 pm
Joined 09-17-07
Forum Posts
2,583
Review Comments 6,060
Halo Maps Ranked: 10-1

Oops. I accidentally got caught up in Halo 4 and forgot to finish my list. Well, here it is, the predictable end.
1
Ivory Tower

#10: Small / Halo 2 and Halo: Reach (Reflection) / This pseudo-symmetric
map provided gameplay that was perhaps too balanced at times, despite
its chaos-inducing design. What Ivory Tower gave to Halo was pretty
unique; it offered the illusion of control points. While most games became
impatient, fractured rushes to the top of the map (snipe spawn), it actually
proved more prudent to occupy different areas such as back wood. When
teams camp the top, they confine themselves to easily-routed and
claustrophobic hallways; escape options were entirely limited and
predictable. This dynamic is just fascinating to me. Ivory Tower also lent
itself to a diverse array of individual battles within the structure of a team
game. Ivory Tower is also the best small map for 1 Flag / 1 Bomb
gametypes. Lastly, the Halo: Reach version of this map looked so classy.
2
The Pit

#9: Small-Medium / Halo 3 / Much is to be said for the only non-Halo 2 map
in the Top 10: The Pit. I find that, like several other maps in the Top 10, The
Pit is perfectly balanced and offers a lot of variety for the player. The one
thing that holds the map back, for me at least, is that it is a shade too large
in scope. It takes a long time to get where you need to be, and since Halo
3 had no sprint button, this fact holds it back a little bit. Still, The Pit is
without a doubt the best Halo map to emerge since Halo 2 (including Halo 4
maps).
3
Elongation

#8: Small / Halo 2 / Elongation is just a spruced up, and perfected, remake
of Longest from Halo: CE. In addition to the much needed paint job,
Elongation also added little nooks to the design that made worlds of
difference, such as the moving boxes (which often also offered great comic
relief). This map is perfectly balanced, to the same degree that Midship is.
The only thing that holds Elongation back from being even higher, is
gametype diversity. The narrow design of the map holds it back in that
area. While flag games are unmatched here, gametypes like Oddball were
not ideal (even though Oddball was used as a competitive gametype for
some time on this map).
4
Battle Creek

#7: Small / Halo: CE, Halo 2 (Beaver Creek), and Halo: Reach (Battle
Canyon) / B. Creek is an interesting beast of a map. Eternally popular for
both casual and competitive match. B. Creek's strength was in providing a
great deal of fun, and a lot of room for great comebacks given the
constantly evolving shape of each and every game played on the map. Its
strengths come directly from the fact that the bases are not balanced; as
Red Base has a very significant advantage in obtaining the Rocket Launcher
and the Overshield (at least in Halo 1 and 2). I do also believe that Beaver
Creek from Halo 2 is the greatest iteration of the map. The hallways added
in the Reachmake opened the map up to more camping than we had
already seen.
5
Containment

#6: Large / Halo 2 / Behold, the greatest big map in Halo. Containment is
flawless. No other big map provided the level of balance that this map did.
Nothing is too overpowered, every corner of the map is usable, and almost
every Big Team gametype was playable and balanced on it. Though I don't
like it as much as some other maps, Containment is the map I miss most
from Halo 2, probably because it's so rare for me to find a worthy big map in
the series. The one feasible issue I can see one taking with this map, is
that sometimes, due to being very balanced and being very big, there were
often stalemate matches. Though any stalemate can be overcome by
adequate team cohesion.
6
Turf

#5: Small / Halo 2 / Turf is the greatest 2 vs. 2 map in Halo, and, sadly, was
completely underutilized in the competitive arena during Halo 2's life cycle
(though I believe this was due to spawning issues). I'd go so far as to say
that Turf is my personal second-favorite map to come from the Halo
franchise. Every portion of the map could be held to some advantage, and
this is a facet of Turf that very few other maps can compete with. In
particular, this aspect made 2 vs. 2 games different every time, with no
one strategy dominating (like you will see happening on Lockout and
Midship). I cannot think of a single weakness for Turf, or a gametype that
stood out as being unplayable on it.
7
Lockout

#4: Small / Halo 2 / Lockout is probably the most popular small map in the
Halo canon, and for good reason. Lockout is the perfect asymmetrical small
map. Being asymmetrical automatically disadvantages Lockout in regards to
certain gametypes (Bomb, Flag), but Lockout excels so well in Slayer,
Oddball, and King of the Hill gametypes that it counteracts any
shortcomings; although personally, I was a big fan of 1 Flag on Lockout for
casual games. Lockout is also the map that popularized and necessitated
map control in Halo 2. Successful control of the ?BR Tower? was absolutely
necessary to be crowned the victor, as there was no impossible vantage
from that section of the map. A legendary map in the eyes of most, surely.
8
Sanctuary

#3: Small / Halo 2 / Sanctuary is my personal favorite Halo map of all-time.
The map has everything you could want in a competitive map, with the
routes ranging from crowded but full of cover (in rocks), or spacey but open
(in the courtyards). Sanctuary also provides ample opportunity to play mind
games to outwit your opponents in the middle structure, or by the sniper
spawn. The map could provide any power weapons, and host any
gametype to a balanced outcome. It is a shame that Bungie decided to pay
homage to Sanctuary in Forge World, because what we received was a
laggy, unfaithful mess. For shame, Bungie.
9
Warlock

#2: Small / Halo 1 (Wizard) and Halo2 / While Wizard is the original, and a
fantastic map, Warlock made minute changes that ushered it into
competitive perfection. The on-paper design of the map is one of the most
simple in the series? history, yet provides severely balanced gameplay. Like
Midship, Warlock does this with no power weapons necessary, but with
player positioning providing all the leverage you could need. Depending on
the gametype, Warlock welcomed a vast variety of playstyles, whether you
prefer playing portal mind games, rushing down on and around platforms,
or camping in the bases. Warlock is also one of very few maps in the Halo
canon that provides a balanced One vs. One experience.
10
Midship

#1: Small / Halo 2 and Halo 3 (Heretic) / Midship is the ultimate first-person
shooter map. Its versatility and balance is second-to-none in the shooter
world. Pick any game type, and it works flawlessly for high-level play.
Moreover, it accomplished all of this with barely any power weapons
necessary. A shotgun was the only ?power weapon? on the map. On
Midship, team positioning was the only power weapon. Bungie and 343
have yet to release a map as versatile and competitively copacetic as
Midship, and that is why it is my number one Halo map of all-time.