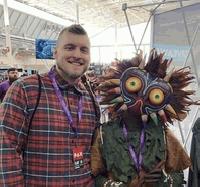 User
Reviews 14
Approval 98%
Soundoffs 77
News Articles 11
Band Edits + Tags 388
Album Edits 1,154
Album Ratings 5020
Objectivity 83%
Last Active 12-25-16 8:42 pm
Joined 09-17-07
Forum Posts
2,583
Review Comments 6,078
Halo Maps Ranked: 30-21

Let's get ready for Halo 4. By no means are these rblurbs in-depth rcritical analyses, just quick, cursory overviews. rAll selections were rmade mostly with high level play in mind. I judge ron map design rand how that map design relates to the game rmechanics of rwhichever Halo game it came from; I do not take rinto rconsideration the mechanics on their own merit. PC rmaps and rforged maps are not present. Feel free to post how rmuch better ryour favorite shooter is than Halo.
1
Ascension

#30: Small / Halo 2 and Halo: Reach / Ascension is both a fan favorite and a
personal favorite map of mine, but due to the one-dimensional nature of
the map it ranks in the middle of the pack. Ascension maps always follows
the same pattern: a mad dash for sniper control followed by continuous
spawn-killing. A very fun map if you are in control. Unfortunately, without
sniper control there is little one can do to take the power back. It was also
pretty cool aesthetically, and fairly awesome that the Banshee was usable
on a small map, even though it wasn't a very effective tool given the
homing Rocket Launcher of Halo 2.
2
Assembly

#29: Small / Halo 3 / Another personal favorite. Assembly had a lot going
for it, but sadly never reached its full potential. The map layout was similar
to that of Backwash from Halo 2, just with more obstructions and more
complicated layering and bases. Assembly would have been an excellent
competitive map were it not for some fatal spawning issues, and perhaps if
the bottom layer of the map was less crowded. Visually, Assembly is one of
the most beautiful maps. I'm always a sucker for purple and green palettes
on maps, and this one just looked great. Assembly felt like it was designed
for competitive play, which is why it is disappointing how it never became a
staple.
3
Chill Out

#28: Small / Halo: CE and Halo 3 (Cold Storage) / It kills me to rank such a
great map at #28. While Chill Out is an amazing map, its strengths are very
narrow. As a 2 vs. 2 map, there are few that compete. But for most
everything else, Chill Out was a sort of disaster. Nearly every portion of the
map can be controlled to an advantage, which is a necessary element for a
successful small map (especially one tailored for 2 vs. 2 play). Chill Out
required playing mind games with your enemies to subvert their map
control and gain the upper hand. The only thing other than 2 vs. 2 play that
worked well on the map was Oddball.
4
Epitaph

#27: Small-Medium / Halo 3 / Epitaph was personally one of my favorite maps in
Halo 3. I honestly could not even tell you why. What it comes down to is that
Epitaph is extremely fun to just play casually, and often casual Halo is the
best kind of Halo. It was also a great 2 vs. 2 map. It had a fairly balanced
design, and like Chill Out, nearly every position could be held effectively,
even the outer walkways. Matches varied from being frenetic to being
surreptitious, slow-burning sneak-fests. I know not many people agree with my
assessment of Epitaph, but it's one of those quirky maps that occupies a special
place in my heart.
5
Blood Gulch

#26: Large / Halo: CE / While Blood Gulch is undoubtedly the most popular
map in the series' history, it doesn't make for a balanced experience. At this
point, I don't know exactly what the appeal is on this map anymore. First
and foremost, you're essentially useless without a sniper rifle or a vehicle. I
suppose people enjoy the mad Warthog rush for the flag, while the others
enjoy spawn-sniping the other team into oblivion. But these things do not
make for a varied map that best represents what Halo is capable of. A fun
map, no doubt, but not worthy of the exorbitant esteem it has attracted
over the years. Blood Gulch's design has been featured in every Halo game,
if you are of the mind that considers Valhalla a modified Blood Gulch. I've
simply grown tired of its concept over the years. It no longer has the same
appeal it did during middle school all-nighters.
6
Colossus

#25: Medium / Halo 2 / This is possibly a controversial choice to have so
high, as I don't think Colossus was a very popular map. I happen to be a
big fan of it, though. Colossus welcomed nearly every gameplay option that
one cared to employ. It also provided some of the most intense matches,
especially pre-patch when the ?n00b combo? was even more rampant. Let's
not forget super bouncing the flag all the way to the other side for ten-
second flag captures. Colossus opened itself up to a lot of magical
moments. The only thing it didn't have going for it was aesthetic appeal.
The map design itself, is near-flawless. The half-bridges in the middle
remain one of my favorite positions to hold in any Halo game. Lastly,
Colossus was good for everything from 1 vs. 1 casual play, to free-for-alls,
and even 8 vs. 8 games.
7
Guardian

#24: Small / Halo 3 / Often mistaken for a Lockout remake, Guardian
offered the same element of gameplay that was so successful on Lockout.
Control of half of the map was necessary for successful matches. In
controlling half of the map it was prudent to force the enemy into
predictable pushes, where it was rather easy to lay waste. It required
some experimentation to discover what type of push would work to take
the sniper tower back, but it was never impossible. In fact, it was more
than possible and there were several ways to do it. This is why Guardian,
and Lockout before it, prospered so much as a competitive map; there is an
area that is absolutely necessary to control, but not impossible to regain. It
also had a fairly novel Jurassic Park theme going on.
8
Relic

#23: Large / Halo 2 / Relic is an awesome big map. It was built for 1 Flag /
1 Bomb matches, and excels at that gametype in an unparalleled manner.
The only reason this is not higher is because of the small pool of gametypes
that work, no matter how well they work. No other map up to this point had
players assault a humongous structure like a true invasion. It was awe-
inspiring aesthetically, and didn't restrict players to vehicular or sniping
gameplay like a lot of other big maps.
9
Zanzibar

#22: Medium-Large / Halo 2 and Halo 3 (Last Resort) / Zanzibar is a fan
favorite for good reason. Any playstyle you could fashion worked well on it.
Whatever strength you possessed, you could issue it to an advantage.
That is the greatest strength of Zanzibar without even getting into map
design. The original Zanzibar was pretty much flawless. The frenzied rush
to open the gate and then initiate a barrage of spartans until (finally)
achieving success in the base was an element that was previously unseen
in the series. Having a potent sniper was necessary to keep the enemies
from quickly re-entering the base when attempting to arm a bomb or
capture a flag. Full cooperation was needed for a successful capture. Being
that it works specifically for 1 Flag and 1 Bomb, like Relic, has Zanzibar a bit
lower on the list than one would expect. The Halo 3 remake, Last Resort,
lost a lot of the magic that Zanzibar provided. The addition of a few
walkways, and the subtraction of a full gate, took away from the overall
experience, and surprisingly turned Zanzibar into a run-of-the-mill Halo
map.
10
Damnation

#21: Small / Halo: CE and Halo: Reach (Penance) / Damnation was my
favorite map in Halo: CE, bar none. At a competitive level, Damnation
perfects the recipe for stalemate matches. The map in itself is used as a
strategy to ?ice? other teams who are feeling warmed up and playing well
(in the competitive arena). The gameplay on Damnation is sluggish, and
rarely ever reaches the 50 kill mark (or even 30 for that matter). Taking
control on Damnation required a strategic push necessitating perfect timing.
Usually these pushes occurred at the time of a new power weapon /
power-up spawn; where both teams would just sit it out until the weapons
spawn, and then battle for the weapons. Sometimes not even the weapons
would be attained due to the stress of the stalemate (or naded off of the
map completely if the upper-handed team was content with simple position
control). Damnation also works well for Flag, Bomb and Oddball gametypes,
especially in casual play. Again, while I am a big fan of the playstyle that
Damnation lends itself to, it does not make for a diverse map that
represents the series, and not many people enjoy the slow pace.