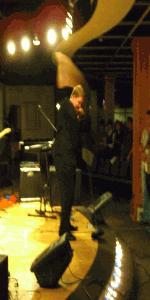 User
Reviews 3
Approval 100%
Soundoffs 7
Album Ratings 83
Objectivity 87%
Last Active 12-31-69 7:00 pm
Joined 12-31-69
Forum Posts
0
Review Comments 9
Reasons I'm A Songwriter.

These albums, both older and more recent, have made me glad to be a writer, and jealous that I can't do it as good as they can yet.
1
Def Leppard


Hysteria





In my humble opinion, the best pop/rock record of all time. The hooks are incredible, and aside from a few songs, I don't hear how old it actually is when I listen to it.

2
Sugarland


Enjoy The Ride





Great vocals, great musicianship, and even better yet, a great collection of songs.

3
Journey


Escape





I saw Journey in concert in 2006. I want to have a song that makes people react the way that "Don't Stop Believin'" does.

4
Ryan Adams


Rock N Roll





This guy is almost too smart for his own good. Asthetically, he's pretty much anti-everything I like, but his songs are so strong that I don't care.

5
Liz Phair


Exile in Guyville





I think this woman is fearless. I wish I didn't care what others thought about my words. This is a must have!