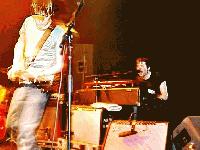 User
Reviews 181
Approval 87%
Soundoffs 215
News Articles 34
Band Edits + Tags 11
Album Edits 161
Album Ratings 1588
Objectivity 76%
Last Active 11-04-12 12:35 am
Joined 01-18-07
Forum Posts
92
Review Comments 17,920
Atavanhalen Vs. The World - Underrated 2010

Welcome to the end of 2010, with your host Atavan. Underrated, Best Gigs, Best Albums, Best Songs. Yo VIP - let's kick it.
5
Kings of Leon


Come Around Sundown





Y'know, for an album from one of the biggest rock bands in the world, this really didn't seem to get much attention, let alone the attention that it deserved - after several obsessive listens, this falls just short of Youth and Young Manhood as my favourite Kings of Leon record.

4
My Chemical Romance


Danger Days: The True Lives of...





Lot of hate for this one, too, even though there was plenty of fun to be had with this record. Really exciting, good energy, thankfully not a carbon copy of TBP - they gave it a red-hot go and I think it payed off.

3
Eminem


Recovery





So this got a fair amount of backlash - and if you were to judge it purely on the singles, you'd probably think it was fair. That said, there was some of Em's best work in years on this record, in particular Talkin' 2 Myself and 25 To Life.

2
M.I.A.


Maya





Yes, this is a motherfucker on first listen. When you really get into the music, however, it's something else - at times, so good it's scary.

1
Otouto


Pip





An album I completely adore that really deserves far more attention than it's gotten from a lot of press.