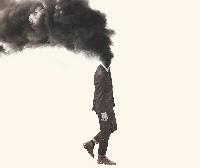 User

Soundoffs 6
Album Ratings 193
Objectivity 70%

Last Active 04-12-22 1:36 pm
Joined 04-12-22

Review Comments 10


Screamo I've been jamming

Screamo really should have a tag on sputnik, right?
1
Jeromes Dream


The Gray In Between





Got this the day it was released and have listened to it four times already. I came to the conclusion that it is my second favourite album of theirs, even though it has better structure and dynamics than Seeing Means More Than Safety. And Jeff's best vocal performance to date. But their first one was so chaotic and insane that it still holds the top spot for me.

2
Ampere


All Our Tomorrows End Today





It's amazing what you can pack in just ten minutes. This is one of those albums where I sit down and give all my attention to it because I want to hear every single detail they put in.

3
Off Minor


Innominate





I don't know why this is, but I always went out of my way to not listen to this album. Whenever I was in the mood for Off Minor I just listened to The Heat Death of the Universe. I finally got around to it, and it is almost as good as their first one, but not quite. Honestly, it's pretty rare for a band to blow your mind twice.

4
Shin Guard


2020





It's like screamo with heavy metal inspired riffs and it's fucking awesome, especially the track Kennedy. I don't know what it is, but I can't stop listening.

5
Loma Prieta


I.V.





Just listened to this again today to keep my hype for the new album going. The first half is some of the heaviest stuff you will come across in this genre, or in music in general, I think, and the second half grooves it out and has a lot more melody. It is their best album in my opinion.