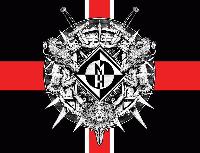 User
Reviews 1
Approval 10%
Album Ratings 155
Objectivity 63%
Last Active 06-27-20 1:54 pm
Joined 03-19-19
Forum Posts
0
Review Comments 102
5 More Albums That I Think Are Underrated

I already did one of these, and I want to do another one. This is in no particular order.
1
Black Veil Brides


We Stitch These Wounds





Any Black Veil Brides album could be on this list, but I decided to go with this one because it's my favorite, and the most underrated. Yes, Andy doesn't show much vocal range. Yes, the riffs aren't anything new. But I just really enjoy the album. I used to not love it, but now it's in my top 5 favorite albums ever.

2
Killswitch Engage


Disarm the Descent





No Killswitch Engage fan thought that Jesse would ever return to the band, but he did. Some people don't like this album, but I love it because of how big of an improvement it was over the terrible album that came before it. In Due Time is a fantastic song, and the others ain't bad either.

3
Avenged Sevenfold


Hail to the King





Hail to the King is usually considered A7X's weakest album, and I strongly disagree. When I heard Shepherd of Fire for the first time, I fell in love with the band. I understand that the album was a big change in sound compared to the band's previous albums, but I like when bands that I like try something different.

4
Megadeth


Super Collider





Super Collider is often considered one of Megadeth's weakest albums, but I disagree. I enjoy quite a few of the songs, like Kingmaker, Dance in the Rain, Forget to Remember, Cold Sweat, and The Blackest Crow. It doesn't sound like Megadeth's other albums, but I respect them for trying something different, and I think it worked pretty well.

5
Bullet for My Valentine


Temper Temper





Gravity could have also taken this spot, but I've seen more dislike for Temper Temper. It's my least favorite Bullet For My Valentine album, but that's just because I like their other albums more. I like a lot of songs on this album, like Breaking Point, Truth Hurts, P.O.W., and I think that Temper Temper and Riot are very underrated. Tears Don't Fall Pt. 2 is also pretty good.