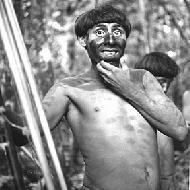 Emeritus
Reviews 49
Approval 99%
Album Ratings 83
Objectivity 65%
Last Active 01-06-10 12:47 am
Joined 06-19-04
Forum Posts
4,391
Review Comments 165
Favorites of 2006

A year in music.
1
Ghostface Killah


Fishscale





2006 was the year of the hip hop veteran. From Jay-Z to Snoop, the rap elders came out in full force over the course of the past 12 months, stealing headlines from a crop of very worthy new jacks with plenty of talent to spare. But while many vetted artists simply proved that you can't teach an old dog new tricks, Ghostface not only met expectations, he exceeded them. Twice. Fishscale displayed a traditionalist ethos in nearly every aspect, buoyed to success by peerless street narratives and perfectly hewn beats from a handful of respected producers. And even if the album didn't attempt to break barriers or reinvent the genre, the quality and quantity matches any hip hop album released this year and, indeed, modestly crushes most others.

2
Herbert


Scale





The defining aspect of Matthew Herbert's Scale is dedication. Herbert's single-minded and well-defined creative interests produced perhaps the year's most elegiac dance pop album, an effortless blend of electronic and acoustic composition. Samples of gas stations and retching men comingle with string arrangements for an effect that's part Motown, part Warp Records. Throw some heady lyrical themes obliquely touching on peak oil, consumerism and celebrity into the mix and it's easy to see that Scale has more to offer than its initial sheen would suggest.

3
TV on the Radio


Return to Cookie Mountain





Yeah, it's a pretty stupid title. Nonetheless, TV on the Radio's sophomore album is a pulsating chunk of pop wrapped up in tremulous layers of guitar noise wrapped up in a stylish but one-of-a-kind production aesthetic. Return to Cookie Mountain is not without reference, but the human pieces of the band, especially singer Tunde Adebimpe and multi-instrumentalist/producer Dave Sitek, coalesce to form a Voltronesque monolith of uniquely sculpted guitar rock that's as catchy as it is defined. That sounds stupid, but that's my story and I'm sticking with it.

4
Lupe Fiasco


Food & Liquor





So-called "intelligent" hip hop has a habit of talking down to the listener and berating every style that doesn't follow its self-important lead. Maybe that's why Lupe Fiasco's debut was at least refreshing, even compared to contemporaneous underground backpacking ilk. Fiasco recognizes that hip hop doesn't need a savior, just a shot in the arm. And with tricky lyricism, a studded flow and soaring string-laden production that mirrored the work of Chi-Town buddy Kanye West, Food and Liquor plays like the perfect antidote to the mainstream doldrums.

5
M. Ward


Post-War





Humility is a gift most of us don't have and even fewer are able to creatively project. I'm not sure if that's a true sentiment, but if it is, then M. Ward is more so a certain rarity. The 12 songs on Post-War evoke a sense of sincerity, humility and sensitivity that most aspiring singer/song writers would kill for, doubly so given the album's desired intent. Whether reinterpreting Danny Johnston classics or blazing through his own down-home tunes, there's a forceful passion and complete lack of pretension in Ward's every move.

6
Tom Waits


Orphans





And so the dean of gravel-throated garblers besets on us again, towing his usual suitcase of maladies and moxy in one hand, a steady focus in his eyes and a microphone in the reverse palm. Tom Waits, generous as ever, returns with a 3 disc set of tunes. And now we're happy. It's not so much that Orphans is a gross wealth of material, although it is. It's more that Waits manages to reinterpret and reinvigorate musical genres that are, in the hands of lesser artists, dead languages. And like some hurried dervish magi *POOF* he's gone in a flash.

7
J Dilla


Donuts





Dilla's final release before his death bares no resemblance to a swan song. At best, it's a terse, stuttering collection of non-compositions and jagged musical ideas, in some cases only barely formed fully enough to warrant release. In fact, very few of these tracks stand well alone. So maybe that's why it's remarkable; there's a truth to these beats that suggests expression of the highest form, as much as any epic song cycle or complex suite. Despite their length, or perhaps because of it, Dilla's work reeks of raw playability. This can't be a swan song. There's too much life left in these vignettes.

8
Yo La Tengo


I Am Not Afraid Of You And I Will Beat Your Ass





Yo La Tengo's unwieldily titled release is a foundry of diversity, staunchly bolted in a variety of indie rock stances and noise flourishes. One moment, they'll be flailing through an epic exercise of guitar rock and then in the next, they'll charm you death with delicately arranged melodies that harken back to baroque pop days of yore. Simply, it's what you might expect from Yo La Tengo: more quality songwriting from this established troupe.

9
Irene


Apple Bay





It's simple and short. Irene's stupidly effective tunes, which mine the hackneyed surface of the intersection between 60's pop and indie rock, are delivered via 12 tiny 2 minute capsules. It's twee without sounding overly cutesy, like the aborted stepson of a Calvin Johnson and Stephen Merritt tryst. And though hardly as willfully ramshackle as the former or as wry as the latter, Apple Bay boasts that same addictive quality.

10
E-40


My Ghetto Report Card





The off-kilter flow, the infectious beats, the vernacular. E-40 excells because he excells with uniqueness in every category. Yet the Bay Area rapper is one of the most critically underappreciated active artists in hip hop, despite finally reaching platinum status. My Ghetto Report Card, while no masterpiece, perfectly represents his contributions; 40's ability to invent slang and create bizarre turns of phrase overstuffed the MC lexicon while his singular presence helped spread the Hyphy word across the land.