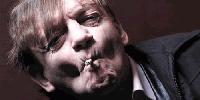 User
Reviews 123
Approval 98%
Soundoffs 230
News Articles 8
Band Edits + Tags 1
Album Edits 186
Album Ratings 2276
Objectivity 84%
Last Active 09-26-19 3:01 pm
Joined 01-26-17
Forum Posts
5
Review Comments 9,464
More Cult Movies..

for y'all..
1
The Afghan Whigs


Gentlemen





The Tiger: An Old Hunter's Tale - this 2015 South Korean movie walks a familiar enough trope. Man vs. Nature, man fighting beast is more beast than beast, hubris, colonization, some green spirituality etc. What kicks it well up the bracket is how soulfully the movie is made, a sustained wintry still that crystallizes emotion and makes every word, gesture and facial tic in the movie so pronounced, it carves its way into you.. I loved this movie when I walked into it randomly with some friends at an off-screen showing at TIFF, and I've watched a few times since.. Too young to be a cult film, but well on its way, as far as this butcher is concerned..

2
Bikini Kill / Huggy Bear


Yeah Yeah Yeah Yeah / Our Troubled Youth





Seul Contre Tous - 19998, and one of Gaspar Noe's earliest efforts.. A man's slow descent into complete desolation, sexually, socially, economically, mentally and otherwise, it's a story of a butcher, funnily enough.. Told mostly through frozen images and first-person narration, the film skulks through heavy topics, unflinchingly dissecting a man who by the end of the movie is so shattered, his unspeakable behaviour becomes less appalling and more a plea for the viewer to just turn away.. Noe's last year effort, Climax was also woefully ignored on the awards and film festival circuit, which is a shame, it's a deliriously sexy movie..

3
The Fall


Live At The Witch Trials





Deranged - perhaps the best serial killer movie out there, 1974's Deranged is a re-telling of Ed Gein's story, a serial murdered and grave robber who fashioned corpses into suits and various paraphernalia in order to inhabit a world where he became his mother.. hopelessly low-budgeted and shabby-looking, what sets the film apart is how sharply it's written, how sneakily funny it is, and how fantastic the performances are..

4
Protomartyr


Under Color of Official Right





Bad Lieutenant - One of Harvey Keitel's biggest tour de force performances, this 1992 Abel Ferrara neo-noir film is the quintessential take on the dirty cop stock character, as well as another portrayal of a man spiralling into the abyss.. Werner Herzog's take on the character with Port of Call new Orleans is also well worth a watch.. Ferrara unfortunately shot down in quality soon after the 90's ended, and is yet to recover from not snorting a kilo of cocaine a day..

5
The Gits


Frenching the Bully





The Innocents - this 2016 drama by Anne Fontaine won all the good shit on the indie festival circuit a few years back, and for good reason.. Crushingly depressing to a dizzying degree, Innocents is an account of a female French doctor who goes to work in a Polish convent whose nuns were raped by Russian soldiers just as the Great War tapered off.. beautifully shot and even more beautifully unafraid, Fontaine guides The Innocents through its grim subject matter without either collapsing into misery fetishizing or taking anything away from the barbarous topic at hand..

6
The Stooges


Fun House





Kes - Ken Loach's 1969 production is the greyest coming of age story out there, a beaten-down boy and his falcon, and how escaping your habitat takes more than a casual wandering out.. A grainy and melancholic beauty..

7
Charles Mingus


Mingus Moves





Brazil - easily the most known movie on this list, Brazil is Terry Gilliam's 1985 fever dream sieved through pedantry, bureaucracy, and what a person's mind goes through as the world floats at the midpoint of the industrial and information ages.. A brilliant piercing of how the civilized life is not worth living, it features Robert De Niro as the legendary parachutist..

8
X


Wild Gift





Signs of Life - Werner Herzog's first feature and the beginning of his long multi-project treatise on cabin fever and how easy it is to drive a person to the brink.. Frigidly intelligent and very funny underhand, much like its creator, the 1968 film is a story of three Nazi soldiers who are rerouted away from WW2 action and to a small Greek island, where they proceed to die of boredom and endless streams of self-realization..

9
Throbbing Gristle


20 Jazz Funk Greats





Sculpt - Sculpt is an odd thing.. It was conceived as a rarity, a one on one experience in information intake.. It was screened for a very short time, in only one place, and was shown to only one person at a time.. The movie itself is (roughly) about a network of sensory and psychological experiences being sold as products, and the unseen main character's process of absorbing it all.. Strange, stylized and ever so slightly preachy, the movie never saw a wider release, and is mostly available through collated clips taken by the people who were privy to the screenings.. Full versions are available on the Dark Web, by all accounts, and though the movie is by no means required viewing, it makes the cult list simply because it was created to be one, an interesting exercise in creation and consumption..