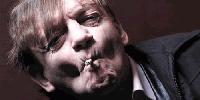 User
Reviews 123
Approval 98%
Soundoffs 230
News Articles 8
Band Edits + Tags 1
Album Edits 186
Album Ratings 2276
Objectivity 84%
Last Active 09-26-19 3:01 pm
Joined 01-26-17
Forum Posts
5
Review Comments 9,464
Butcher's Favourite Indie Labels..

and some of their best work..
1
Cows


Daddy Has A Tail!



Amphetamine Reptile

Album for album, this noise punk label is stacked with a big-ass portion of the music I was listening to through the 90's.. Every and any stormy noise rock act had at one point passed through this label, and their multi-volume compilation Dope, Guns 'N' Fucking in the Streets runs the gamut of all sorts of goodness, including early singles from the genre's titans like the Jesus Lizard, Killdozer and the like, along with most every vanguard act from a genre that would be colloquially called pigfuck (King Snake Roost, Lubricated Goat, Brainiac, Dwarves, feedtime, Mudhoney, Jawbox, the U-Men, early early Melvins, Boredomes, Unsane and many more)
2
Glenn Branca


Lesson No. 1



99 Records

Started by London transplants into the New York City's West Village, the label didn't last long, but managed to put out a string of seminal records in no-wave and early post-punk.. Along with Branca, the label pressed early dub punk pioneer Vivien Goldman, proto-riot grrrls Bush Tetras, legendary reggae dubbers The Congos, and more disco-oriented acts like Maximum Joy and Liquid Liquid..
3
Sonic Youth


Confusion Is Sex



Neutral Records

The roster of this uber-short-lived label scant, but impressive.. They were basically the company that first took a risk on what would become two of New York's most successful and long-lasting noise rock acts (Sonic Youth and Swans)
4
Tragic Mulatto


Locos Por El Sexo



Alternative Tentacles

Pushed to the forefront and eventually bought out by anarcho-kingshit Jello Biafra, this label's broad interests and signees makes for a dizzying listen.. Spoken word albums by Noam Chomsky and Mumia Abu-Jamal, Texan hillbilly hardcore pioneers the Dicks, the ever-implosive Tragic Mulatto, the Crucifucks, stoner noodlers Comets on Fire and more and more and more..
5
Joy Division


The Complete BBC Recordings



Strange Fruit

A UK indie who had the distinct honour of releasing most of the legendary Peel Sessions, thereby covering just about every exciting band that plied a path in punk and all of its subsequent outbranchments..
6
Beat Happening


Dreamy



K Records

Started by Calvin Johnson, this Olympia, Washington label carved a grand path through the 80's and 90's scene, taking on some of the most renowned indie, twee and noise rock acts around.. Built to Spill, Nation of Ulysses, the Make-Up, freak folkers Old Time Relijun, Modest Mouse, Shohen Knife and Melvins are some of their esteemed alums..
7
Black Flag


Nervous Breakdown



SST

I mean, this one should be a ringer.. SST laid the groundwork for all hardcore to come.. Aside from Black Flag, the label put out Saccharine Trust, Minutemen, Meat Puppets, Subhumans, Husker Du, Bad Brains, Sonic Youth's EVOL, Dinosaur Jr. and countless others..
8
Bikini Kill


Pussy Whipped



Kill Rock Stars

KRS became the backdrop of Riot Grrrl, and though they were the first indie to pay attention to non-punk acts like Xiu Xiu, their support of Bikini Kill, Bratmobile, Erase Errata and Mecca Normal would forever cement them as the home of the feminist punker and the launch pad for the inimitable, radiant and all grand things Kathleen Hanna..
9
Mos Def


Black on Both Sides



Rawkus Records

Yes, this label had wide distribution from major subsidiaries since the beginning, but it hardly changed the core of Rawkus, conscious jazz-tinged patently-New York hip-hop.. Mos Def, Talib Kweli, Pharoahe Monch, Company Flow, Big L and countless others got their start right there, and the label's compilation Lyricist Lounge gave an underground outlet for both unknown and established acts, with anyone from Saul Williams to KRS-One showing up to record what would become some of the genre's most treasured rarities..
10
The Jesus Lizard


Goat



Touch and Go

Grown from a fanzine in Chicago, Touch and Go would quickly go on to become a haven for noise rock and indie outfits, and remains perhaps the most important label of the late 80's through the 90's.. Steve Albini remains a great supporter of the label, and has released the bulk of his work on it, from Big Black, Rapeman through to Shellac, along with some of this most inspired and iconic production work (Goat easily being the best out of the bunch).. The label would also become a home for a slew of bands from Amphetamine Reptile, as they sought bigger audiences, and would generally be considered a stepping stone to more exposure without having to sign to a major.. Butthole Surfers, Die Kreuzen, Killdozer, Laughing Hyenas and other noise punk staples would flourish on the label, which would then expand to other genres, putting out material by free form punkers The Ex, post-rockers Dirty Three, Polvo, and eventually, latter-day indie acts like TV on the Radio..
11
The Gun Club


Miami



Slash Records

An L.A. label, Slash is responsible for some of the West Coast's most enduring punk albums.. The Flesh Eaters, L7, Misfits, X, along with fiery cowpunk pioneers The Gun Club found a home there, though nowadays, the label is most known for releasing Faith No More's Angel Dust, as well as the Western distribution of German theatrical indsutrial metal act Rammstein..
12
Flying Lotus


Cosmogramma



Warp Records

A British imprint that focused on experimental acts in the electronic niche, Warp have worked with just about everyone in the genre, even by its ranging definition, from giants of the field like Brian Eno to modern artists who splice electronica into their own frame, like Flying Lotus and Danny Brown..
13
Pixies


Surfer Rosa



4AD

4AD's roster throughout its history has been and remains so loaded, its independence status is always at risk of collapsing around itself.. The label's power of premonition is the stuff of legend, as they were one of the fist to see and sign the vanguards of shoegaze and dream pop, putting out some of Cocteau Twins' and Pale Saints' best work, dipping their toes deep into the realm of indie with Tindersticks, The The, Throwing Muses and Blonde Redhead, that would parlay into the signing of modern leaders in the field, Deerhunter and The National.. not to mention, of course, the label's long-running dabbles in the experimental field with the likes of Scott Walker, Tune-Yards and the like.. Oh, and you know, they also put out a little nothing album by some obscure basket cases called Pixies that definitely wouldn't go on to influence indie music in ways too much to describe..
14
Alton Ellis


Soul Groover



Trojan Records

For my money, one of the most important music labels in history, especially for how unmentioned it remains to this day.. Founded in the late 60's in London by a Jamaican transplant, Trojan would release most every critical act of ska, rocksteady, reggae, dub, dancehall and soul music that would slink out of the Caribbean and into UK night clubs, influencing everything around it, from RnB to skinhead punk to 2-tone and Oi! The label's 10-volume double disc compilation is a must-have for anyone who every fancies him/herself a lover of music..
15
Clock DVA


Buried Dreams



Wax Trax!

A virtual who's who of early industrial music, this label has released peak work from Psychic TV, Revolting Cocks, KMFDM, My Life with the Thrill Kill Kult, Meat Beat Manifesto, The Young Gods, Coil and others who scored the lives of the cold, distant, frigid arthouse kids from my school..
16
Builders


Beatin Hearts



Flying Nun

A bastion of the scores of incredible post-punk, noise and indie music that came out of New Zealand from the 80's on, Flying Nun were the first (and unfortunately for the most part only) home for irreplaceable acts like the Dead C, The Gordons, The Bilders, The Clean and The Jean Paul Sartre Experience.. forgotten treasures abound in this label's back-catalogue..
17
Frightwig


Cat Farm Faboo



Subterranean Records

A small company, even by underground standards, this San Francisco label housed punk and noise artists, and released a string of stellar 7"'s and LP's beginning with the 80's, including work by Flipper, Frightwig, avant-garde post-punkers Chrome, jazz punkers Naked City, and the Dead Kennedys..
18
Flux of Pink Indians


The Fucking Cunts Treat Us Like Pricks



Crass Records

Named after the seminal band who started it, this label is an unbeatable garrison of anarchist punk that flooded the UK underground as the decade turned from the 70's.. Poison Girls, Honey Bane, Mob, Zounds, and a slew of other smaller bands that were included in compilations and samplers saw the light of day briefly..
19
Guided by Voices


Alien Lanes



Matador

By now, Matador have released so much popular material, and sport so many veteran acts and corporate subsidiaries, that I'll focus on their leaner, earlier days, when they were pouring money into no-name outfits like Guided by Voices, Mission of Burma, Circle X, Thinking Fellers Union Lcal 282, Unsane, Unwound and many many many more.. Current beasts on the label include indie strongholds Spoon, Yo La Tengo, Interpol, Pavement, Belle and Sebastian, as well as newly-minted royals of digi-pop Queens of the Stone Age..
20
The Damned


Damned Damned Damned



Stiff Records

A UK label that swung between punk and indie seamlessly, providing backing, distribution and booking for such underground and pop acts as Elvis Costello, Ian Dury, Jersey indie kings The Feelies, two-tone pioneers Madness, Lemmy and his immortal Motorhead and jig-crazy pub haunters the Pogues..
21
New York Dolls


Too Much Too Soon



Red Star Records

Red Star came to life and fizzled all in the tail end of the 70's, but in that short time, they accomplished plenty, becoming the first home to official releases from glam punk godfathers New York Dolls, Johnny Thunders' subsequent material, the early electronic loop dabbles of Suicide, as well as fire-breathing garage punkers The Fleshtones..