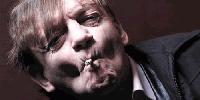 User
Reviews 123
Approval 97%
Soundoffs 230
News Articles 8
Band Edits + Tags 1
Album Edits 186
Album Ratings 2276
Objectivity 84%
Last Active 04-15-19 11:00 am
Joined 01-26-17
Forum Posts
6
Review Comments 9,464
The 90's in 55 Albums..

Batteries, Kurt Cobains, Thom Yorkes and Kevin Shields' not included.. unranked..
1
The Jesus Lizard


Goat



1991 – Touch and Go

Catching them live once in Chicago is single-handedly responsible for teaching me everything about the virtue of evil. Messy, chaotic and supremely vexed, these guys stood for everything that was so entrancing about post-hardcore's first (best) coming. Getting Albini into the fold for this record was a brilliant and predestined move, and as a result, Goat is a powerhouse of sonorous bass-work, sinister guitar, clattering drums and Yow's possessed howl that bows to no reason or structure.
2
Pavement


Slanted and Enchanted



1992- Matador

What more can be said about this noisy little stunner? A perennial favourite, Pavement's first full-length shout remains their loudest and in ways most romantic take on the decade's zeitgeist. Cheeky and forlorn and fun and snotty and deft as all hell, there isn't another album out there like it, even in Pavement's own catalogue.
3
Tindersticks


Tindersticks



1993 – This Way Up

The granddaddies of brooding civilization, Tindersticks' academic ruggedness set the blueprints that were entirely in-evident until the mid-2000's, when bands like The National and Interpol started coming, sporting those same moody frontmen clad in smart jackets, half-speaking poetic melancholy over some tight arrangements indeed. Like all things in life, the first remain the best. Tindersticks' 1st is a half-hushed masterpiece of Saxon blues.
4
The Breeders


Last Splash



1993 – 4AD/Elektra

Kim Deal's fuzziest, tartest and best work outside the Pixies. Last Splash is loaded with so many covert hooks and smart turns in the music, it's easy to write it off as another patented piece of 90's songwriting. But with a little patience, this record grows tiers in a hurry, lovelorn, soft and unyielding at once, and above all else, intelligent; it's better and ballsier than just about anything Black put out after the Pixies dissolved.
5
The Halo Benders


God Don't Make No Junk



1994 – K

A collaboration between Calvin Johnson of lordly glum kids Beat Happening, and Doug Martsch from Built to Spill, Halo Benders were sort of a perfect marriage – Johnson's quirky, dimly-lit, low-pitched writing style coming together with Martsch's electric pyro tricks. Songs get pulled in all sorts of directions here, making the album sound less cohesive that it actually is, but even with that, it's a small wonder of a record, both minimalist and experienced, and odd the way odd should be done.
6
Tricky


Maxinquaye



1995 – 4th and B'way

Genre-bending, pumped full of modernist anxiety, claustrophobic and vilely soulful, Maxinquaye is a purified push of an artist at his peak, however soon that peak might have come. Tricky captured something on this record, a snapshot of Bristol, England, Europe and beyond, pessimistic and somehow giddy from it all. He would never and likely never could have snared that primal pleasure again.
7
Scott Walker


Tilt



1995 – Rak/Townhouse

Walker vanished from touring in the mid 80's, and when he reappeared, he might have seemed an entirely different man, an obelisk. All the innovative tendencies he'd tried to splice into the Walker Brothers' fold and his own early solo work, beating his face raw against the brick spires of the recording industry, flew up like bats on Tilt – a staggering paean to the avant-garde, and what would turn out to be the first in a trilogy of breathtaking and highly moribund records. It was rebirth in its best form, an artist who doesn't seek another generation's attention, but rather mires himself in what he wanted to be all along.
8
Sonic Youth


Washing Machine



1995 – DGC

The band's most cohesive and self-aware statement that decade, after closing out the 80's on a run of classics, and a testament to how different radio standards and legacy treatment was in the 90's, The Diamond Sea charting as a single. They were breaching new ground, and finally doing it with the same style and detached New York swagger they'd first rode it on. Washing Machine is a squelching, screeching show of noise rock and noise music colliding into a tower of feedback, with damn fine songwriting crashing through to let you know, there are hearts beating under those massive pylons of reverb.
9
PJ Harvey


Is This Desire?



1998 – Island

Perhaps the most graceful, beatific and assured industrial album made, and for my money, Harvey's best, in no small way, because it's an album she could never replicate. It was very much a product of its time and place. One would be hard-pressed to name any overtly bad music she put out during the decade, but Desire was a smokestack of music trends that reached their zeniths in the years surrounding it, and then tapered into nothingness, Killing Joke revivalists and Trent Reznor's stubborn dullness. Which is why it's masterful how well Desire has aged, its gauzy production, clanging metallic flourishes, roaming piano dirges, and the Gothic melancholy that Harvey knew so well back then, rivaled only by cohort Nick Cave.
10
KMD


Mr. Hood



1991 – Elektra

It boggles me that this little gem is an out-of-print rarity these days, especially since one of its founding members, MF Doom has been riding out an ever-cresting wave of hipster chic. Though it dabbles in some clumsy politics, what Mr. Hood is more than anything, is a blurry picture of Long Island housing in the 90's, cracked pavement, sooty piers and fucking hopscotch. It's smart as a whip, hazy and fun, young kids brimming with ideas, trying their hand at something above the daily grind.
11
Tom Waits


Bone Machine



1992 – Island

A rattling steam-punk horrorshow, Bone Machine is a singular presence in Waits' discography, his cabaret folk penchants fusing with a new sort of terror, dark and oily and ragged. Of his three records released that decade, Bone Machine is the strongest, edging out Mule Variations by the slightest in terms of quality, but towering over it as far as confident funeral marching goes. There's a tired resignation to the album, a certain knowledge that all the world's a dump, so might as well light some fires and sing raspy bliss.
12
Bonnie 'Prince' Billy


I See a Darkness



1999 – Palace/Domino

A mortician's poetry book that's so delicately pretty, it's like a shot of opium in the bloodstream, a wilting creature nodding off in the cobwebbed corner of some shooting gallery, determined to see things in all their stagnant glory. His voice remains a frail force, vaporous and lilting, and so goddamn broken, it turns your heart to mash.
13
U.S. Maple


Long Hair in Three Stages



1995 – Skin Graft

Math rock is a bore because it's math rock, this is something else, something more. Wild-eyed, in perpetual flux, fractured and smashed to elementals, Long Hair is noise and art making sense of ruin. There isn't a single pattern on this album that is allowed to carry on for longer than ten seconds before it's compromised, bent and torched into something more septic and alluring. 90's noise rock at its most sophisticated.
14
The Afghan Whigs


Black Love



1996 – Elektra

Gentlemen gets heaps of praise piled onto it, all of it fully deserved. It was a moment of true flourishing for Dulli and the Whigs, full-scale production ratcheting his distinct style into the stratosphere. But Black Love is bigger and better, because it was the next step after reaching a peak. It dials up everything Dulli had honed – thundering hooks that don't collapse into kitsch, guitars that plead as much as they brace the ears, and eroticism that persists in the face of age and pallid exhaustion. In some ways, it's a counterpart to Maxinquaye, negotiating beauty out of the decade's unrest and stress. A beautiful show of just how much you can get done with only cigarettes, whiskey and cocaine to guide you.
15
The Feelies


Time For a Witness



1991 – A&M

The last album The Feelies would put out before breaking up (eventually returning), and their most electric declaration. Still overfilled with sharp songwriting, folksy approachability, and wonky John Cale worship, the band bump up their volume and cut ten takes of fuzzy folk rock that touched on just enough grunge, indie and DIY tropes to be ignored by everyone. For shame, too.
16
Oxbow


Let Me Be A Woman



1995 – Brinkman

Oxbow's first opus, an experiment with scope and crude ambition. Woman unravels in slow motion, like a punch in the gut, all creasing flesh and gasping mouths, and blood hemorrhaging under the skin. It pummels you with hanging tension as much as it does with open-handed abuse, a formula that the band would keep building and building on with subsequent releases. Just histrionic enough to warrant an 'art' tag under their strong-armed tendencies, theirs is another live show one must catch to truly understand what it's like to feel true unease. Violence is in the fucking air around here.
17
Morrissey


Your Arsenal



1992 – HMV

We all know Morrissey is a twat of such gargantuan proportions that he's always at risk of robbing every other twat around the globe of hot air to pointlessly spew. But the music is hard to deny, especially as he first broke away from The Smiths' frame, and started carving a more contemporary sound to anchor his ludicrous lyricisms. It's not the words, it's the voice, the gloom, the abandon, the autumn rot. Your Arsenal is an album of beauty, beauty that's even-keeled and lush enough to overtake its creator's frantic twattery.
18
Babes In Toyland


Spanking Machine



1990 – Twin/Tone

Babes in Toyland were the best noise punk female group of the 90's, period. Harsher, angrier and louder than L7, more havoc-prone and wild than Bikini Kill, and not nearly as manicured or corporately-engineered as Hole; they were the embodiment of what self-empowerment is when you don't flaunt it so needlessly and without foundation, when you cut it with self-awareness, douse it in accelerant and set it aflame. Spanking Machine rushes you like a drunk in an alleyway, tilting and lunging everywhere and nowhere at once. A proper lost gem of the decade, it's punk elegantly laid to waste.
19
Bikini Kill


Pussy Whipped



1993 – Kill Rock Stars

Anyone thinking up iconoclasts of the 90's, who puts Corgan, Yorke, Morissette or even Cobain above the unshaved radiance of Kathleen Hannah is a nut-case on the catastrophic scale. Bikini Kill were an important band, because at the core of its unsettled musical aesthetic lay a point that was worth rallying behind. Socio-politics that didn't grate, and beauty that wasn't pandering or predetermined in a boardroom. Pussy Whipped is a cornerstone of both DIY punk and the 90's as a compressed time-frame, a document of underground protest and just about the best feminist manifesto around. And it helps that the music is absolute killer.
20
Digable Planets


Blowout Comb



1994 – Pendulum/EMI

As far as radio was concerned, Digable Planets were a flash in the pan, a one hit group that tapped out early with the swaying brass sample of Rebirth of the Slick. So the album's stellar second album got no airplay and little promotion, which resulted in the group largely vanishing out of existence altogether. A travesty too, especially given how smooth and silky and polished Blowout Comb is. Flow becomes this album, and protest songs never sounded so velvety and rugged at once. For those old enough to have owned the original vinyl press of Blowout Comb, its inner sleeve was like a treasure trove of Brooklyn black-white politics, filled with flyers for Black Panther Unions, ebony bodybuilding competitions, protest graffiti and snippets of street platform speaking, a proper time capsule of what it meant to be black and poor and hopeful and in-the-know in New York.
21
The The


Dusk



1992 – Sony

Dusk was the last entry in The The's inimitable four-album streak of cross-eyed beauty that bordered on perfection. Ranging and engrossing and fascinating and still soaked in that reeling humour, Dusk was everything that was so singular about The The and Matt Johnson's musical leanings. Their later efforts would taper in quality steadily, but that four-album combo is still unparalleled, especially given what individual territory Johnson was mining, twisting together new wave, post-punk, alt. rock and a ham and cheese sandwich into a comely ol' circus show.
22
The Brian Jonestown Massacre


Methodrone



1995 – Bomp!

Methodrone was BJM's first proper studio release, and is unlike anything else in their following efforts. Less informed by psychedelica, Eastern influences and Rolling Stones worship, and more shoegazey, Methodrone was all warm fuzz, monochromatic songs built around hulking riffs that were then upended by lo-fi production, all of it coated in drugged-out atmosphere. Their next two records would retain those aspects to some degree or other, and though they'd cut plenty of great songs in the later years, tracks like Wisdom and Crushed and Everyone Says remain their finest.
23
Shellac


At Action Park



1994 – Touch and Go

The sound of Shellac is Steve Albini ageing gracefully (succeeding intermittently at doing so). It boasts as much fire in its gut as Big Black and Rapeman, as much industrial abrasion, as much colossal riffage and grouchy misgivings. And yet it's all more artful, more intelligent, lending more leeway to the listener. This is still noise and post-hardcore in their primal form, now cut by a man whose mind will occasionally drift toward fretting about mortgage bills and the like. It's all the better for it, strangling some much-needed grace out of the brutal front.
24
Catherine Wheel


Chrome



1993 – Fontana/Mercury

What distinguished Catherine Wheel from the rest of the shoegazers and dream poppers that briefly overtook the music world in the early 90's, was just how palpably sensuous and desperate their music was. Much more immediate in its electric processions than My Bloody Valentine or Pale Saints, and with vocals more prominent in the forefront, they made smart alt.rock that buried primary riffs in shoegazing ephedrine. It was beautiful music made by artful people who still wanted to thrash. And Chrome is their best work.
25
Swervedriver


Mezcal Head



1993 – Creation/A&M

On that note, Swervedriver were another act that got lumped in with the shoegaze crowd simply because of how layered their guitars were. The band always stuck to a more driving sound than the dreamy torpour of dreamgazing, propulsive and packed with subdued fury. After Raise, their debut, first threw them into the mix, Mezcal Head saw them expand in all the right directions, growing in loudness and writing skills. Future albums would unfortunately see them retreat into the safe haven ageing gazers running out of ideas were flinging themselves into – hollow dream pop whose synthetic prettiness did little to allay the uninspired writing churning underneath.
26
Sleater-Kinney


Dig Me Out



1997 – Kill Rock Stars

Sleater-Kinney were on such a hot run through the 90's, they seemed invincible. While Dig Me Out stands as their official high-point, it's hard to choose between all the raw beauty they were pumping out back then. Vocal interplay, damn deft guitar-work and a spirit that was all 90's, they are perhaps the only act from the decade that showed no regression or softening in their reunion efforts.
27
Superchunk


No Pocky For Kitty



1991 – Matador

A precursor to modern emo, but with a distinguished alt. rock swing, Superchunk were a subtle wonder in a niche that was rapidly becoming overpopulated by long-haired shredders paying endless due to Black Sabbath. Romantic, pitchy and supremely good at writing tight hooky songs, they were one of the many progeny of Chapel Hill, a boom of electric talent coming out of North Carolina. They're still kicking around, and still kick plenty of ass.
28
Craig Mack


Project: Funk da World



1994 – Bad Boy/Arista

Easily the best and most effortless album that was put out on Bad Boy during Puffy's mercifully brief first reign over the hip-hop charts. Mack was rough and gritty and somehow smooth as all hell. Funk Da World laced its beats with jazz samples and hazy atmospherics that gave the album a dreamy slant, like it was reaching you from some far-off place in the annals of Mack's mind. Hooky and dexterous, it continues to be one of my favourite hip-hop records.
29
Method Man


Tical



1994 – Def Jam/PolyGram

The mid-90's brought a short and sweet trend in hip-hop; a fetish for the apocalyptic. Bleak, dreary, futuristic and angered, it spurred a dozen or so classic records that now exist as a niche of their own. Method Man's solo debut Tical is probably the best from this Dirty Dozen bunch. The album, a dismal, somber collection is so unflinchingly cheerless with such polished flow, it's enough to make you dizzy.
30
Sebadoh


Bakesale



1994 – Sub Pop/Domino/City Slang

Lou Barlow left Dinosaur Jr. in a pretty tense manner, and for a while, it was difficult to look at Sebadoh as anything more than a vendetta project. Bakesale quashed those ideas in grand fashion, trumping the bulk of what Mascis and Dino put out during the decade. The album is a wondrous show of lo-fi and DIY etiquette, full of attitude, whip-smart songwriting, meaty guitars and lurching structures.
31
Lambchop


I Hope You're Sitting Down



1994 – Merge

Lambchop aged so seamlessly into sophisticated indie Americana, it's easy to ignore how rambunctious Kurt Wagner's lyrical tropes can become. He and Lambchop paint an accurately novelized image of Southern sophistication – elegant and classy, with an unyielding rebel heart beating under all of that settled water, a gentleman with a pistol in his waist. I Hope You're Sitting Down, sometimes referred to as Jack's Tulips is the beautiful debut of this long-living and ever-consistent outfit.
32
Queens of the Stone Age


Queens of the Stone Age



1998 – Loosegroove

The Queens' debut is a chimeric little beast, sitting pretty between Kyuss' brand of desolate desert pulsating and Homme's emerging rock persona. It's a beauty of an album, and is unique in its presentation in the Queens' catalogue. Self-made and produced, bare and immediate, it has groovy bass-work and monolithic stoner riffs tumbling out of its every orifice. There's a lazy, self-assured sway to these songs, a facet Homme would start fanning out into all sorts of new ground, that briefly made him the last-standing vital rock star around.
33
Jane's Addiction


Ritual De Lo Habitual



1990 – Warner Bros.

Genre-merging was becoming something of a cottage industry in the 90's, with all sorts of hybrid creations coming together, as music looked for room to stretch itself to the fullest. By the 2000's, most of these experimentations would reach their predictably vile endpoints (see nu-metal). But in the beginning, it all seemed limitless, and Jane's Addiction, better than anyone straddled that midline, with flair, androgynous brio and some impressive chops to boot. Ritual is their second and best, coaxing together funk, blues, metal, punk, noise, atmospheric ambience and early industrial into a drunken hilltop of electricity.
34
Teenage Fanclub


Bandwagonesque





Whatever attention this 90's lost treasure got was from one alternative magazine picking it over Nevermind as the best album of the 1991. You can witness vicious squabbles on YouTube comment threads over this topic to this day. It's a shame too, because Bandwagonesque is fantastic, noise pop and alt. rock coming together in perfect formation to give rise to songs that sound so patently American indie, you'd be confused to find the band are actually from Liverpool. Whether it's a better album than Nevermind is hardly quantifiable in the grand scheme of things (it is..), but today its pleasure and charm lie in its relative obscurity as much as the quality music at hand.

35
The Make-Up


In Mass Mind



1998 – Dischord/Black Gemini

DC post-punkers The Make-Up are Ian Svevonius' longest-running project, and in many ways, his best. Not remotely politically inclined like Nation of Ulysses, as experimentally disengaged as Scene Creamers or Weird War, or as blatantly bland as Chain and the Gang, The Make-Up built simple music that turned out to be not so simple at all. Grooving, repetitive riffs and shriek-prone vocals make the base of this outfit. Slower and more sensuous than Svevonius' more garage and punk affectations, this is dance music for people who don't like to dance at parties.
36
Songs: Ohia


Axxess & Ace



1999 – Secretly Canadian

Of all the doomed musical genius out there or of the past, Jason Molina remains in a kind of his own. Infinitely sensitive to the outside world, and haunted through the inner channels, he somehow carved devastatingly pretty music through all the din and mire. Axxess and Ace is all beauty and cutting disheartenment, stylish and bleak and perfect for autumnal porch-sitting, cigarette in hand and sad thoughts clouding the mind.
37
Black Star


Black Star



1998 – Rawkus/EMI

Black Star was a special moment, two raw talents transforming into one cohesive whole. The album Mos Def and Talib Kweli cut together is a somber love letter to New York City, as lush and melancholic and occasionally violent as that city can be. It's also awash in some primo verbal pyrotechnics, and between the cameos and the production, is an impressive show of just how stacked Rawkus' line-up was back then. Its widespread acclaim is well-deserved, a case of cult MC's becoming legends, rising through the muck.
38
The Hellacopters


Supershitty to the Max!



1996 – Man's Ruin/Toys Factory/White Jazz

Strange to think, but this fucking mess won a Grammi in 1996. That's Grammi, the Swedish Grammy, so it's not so strange at all really. Supershitty is simply great, crazed rock n' roll that randomly implodes in death metal bursts. Recorded in just under 26 hours, tt's chaotic and fun and though it never takes itself too seriously, still manages to retain damn great songwriting and scores of charisma. Yours truly also has a tattoo of the album art.
39
Guided by Voices


Alien Lanes



1995 – Matador

Where would a 90's list be without a GBV album? Though Bee Thousand is undoubtedly the band's masterpiece, I've always secretly loved Alien Lanes more. It's more lucid than Bee, without actually ever becoming sober, creating a teetering act that's both staggeringly charming and musically incredible. It's also the band's last dabbles in ragged punkisms, and at 28 tracks is more bang for your buck that you could ever hope to want. Pollard and Sprout at their lo-fi best.
40
Dinosaur Jr.


Where You Been



1993 – Blanco y Negro/Sire

Dino's 90's output is a spotty ol' affair. Barlow had flown the coop, leaving Mascis to essentially cut solo albums backed by session musicians and intermittently reappearing touring regulars. They never came close to replicating their opening run during this troubled times, but Where You Been could never quantify as an inferior album, if only because of how absolutely frenetic and monolithic Mascis goes with his fret-work here. It's a beast of a record, loud and scuzzy and still as forlorn as anything else in the band's body of work. Not to be missed.
41
Turbonegro


Apocalypse Dudes



1998 – Virgin/Sympathy for the Record Industry/Boomba

What glam rock would have sounded like if John Waters played every instrument. Turbonegro hold a very special place in my heart – deliriously vulgar, gloriously anarchic and so very very good at their instruments, Apocalypse Dudes is a work of art, provided you like your art prancing around in high heels, dribbling fatty thighs through skimpy sailor outfits and putting out cigarettes on your forehead. In other words, it is fucking fantastic.
42
Cows


Peacetika



1991 – Amphetamine Reptile

Cows were stubborn, brash and loud, and with Peacetike, they tried (half-assedly) to take all of that rowdiness to the radio. The album actually managed to have a low-charting single, but ultimately, this brand of noise punk turned out to be too stalwart for its own commercial good. Grand thing too, because it ensured that Cows retained all of their freak-out tendencies, splicing Midwestern restlessness into the Amphetamine fold.
43
Mark Lanegan


Whiskey For the Holy Ghost



1994 – Sub Pop

The Screaming Trees were already largely on the ropes when Lanegan was cutting Whiskey, scrambling through a follow-up to Sweet Oblivion that brought just shy of major recognition. Whiskey is a troubled album to say the least. Legend goes that Lanegan was so addled by heroin and inner demons during recording that he kept rehashing the songs, once almost tossing the tapes into a nearby pond. The resulting album is a beauty, Southern Gothic fatalism, drug-induced melancholy and roughshod foll-blues. It never loses steam or itself through its run, and stands as one of Lanegan's most immersive musical statements, both within and outside his many band endeavours.
44
Massive Attack


Blue Lines



1991 – Wild Bunch/Virgin

The album that launched a genre. Blue Lines is stifled, compressed anxiety, a new sound for a new urban terror. Everything that followed, from Portishead to Tricky, to Massive Attack's own masterpiece Mezzanine, stemmed from this. From this choked squall of dub and electronica and reggae and hip-hop and ambience all sifted through atmosphere that seemed as murderous as it was placating. If you took good, serious drugs in the 90's, this likely played in the background somewhere, waiting to pounce on your fevered mind.
45
Bjork


Post



1995 – One Little Indian/Elektra

Some things snare their time so well and so effortlessly, even banality can't ruin them. Bjork's run through the 90's is that point to a tee. Whatever ambiguity the term art-pop contains, all gets distilled by Post. It is exactly what one imagines art-pop is as a gut reaction. Appeal filtered through strangeness, settling somewhere in the middle, suspended in vinegar.
46
Wilco


Being There



1996 – Reprise

Chicago's hard-boiled hustle and bustle tells little of how distinctly middle-American soul lives inside Being There. The early days of Tweedy's enduring act are so bright-eyed and eager and covertly wise, it quickly turns into the sort of album that feels your chest with starry roadside vistas. This is open road music, backyard BBQ music, pints in a pub music, early morning and late night music. It's a damn fine album is what it is.
47
OutKast


Aquemini



1998 – LaFace

From the beginning, it was obvious that Outkast were architects and not mere rappers, and their output has reflected that more with each release. Woozy, fucked-out hip-hop for those looking for music that stimulates your every sense. The production and writing on this album really was both a breath of fresh air and a small stroke of brilliance, especially in its time and place, the scene bogged down by nightclub rappers and endlessly-posturing goons. It was smart and danceable and most importantly, keen on music, keen on exploring sound, rather than set a metronomic beat to talk through.
48
Oblivians


Popular Favorites



1996 – Crypt

Bring Elvis back to Memphis, sit his fat washed-up ass on the toilet, pump him full of methamphetamines and jelly, and when he starts singing the Star Spangled Banner, and he hits that high note, if he doesn't piss shit from his every orifice, it just ain't no good.
49
Silver Jews


American Water



1998 – Drag City

If Townes Van Zandt had lived in Red Hook, in Brooklyn, fifteen years before gentrification robbed it of its identity, he might have cut an album like American Water. So patient with itself, it sometimes threatens to come apart, this landmark of lo-fi indie is a beautiful postcard from a Civil War reenactment camp afterhours, blazons thrown down, beers cracked open, the flag waving along someplace, and all your pride watered down to wet grass.
50
Nick Cave and The Bad Seeds


Let Love In



1994 – Mute

Cave's ambitious and brazen attempt to knock Flannery O'Connor of her cushy throne as Southern Gothic's deftest storyteller. And while O'Connor is still safely in her earned place, threatened only by Cormac McCarthy, it doesn't detract from the bare-toothed, malignant brilliance of Let Love In, nor of Cave's ever-burgeoning poetic mastery. He was frequently more consistent album-wise, more beautiful, more far-reaching and foreseeing. But on this one, he captured something so manicured and evil, you just may want to get to know it better.
51
Morphine


Cure for Pain





Like the Whigs, Morphine came about right as grunge stormed the airwaves, and like the Whigs, they were opting for something similarly loud and balls, but ultimately sensuous. Headed by Mark Sandman, on a downtuned two-string bass, and Dana Colley's sharp, abrasive sax, Morphine made jazz music for people who loved rock, power chord music without any chords. On Cure for Pain, they reached a zenith in their variations.

52
Spiritualized


Ladies and Gentlemen We Are Floating in Space





In a way, Spiritualized felt like the natural progression from Spacemen 3. less thorny, but just as capable of psych freak-outs, they made music that was as perfect as drug-taking got in the 90's, provided you were pumping yourself full of morphine off-shoots.

53
A Tribe Called Quest


People's Instinctive Travels & The Paths of Rhythm





Both Low End and Marauders get all the laurels and deservedly so, but Tribe's debut was something special when it first rolled around in 1990. Smooth, self-assured and so goddamn nod-worthy, it was also a moment of hip hop's move in sampling bass-lines from more organic ventures than primitive machines.

54
Primal Scream


Screamadelica





Primal Scream hold something of a singular presence in both radio music and the underground, an enduring band whose high points came spaced 10 years apart. There isn't a single two-album hit streak in their careers, and yet, through calibrating and re-calibrating their formula, they've managed to snag the zeitgeist for three different generations. Not to mention that they were one of the very first to properly integrate rock music with electronic, dub and rave cultures.

55
David Bowie


Outside





Bowie was in flux for most all of the 90's, struggling to adjust to what was happening in the music industry, trend-wise, and for the first time, failing to stay ahead of the pack. So he turned back to an old cohort, Eno. Outside is difficult, highly non-user friendly and all the better for it, a quasi-industrial project from two kings of crisp detached sound-boards.