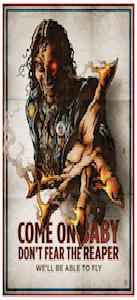 User
Reviews 10
Approval 87%
Soundoffs 2
Album Ratings 1022
Objectivity 72%
Last Active 08-14-19 6:07 pm
Joined 10-17-16
Forum Posts
2
Review Comments 28
Favorite Albums Ever (1-25)

As best I can tell right now, anyway. My opinions always change and albums sometimes move up and down depending on my mood, but this is at least a rough capture of my list.
1
Pink Floyd


The Wall





There is no album I've ever listened to that has given me such a cinematic and outright moving experience like this one has. This was one of the first albums that got me deep into music, and it remains to be one where every single cut is one that I love. This contains some of Floyd's absolute best work, Comfortably Numb, Mother, The Thin Ice, The Trial, Is There Anybody out There?, Another Brick in the Wall, I could practically list every song here. When I get right down to it, no album speaks to me like this one does.

2
Brand New


Science Fiction





There are some albums you listen to where you feel like the mere act of listening to them is like facing down your own demons. Listening to this is one such album, it feels like a triumph every time I get through it, but in the best possible way. The topics on this album are just what you'd expect from Brand New, Depression, Loneliness, Self Harm, Isolation, every song manages to cover something I've dealt with. I think the hooks here are some of the band's best, even though the album itself is dark, despondent, and every bit as devastating as the darkest moments of their previous work.

3
David Bowie


The Rise and Fall of Ziggy Stardust and the Spiders From Mars





David Bowie has to be, without a doubt, my favorite musician. He was weird, eclectic, and had such a diverse sonic and vocal range that he has an album for every mood you could ever possibly be in, and this is my favorite of his work. Five Years is a contender for my favorite song of all time, and every other song here is every bit as good, the mellow Soul Love, the bombastic It Ain't Easy, the hopeful and melancholic Starman, it's a lean album that manages to feel like an epic double LP where Bowie's weirdness wasn't sacrificed for catchiness.

4
Porcupine Tree


Fear of a Blank Planet





My favorite album from my favorite band, Fear of a Blank Planet is a lot like Science Fiction in the sense that it's like facing a lot of personal demons. A lot of the same topics, with a focus more on mental illness like depression and bipolar disorder, plague the main character of this album, and despite being their darkest work other than Deadwing, this album is energized with some of the progressive rock genre's best moments. Be it the monolithic Anesthetize or the intimate My Ashes, this album manages to feel both personal and epic, as well as being Porcupine Tree's artistic peak.

5
Porcupine Tree


Lightbulb Sun





Consider a tie with Blank Planet, honestly. I may slightly prefer it over this one when it comes to music, but this is easily the Porcupine Tree album I've listened to the most. It's the most instrumentally varied album in their discography, it's sad but not without it's more hopeful moments, and it contains some of their best work, even if it's more geared toward the band's art-rock sound than their prog-rock sound.

6
The Mars Volta


De-Loused in the Comatorium





Nothing sounds like the Mars Volta. Nothing. Cedric and Omar simply occupy a different headspace us mere mortals can't truly comprehend, and their first outing here is definitely my favorite. I love Frances a fair bit, but this album is more lean, a bit tighter when it comes to it's direction, and it's absolutely batshit crazy. This album is about as 'progressive' as progressive rock is. Even though it's quite possibly one of the strangest albums I've ever heard, it's psychedelic edge never truly encompasses it too much, it has moments that have you singing along like the chorus of Roulette Dares that just keep a lot of these songs cemented as total bangers. It's emotional, it's a journey, and it's never boring, I never tire of it.

7
Radiohead


OK Computer





What used to be my favorite album, back in the day, hasn't found itself too far from the top. I think this is the perfect blend of every single style Radiohead has ever dipped their toes into, alt rock, art rock, experimental, electronic, and even a weird progressive angle on some moments. This album is pure fundamentals, where every piece of it is just executed to the absolute pinnacle of what it could've been. It's bleak, it's lonely, it's odd, and it's quintessential Radiohead.

8
Jeff Buckley


Grace





Jeff Buckley was a man who was taken way too soon. Grace alone is a sad testament to how unearthly good of a musician, songwriter, and vocalist he was. His cover of Cohen's 'Hallelujah' is legendary and beautiful, and every song on here is every bit as good. This is one of the most instrumentally diverse albums I've ever heard, and it never manages to feel inconsistent despite this. I'm glad I have some of his other works like 'Sketches for my Sweetheart the Drunk' to tide me over, because I have certainly given this album a lifetime's worth of listens, but even then, this experience is always a beautiful and euphoric one.

9
Candlemass


Epicus Doomicus Metallicus





My favorite Doom Metal album, and just straight up my favorite metal album, this weirdly named album is both epic and somber in equal measures. I expected something loud and bombastic with a name like 'Epicus Doomicus Metallicus' and I got some of that on songs like 'Demon's Gate' but what I wasn't prepared for was more dark and intimate moments like 'Solitude' which is easily a contender for my favorite album opener ever. Everything I like about the metal genre can be found in this 43 minute long metal titan.

10
King Crimson


In the Court of the Crimson King





Five of the greatest, most perfectly crafted and performed prog rock songs of all time, paving the way for the genre as a whole after it. This album is, pun intended, the King of progressive rock. 21st Century Schizoid Man is a bizarre rock and jazz fusion of pure instrumental and lyrical insanity, I Talk to the Wind is a relaxing and meditative piece that never ceases to calm my nerves, Epitaph is a moody and melancholic masterpiece that's probably my favorite song on here, Moonchild is the band's best work lyrically, and the the title track is just as if every previous song were combined into an insane yet oddly cohesive blend of everything this band has to offer, which is a lot.

11
Pink Floyd


Wish You Were Here





The most cohesive album ever recorded. And maybe the most emotional as well. I could've placed this album this high for the title track alone, but Shine On You Crazy Diamond is likely the best piece of music the band ever made, and the underrated Welcome to the Machine is on here too. There's not a single note out of place here. Nothing that should be changed or altered. It may be the album I am the most confident in labeling 'perfect'

12
Opeth


Damnation





So imagine if Akira Yamaoka, the composer for the Silent Hill franchise, decided to make a progressive rock album. Here you go. Some of the best work this band ever made, even though they were taking a big risk in abandoning their metal side. A risk that paid off in spades. This is eerie, melancholic, and somber music that is perhaps the best utilization of Akerfelt's beautiful vocals in his entire career.

13
Porcupine Tree


In Absentia





The definitive Porcupine Tree experience. While it lacks the more personal edge of my two favorite albums from the band, it makes up for it by being the most wholly crafted and robust thing the band ever made. This album has 'Trains' on it for God's sake, that's enough to score it this high.

14
Anberlin


Devotion





More people need to listen to Anberlin. I cannot quite contain them to one genre, so I must label them as 'Alt-Rock', but on this album, make no mistake, you won't find the more somber post-2000s/post-grunge slower Alt Rock anywhere in sight with Anberlin. Devotion is one of the most charged, explosive, energized album experiences I've ever had. The first five tracks are all like being shot with a jolt of electricity. The electronic and lively instrumentation is amazing from top to bottom, and Steven Christian as a vocalist? He's Freddie Mercury reincarnated. He's got an unparalleled vocal range and a voice so energetic and silky smooth you'd swear it couldn't be human. Any song could be made better by him singing, the material here didn't even have to be amazing for it to be amazing to listen to, but thankfully it was.

15
Nick Cave and The Bad Seeds


The Boatman's Call





Picking a favorite Nick Cave album is like choosing between children, but this Opus about heartbreak takes the cake because of a personal connection. If I had to pick my pinnacle, top-tier breakup album, this would likely be it. Nick's vocals and songwriting are at an all-time high, and he explores this sadness in such a multifaceted way it never gets old.

16
Father John Misty


Pure Comedy



'Life is pain and to breathe is to suffer, please read my live journal; - Father John Misty

In all seriousness, this album is clearly not for everyone. In fact it's often hard to explain why I love it as much as I do. Musically it's instrumentally lush, vibrant, and often explosive. It's a depressing walk down the road of ruin through the eyes of Josh Tillman, a man who really likes two things: tragedy and humor. May not be for everyone, but it sure as hell is cathartic for me.
17
Kendrick Lamar


To Pimp a Butterfly





To date, the best Hip/Hop album I've ever listened to, and now what I'd consider my favorite. Kendrick is the Beatles of Hip/Hop at this point in the sense that: he can and does try anything and everything, and does it better than anyone else, and the only way he'll ever not be on top is if he stops making music. This meditation on self-love, racial politics in america, hypocrisy, and Kendrick trying to find a place in a world that seems to finally be affected by his work is a fascinating little odyssey that remains a top-tier cinematic experience, and also contains plenty of total bangers like Alright, King Kunta, and i.

18
Ghost (SWE)


Meliora





Ghost is a band that, behind it's showy and over-the-top veneer, really speaks to me. I love they're theatricality, the spooky vibe they give off, and their more arena-rock focus they seem to be headed in that just wants to get some spooky metalheads to jump around and cheer in concert. Seeing them live recently really helped my appreciation for that, and Meliora is the pinnacle of that. This album's crystal clear production and progressive sound is just so deliriously entertaining and fun, there's just not a weak spot on this album, and it's one of my most listened to metal albums.

19
Billy Joel


The Stranger





Billy was one of the first artists I ever got into, my mom had one of his CDs and I've been listening to him since I was probably 8, and I've always loved him. The Stranger remains his best work, maybe only rivaled by Storm Front, but this little piece of classic rock-influenced singer songwriter work is like walking down the streets of my hometown at night lit only by lamps and starlight. Almost an indescribable experience.

20
Tool


10,000 Days





I don't really like Tool in the same way most people do. What I really mean is that this album is really the only one of theirs I totally love. I like Aenima but it meanders too much for my liking, I think Lateralus is a mixed bag (yeah yeah I know, spare me, trust me, I've heard all the complaints before, I'm stupid, I don't like music, I can't comprehend Maynard's genius, all that and more) and Undertow is really solid, but it doesn't have the highlights of the other albums. This however is all killer, no filler. The opener is my favorite Tool song, and Wings for Marie Parts 1&2 is probably the best piece of music Maynard ever made. It's also the most emotion I get from any of the band's work. This is exactly what I think of when I think of what I want out of Industrial Metal.

21
David Bowie


Blackstar





This almost feels like a companion piece to Ziggy, maybe not that, but a dark reflection soaked in distortion and sadness. This is weird and experimental even by his standards, and this little exploration of death and Bowie's fame was something that was genuinely hard to listen to right after his passing. He chose to explore this terrifying concept through his art, and do it in a way that no one else ever has. Rest In Peace, Starman.

22
Chelsea Wolfe


Apokalypsis





Chelsea Wolfe is one of my favorite working musicians. She manages to reinvent her goth/blues rock sound in a new and cool way every single album, and this is that sound by way of Trent Reznor. It is creepy, almost Lovecraftian, and just gives off this mythic vibe I've never heard on any other album before. Her vocals here are despondent yet melodic and beautiful. The soundscapes she creates are terrifying and deep, and allows you to just get lost in it.

23
The Mars Volta


Frances the Mute





While I don't think it's as tight, Frances here shows the more ambient, jazz-fusion, and experimental side of The Mars Volta. L'Via L'Viaquez is one of the most lively and energetic pieces of music I have ever listened to, and the experience this album provides, while a tad bloated, is unforgetable and unique to this band and this band alone. An essential neo-progressive rock listen.

24
Brockhampton


SATURATION





Really, I include the entire Saturation Trilogy on this spot. This three-album journey from the up-and-coming boy band/hip-hop outfit was something that grew on me more and more with every listen. It was experimental, lively, electronic, full of passion, emotion, and new ideas, and there was just SO much of it, and every track just managed to be worth it's own while by being lean and focused, and even when unfocused, it's still interesting, the variety of sounds and perspectives brought about by the bands multiple members is essential when it comes to what makes this group so special and unique.

25
Black Sabbath


Master of Reality





This album is Sabbath at their Psychedelic peak. From the beginning of the rough-around-the-edges opener Sweet Leaf, you know you're in for a great ride. The rough production in general lends this album a lot of charm, I mean hell, the drums on Children of the Grave sound like they're made of plastic, but it somehow makes it all a bit more vivid and charming because the musicianship is just so damn excellent. My favorite Sabbath album, and one of my favorite records of it's respective genres.