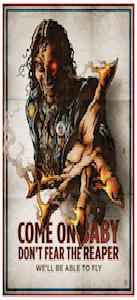 User
Reviews 9
Approval 84%
Album Ratings 619
Objectivity 72%
Last Active 04-22-18 6:49 pm
Joined 10-17-16
Forum Posts
0
Review Comments 23
My Favorite Albums from 2016 (REDUX)

A list of my favorite albums from this particular year, in order. (Since you can't change the order of your list, I had to remake this list and decided to make it longer)
1
David Bowie


Blackstar





It's a cliche in and of itself to put Bowie at the top of any list. The man was pure unbridled genius and excelled at everything he did, and he continued to break ground even in his last project. Blackstar is a painfully human expression of fear and a meditation on death as well as everything that precedes it. Bowie's influences of Kendrick Lamar and Death Grips are evident, but it never feels derivative. The lyrics here are dark and surreal, the music itself is forlorn and empty, and Bowie's strained vocals are absolutely heart-wrenching to listen to. Blackstar is a thoughtful goodbye from one of my favorite artists and musicians, and is among his best work.

2
Alcest


Kodama





Kodama is, apart from being one of those weird little Princess Mononoke things, a great metal album. Alcest in general is now one of my favorite groups, and this album was my starting point. The shoegaze vibe combined with how melodic and crisp the instrumentation is makes this perfect music to listen to while writing. The vocals here are excellent, and while I do not speak French, I know that even if the lyrics aren't special, the rest of this album certainly is.

3
The Dear Hunter


Act V: Hymns with the Devil in Confessional





This was the first album I listened to from The Dear Hunter, and it prompted me to go and sift through their entire discography. The only real complaint I have is that this album is the SLIGHTEST bit over-produced. However, it trades the advantage of a more intimate production to create an instrumental and lyrical euphoria. Casey's vocals here are nothing short of greatness, and the journey this album takes you on is long and even cinematic on specific cuts. The versatility of every track is astounding, as it maintains consistency, but still manages to have every song sound distinct. It walks the line between being awe-inspiring and shockingly melancholic, so naturally, it gelled with me almost instantly.

4
Radiohead


A Moon Shaped Pool





Radiohead is my favorite band, if I had to pick one with a gun to my head. So this is not at all surprising. A Moon Shaped Pool is as solid as they come, and leaves me baffled as to what exactly Radiohead will do next. This album is dreamy, dark, and surreal, not unlike Kid A or OK Computer, but here I feel it's a bit more widespread instrumentally. It's a meditative album that grows on me more and more as time goes on, but the biggest strength here is Radiohead doing what they do best, wonderfully imaginative lyrics and instrumentations that are odd but still insanely pleasing.

5
Aesop Rock


The Impossible Kid





This one really surprised me. Aesop Rock is like is MF Doom and early era Beck decided to get together and have a bitingly sarcastic music baby. The lyrics and flow on display here are a spectacle. Aesop proves his incredible wordplay can be more than just clever, but surprisingly emotional. Everything is delivered with precise intent, and serves to be a blast to listen to.

6
Insomnium


Winter's Gate





Most Symphonic Metal really tends to blend together for me. It's always something that makes me sad because, on paper, I know I should be super into it and love it. However, I haven't found something I really loved of that ilk- until now. Winter's Gate is a combination of powerfully loud and explosive instrumentations, clawing vocals, and atmosphere that puts most atmospheric music to shame. Rather than all create something that sounds generically 'epic', Insomnium creates what I think is how Symphonic Metal should sound like in most cases. Because it should never not be awesome. And Winter's Gate is awesome.

7
Sturgill Simpson


A Sailor's Guide To Earth





As a fellow native of Kentucky, I feel a bit of a kinship with Mr. Simpson. Country music is another genre I have a hard time finding things that appeal to me, so when i find something like this, I treasure it. Simpson and Jason Isbell are perhaps single-handedly keeping good country alive right now, and this album is a psychedelic trip that's worthy of it's name. Sturgill's vocals are refined and smooth, but still rough enough to get across that country feel you'd want from something like this. The actual sound of the album is far from typical, things get weird, but weird in a cool and experimental way that manages to actually work, and could only work in the hands of a talented musician.

8
King Gizzard and The Lizard Wizard


Nonagon Infinity





This album is pure, rough, conceptual garage metal and psychedelic prog. There's probably not a sweeter sounding combo in all the universe. The songs on this album wonderfully flow together, but the production and mixing is loud and full of edge that just isn't present in a lot of bands or sounds you can find. Not to mention the lyrics themselves are undeniably catchy, fun, witty, and weird. You get exactly what the name promises with King Gizzard.

9
O'Brother


Endless Light





This was another one that came out of virtually nowhere for me. O'Brother brought something to the table that seemed to be a theme with albums this year, that being 'Oppressive Bleakness' (in tandem with a stark black and white album cover too, I sense a theme here) An album called 'Endless Light' in theory sounds like it should be pretty uplifting, spoiler, it is most definitely not. This alt rock venture is an expression of utter helplessness in the face of a void. A void that cannot be properly defined. A void where you can see life happening from, but can't quite experience it anymore. It's something that you really need to listen to yourself to truly understand.

10
Leonard Cohen


You Want It Darker





Continuing the trend, we have another bleak album from an artist who died this year. Cohen was a genius songwriter. Among the best of the best, and this album is a great showcase of why. Cohen, like Bowie, knew he was on his way out, and decided to make something of it all. Every song here is longing, distant even, as if Cohen recorded it from beyond the grave. He paints the portrait of an exhausted man who is ready to meet death, but still someone who's faith and fear are at odds with one another, as God is clearly on Leonard's mind. This is tough to listen to, and not because it's rough, in fact the production is great, but it's a downer, and it'll drain you of any happiness you have left in you, but remains powerful nonetheless.

11
Gojira


Magma





Gojira is always reliably solid, and Magma is just that, solid. It's not as memorable or heavy as something like 'The Way of All Flesh' but I think this one is a bit more accessible. It gets a bit more of a prog edge on this album, and that's something I can always appreciate. Everything here is executed almost perfectly, even if the album is a bit same-y, it's still immensely enjoyable.

12
Moonsorrow


Jumalten Aika





Moonsorrow is a band that I never saw myself getting into. However, in terms of weirdly awesome unlikely combos, Death Metal and Viking Metal, this one is definitely up there. The vocals get a bit repetitive and potentially grating, but WOW is this a fun listen. This is by far the heaviest thing on here, and probably the heaviest Moonsorrow have gotten. It's incredibly theatrical, and sounds like it's from an era long past despite the top-notch production.

13
The 1975


I Like It When You Sleep, For You Are So Beautiful Yet So Unaware of It





This is one of those albums that I honestly find it difficult to explain why I like it. On one hand, it has cuts like 'Somebody Else' which top notch depressed white boy fare, on the other hand it has tracks that feel like straight up late 80s and early 90s throwbacks like 'The Sound' or 'Love Me', which I also like, and sometimes it's just this odd mix of dream pop and alt rock, so really, I should think this is a mess. And yeah, it kinda is. But I come back to it all the time and find myself really growing more attached as time goes on.

14
Childish Gambino


"Awaken, My Love!"





Well this was certainly out of left field. Gambino is one of my favorite people in hip-hop so upon listening to this and finding out it was a straight up Soul album with dashes of funk? I was confused, but when I started to actually listen to it, I didn't even have enough time to be disappointed. Donald always knows what he's doing when it comes to production. Here it's old school, fun, but also brooding, atmospheric, and dark. It has him giving his most impressive vocal performances and the songs are just a blast to listen to.

15
Danny Brown


Atrocity Exhibition





This was an album I discovered much later and really loved, but since you can't edit list orders, I'll put it as the number 15 even though it would rank more around 9 or 10. This album was a blast. It was this cacophonous and insane drug trip that just never stops being interesting. It can become a bit too insane for its own good, but thats sorta part of the charm.

16
Nick Cave and The Bad Seeds


Skeleton Tree





I didn't include this on the list proper when I made it and I am silly for forgetting it. Albums about death and dying and dealing with it are always fascinating to me, and here it's no different. I can't classify this album. It adheres to no genre, no real structure, no real unity, and honestly, SOMEHOW it works. Nick's vocals are incredible and the spacious instrumentals are glorious and melancholic.