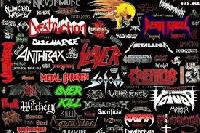 User
Soundoffs 306
Album Ratings 1786
Objectivity 77%
Last Active 02-21-19 9:33 pm
Joined 09-18-16
Forum Posts
0
Review Comments 5,517
Top Ten 15 Extreme Metal Albums: 1991

It didn't take long for death metal to overshadow thrash metal as the cultural counterpart to pop music in 1991, and when it rains, it pours. Many DM acts have formed and were unleashing some of the most venomous, bloodthristy music known to man. After all, death is in its name. Black Metal didn't quite make the list this time, but some classic BM albums will be creeping in future lists. Nominees: Dark angel - time does not heal ,Metal church - the human factor ,Tourniquet - psychosurgery ,Pestilence - testimony of the ancients ,Razor - open hostility ,Stone - emotional playground ,Sarcofago - the laws of scourge ,Sacrifice - soldiers of misfortune' ,Ripping corpse - dreaming with the dead ,Holy moses - terminal terror ,Mortification - lightforce ,Carcass - necroticism ,Grave - into the grave ,Unleashed - where no life dwells ,Immolation - dawn of possession ,Bolt thrower - war master ,Cancer - death shall rise ,Convulse - world without god ,Gorguts - considered dead ,Massacre - from beyond ,Morgoth - cursed ,Master's hammer - ritual ,Cathedral - forest of equilibrium
15
Malevolent Creation


The Ten Commandments





While Tomas Skosberg was playing a big role in engineering the Swedish DM sound (Merciless, Dismember, Entombed, etc.), Scott Burns was doing the same for Florida's brand (Death, Deicide, Atheist, etc.), and one of his best sounding projects was the Creation's Malevolent debut. Inspired by Possessed's Seven Churche's and Morbid Angel's Altars of Madness, MC's debut displays the ten commandments of DM at their finest: Thou shalt incorporate Unique, aggressive vocals, thrash metal influences, super catchy guitar work, very solid drumming, violent lyrics and song titles, decent variety, shifting tempos, a good run time, bare bones production, and the intent to tear open a new asshole unto those who dareth enter. Okay this may not be 100% accurate, but the album and its follow-up absolutely rule and are essential old school DM. "Malevolent Creation," "Multiple Stab Wounds," "Premature Burial," and "Memorial Arrangements" are top cuts.

14
Overkill


Horrorscope





It's often debated between Horrorscope and The Years of Decay on which is their best album, but this is without a doubt a terrific way to end off their golden era. Adding a second guitarist and a more modern production to the mix, Overkill go all out on the guitar work here with rifffests like "Coma," "Bare Bones," "Thanx For Nothin," and "Blood Money" taking center stage, and they go darker with their themes here as well. Blitz also puts on his most aggressive vocal performance up to this point with more growling and snarling than before while retaining his trademark style, and the t/t and "Soulitude" are slow trodding beasts that make the best of his efforts, especially his clean singing. A fantastic thrash album and easily tied with The Years of Decay as their best album.

13
Entombed


Clandestine





The Swedish defnitely brought a unique spin on DM where instead of opting for clicky blast beats and thrash metal influence like the U.S., they were more melodic, inspired by punk rock, and opted for a more buzzsaw guitar tone and bass sound. Entombed nailed the Swedish's formula with Left Hand Path and their equally brutal Clandestine. Here, however, the drums pack a much greater punch while still retaining their signature crushing guitar tone, grinding bass tone, and tortured vocal delivery. Entombed also packs far more memorable individual riffs than even the likes of Suffocation, Malevolent Creation, or even Gorguts, and the song structures feature impressive variety without sounding overly similar. There's also plenty of nice embellishments thrown in such as the acoustic passages and slower, doomy sections, which make the guitar solos much more exciting to behold. Entombed make lightning strike twice with their killer and essential second album.

12
Sepultura


Arise





No [early] Sepultura album is truly the same; Morbid Visions was more black metal, Schizophrenia was more death metal, and Beneath The Remains was more thrash with a tasteful blend of death. Arise, however, is where the band shows they embrace change to keep up with the times yet still make quality music. Max Cavalera's vocals are more of a shout than a growl, there's a half dozen groovy riffs, and there's hints of industrial music, hardcore punk, and Latin percussion, all of which are tastefully done and give the music impressive variety. "Meaningless Movements," "Dead Embryonic Cells," "Desperate Cry," and "Altered State" are precursors to Chaos A.D. while retaining much of the vigorous spirit of Beneath The Remains, and the opening t/t and closing "Infected Voice" would fit right on said album. Utilizing the best of both worlds of Sepultura's more groove-oriented era and their harder hitting thrash/death era, Arise is a superb effort by one of metal's most important groups.

11
Autopsy


Mental Funeral





What a blessing it was for Death's original drummer to part ways and form his own group Autopsy. Severed Survival is one of the best old school DM records and a great display of Chris Reifert's harsh growls and impressive drumming. The follow-up Mental Funeral adds a second guitarist and fantastically blends DM with doom metal, making for compositions that fly at a fast pace but also grind and plod, making the music even more brutal than before. "In The Grip of Winter" is a fine example of this change of direction which gallops between slow, doomy sections, midpaced riffs, and faster sections, and the production is more raw and open than the debut. "Dark Crusade," "In The Grip of Winter," "Torn From the Womb," and "Twisted Mass of Burnt Decay" are top cuts. Arguably Autopsy's best album and one of the best and most interesting old school DM albums of all time.

10
Devastation


Idolatry





Despite releasing the worst thrash metal album of the 80's with Violent Termination, the unexpected happened; enter Scott Burns and a more death metal approach to songwriting, and out comes Idolatry. "Deliver The Suffering" opens the album with an eerie instrumental with horns, creepy piano playing, and a low-key choir before unfolding devastating riffs and a brutal pace. Scott Burns trademarks are definitely here with the clicky yet pounding bass drum, bass-heavy guitar sound, and muddy yet effective clarity. Rodney's vocals actually sound aggressive and convincing this time around, the guitar work is technical and fast, the bass is audible enough, and the drumming is groovy yet powerful and full of wicked fills and rolls. Every tune is full of variety without sounding same-y or derivative. "Deliver The Suffering," "Freewill," "Souls of Sacrifice," and the t/t are my favorites here, and the album as a whole is essential listening for both thrash metal and death metal fans alike.

9
Realm


Suiciety





Much like Coroner and Heathen, Realm were in a league of their own, utilizing a unique brand of tech thrash with progressive and classical elements. Endless War is one of the best and most overlooked debuts of the genre, and they follow it up with the more technical and progressive Suiciety. Where Endless War was a bit more accessible, this album spirals and sprawls in and out of song structure and tempo like a roller coaster and makes for an intense yet engaging listening experience. The production is really good too with added emphasis to the drum sound and bass guitar without overshadowing the guitars, and Marc Anthony's vocal antics and the soundscape are at the front of the mix. That's perfectly fine because his performance is unique and commendable. "Cain Rose up," "Fragile Earth," "Energetic Discontent," "Final Solution," and "Knee Deep in Blood" are top cuts, and this amazing sophomore effort is just as good as their debut and without a doubt one of the best of the year.

8
Morbid Angel


Blessed Are the Sick





Altars of Madness was single-handedly the reason for thrash metal's gradual demise, displaying a brutal, deadly sound unheard of before its release, and another nail in the coffin for said genre is the follow-up Blessed Are The Sick. While Altars of Madness had traces of thrash in its compositions, it's all but gone here, and taking its place being their fully evolved vision of the most brutal death metal of the time. Much of that is in due part by Pete Sandoval who has perfected his dominating blast beats here which shake the earth beneath his feet with every pound of the bass drum. Dave's vocals also lean away from the black metal-ish sound of their debut and are more venomous and guttural in delivery, and the guitar work is thicker in tone and even faster and groovier than before. "Rebel Lands," "Fall From Grace," "The Ancient Ones," and "Brainstorm" are top cuts. A defining moment in bringing DM to the forefront during the 90's and is my favorite Morbid Angel album.

7
Suffocation


Effigy of the Forgotten





One band dared to rival Morbid Angel's brutal take on DM and surpass them: Suffocation. Frank Mullen set the blueprint for modern DM bands with his low, guttural growls, and their guitarists downtuned their guitarists much further than Pantera and Demolition Hammer could ever dream of, and, couple by Scott Burn's gnack for the American DM scene, created a dense wall of sound unmatched by even the Swedish at the time. The music itself is very technical, constantly changing tempo and time signatures, something Gorguts and Messhuggah would do later on. The guitar solos are surprisingly memorable, both melodic for DM while very technical, and the bass is quite audible which backs up the guitar's relentless assault on the ears. What really sets this debut apart, however, is its lack of thrash metal influence, as it's much more focused on pushing boundaries than using previous influences to help deepen its impact. Among the most brutal DM albums ever and an absolute gem for the genre.

6
Anacrusis


Manic Impressions





Anacrusis set out to be a one of a kind prog thrash band, and while their first two are respectable efforts, they hit their schizo stride on Manic Impressions. The opening track "paints a picture" of what the rest of the album is about: frantic, distorted riffs, charismatic vocals ranging from harsh screeches to clean singing, sharp bass work, and calm, whimsical passages. The introspective lyrics are surprisingly deep and are the icing to the cake for these compositions, and the drumming is spot on. Screams And Whispers would build more on the calm passages presented here ("Something Real," "Explained Away," "Far Too Long"), but this album thankfully doesn't compromise their thrashy upbringing in the process and make for truly engaging material. Best suited for an entire listen, Manic Impressions is both manic and magical and will leave a stunning first impression for anyone who dares to listen. A sheer thrash masterpiece and an influential cornerstone to prog metal.

5
Heathen


Victims of Deception





Heathen were at the forefront of technical thrash metal with their masterpiece Victims of Deception. Two-punch opener "Hypnotized" and "Opiate of The Masses" are a strong contender for best thrash opener with the former relying on eerie buildup and technical riffing to steal the show and the latter featuring killer grooves and an explosive outro. "Heathen's Song" is the longest here at over 9 minutes but utilizes that time better than Metallica ever did on AJFA, and shorter tunes like "Kill The King" and "Hellbound" are a nice break from the longer compositions while still showing off flashy guitarwork. Dave White and Lee Altus steal the show throughout with the former's powerful, melodic vocal delivery and the latter's technical, top tier riffs, solos, and harmonies. Further equipped with killer production and ambitious songwriting, VOD is a landmark in the genre and the peak of the tech thrash movement.

4
Dismember


Like an Ever Flowing Stream





The day I discovered this masterpiece was the day I became a man; Probably the most engaging DM album unfolded by the Swedish, Like an Everflowing Stream may perhaps even be the most powerful DM debut ever released. "Override of The Overture" sets all the band's signatures up front: the iconic buzzsaw guitar tone pioneered by the Swedish, bouncy song structure, grinding rhythm section, guttural vocals, and surprisingly potent production to balance it all out. "Skin Her Alive" and "Soon to be Dead" are the shortest tunes here but are probably the most lethal in sheer riffing, "Bleed For Me," "Sickening Art" and "And so is Life" are more midpaced but equally effective at brutal riffing and grooves, especially the drumming, and "In Death's Sleep" and "Dismembered" are slower and almost doomy in structure, the former closing the album on a grim note. With its only flaw being its short length, Like an Everflowing Stream is a legendary DM masterpiece and one I cannot recommend highly enough.

3
Atheist


Unquestionable Presence





Prepare for what is without question the magnum opus of technical death metal. Piece of Time killed it as a great, technical DM debut, but their follow-up is a one of a kind beast, fully embracing its jazz harmonies and latin rhythms with the riff-laden DM sound they established on its predecessor. Hard to believe it was produced by Scott Burns because instead of having a muddy, clicky quality, the album is bass-heavy and rich with clarity, especially the bass and drumming, both of which are the highlights on this release and hold no punches with technicality. The album's short run time and 3-4 minute song average works in its favor much like it did for Coroner, and "Mother Man" alone is a perfect display of what Atheist set out to do: make the most inspired and technical DM known to man. Complex, unique, and utterly captivating, Atheist's sophomore outting's presence and influence in the DM community is unquestionable and without boundary and is one of the best DM albums ever released

2
Death


Human





Scream Bloody Gore to Spiritual Healing were great albums with impressive musical progression and are old school highlights, but they turn the tables with Human. Alongside Atheist's Unquestionable Presence, Death set out to make the best technical DM possible, and while Atheist leaned towards jazz and latin tendencies, Death stuck with pure, unadulterated DM. Chuck was a one of a kind frontman, showing no restraint with his impressive leads, neo-classical soloing, and having one of the most passionate screams and shouts in the genre, and on this album, he was accompanied by the legends Steve Di Giorgio and Sein Reinhart, the former making a name for Sadus and the latter doing so for Cynic. Like Atheist, they keep the compositions 3-4 minutes in length and an overall 34 minutes in album length. Coupled with philosophical themes, Scott Burns trademark production, and a batch of classic, technical tunes, Human is a true career and genre highlight and a pivotal stepping stone for 90's DM.

1
Coroner


Mental Vortex





Often cited as "The Rush of Thrash Metal," they comfortably took the title as a leading underground act in a league of their own. Few thrash groups took hints of avante-garde, classical, and jazz elements and incorporated them in a twist-tied, technical brand of thrash metal better than Coroner, and their magnum opus Mental Cortex may be the greatest hidden gem of the genre. Shifting away from their tech thrash direction of No More Color, Mental Cortex is filled to the brim with calm passages ("Divine Step," "Sirens"), odd time signatures ("Pale Sister"), grooves that would make Pantera jealous ("Semtex Revolution," "Son of Lilith"), and plenty of technical guitar work to make them recognizable by fans of their previous material ("About Life"). Outweighing even Heathen and Anacrusis, Mental Cortex is the quintessential prog. Thrash metal album, Coroner's best album, and a strong contender for the best thrash metal album ever created.