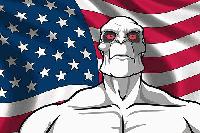 User
Reviews 163
Approval 97%
Soundoffs 13
News Articles 16
Band Edits + Tags 2,975
Album Edits 7,723
Album Ratings 2940
Objectivity 88%
Last Active 07-16-20 9:51 pm
Joined 08-18-16
Forum Posts
67
Review Comments 5,968
Phantasm is better than Alien

I watched Alien last night for the first time in quite a while, and it just reinforced an opinion I've had for a long time - the best horror/sci-fi flick of 1979 wasn't Alien, it was Phantasm. Here are the reasons:
1
Alien


Eternity





Alien's Sigourney Weaver as Ripley vs. Reggie Bannister's lovable ice cream truck driver Reggie. Ok this one still goes to Sigourney (and Reggie isn't really the protagonist of Phantasm, Michael Baldwin is), but it's closer than you think. Ripley is kind of bad-assed here, but not as bad-ass as she later became in Aliens. And Reggie, the hippy ice cream guy is really lovable.

2
Phantasm


The Abominable





Alien's Ridley Scott vs. Phantasm's Don Coscarelli. Fuck Ridley Scott. This wasn't even his best film - Blade Runner was. Meanwhile, Don Coscarelli went on to make some true cult classics, including Bubba Ho Tep and John Dies in the End.

3
Alien


Crash





Alien had the Alien, pretty cool. But Phantasm had Angus Scrimm as The Tall Man. All right, I've got to give this one to Alien, but only because of H.R. Giger's design, and again, it's close.

4
Phantasmagoria


Seeds of Brain





Alien had Facehuggers and Chestbusters. But Phantasm had those flying silver spheres that lodged themselves in your head and drilled out all your blood and brain matter. Maybe if the Queen from Aliens was here I'd give it to Alien. But since she wasn't, I'm going with the spheres.

5
Phantasmagore


Abominations...





The first Phantasm is clearly the best film in the Phantasm film series. That's not true of Alien. James Cameron's Aliens shits all over the slow-moving Ridley Scott flick. Nod to Phantasm.

6
Phantasmagoria


Sign of Fragment





The plot of Alien is pretty simple - crew trapped on a spaceship with an alien monster that's hunting them down one by one. It's OK, but slow as shit, and it's also lifted in large part from the 1958 film It the Terror From Beyond Space. The plot of Phantasm involves an alien dimension that has invaded ours in order to steal our dead, reanimate them, squash them down into dense dwarves and force them into slave labor. Game, set and match Phantasm!