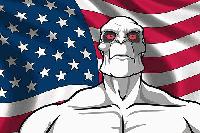 User
Reviews 162
Approval 97%
Soundoffs 12
News Articles 16
Band Edits + Tags 2,918
Album Edits 7,498
Album Ratings 2853
Objectivity 88%
Last Active 04-08-20 1:20 am
Joined 08-18-16
Forum Posts
52
Review Comments 4,947
The B-52s, OMD and Berlin

I got kidnapped to Connecticut this weekend for a pair of '80s concerts at Foxwoods Casino. The first featured Berlin and OMD opening for the B-52s.
1
Berlin


Transcendence





They got a great reception from the crowd. Terry Nunn still has a very strong voice. The sound mix was a little muddy for them -- the synth should have been way louder -- but other than that they had an excellent set.

2
Orchestral Manoeuvres In The Dark


The Best of O.M.D.





Andy McCluskey dances like a chicken, or like a man with horrible neurological damage. But these guys were really on, and their set was first-rate.

3
The B-52s


Cosmic Thing





I've seen these guys a bunch over the years, because they're my wife's favorite band. But this was one of their best shows. Both ladies were in good voice (which isn't always the case, especially for Cindy Wilson), and Fred Schneider was ... well, Fred. They capped off a very strong '80s show in style.