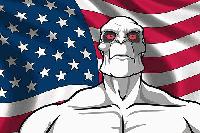 User
Reviews 163
Approval 97%
Soundoffs 13
News Articles 16
Band Edits + Tags 2,968
Album Edits 7,714
Album Ratings 2936
Objectivity 88%
Last Active 07-16-20 9:51 pm
Joined 08-18-16
Forum Posts
67
Review Comments 5,920
The Who, Leslie Mendelson

Caught The Who on the first show of the second leg of their Moving On! tour on Sunday night at Madison Square Garden, with opening act Leslie Mendelson.
1
Leslie Mendelson


Love and Murder





Leslie played an acoustic set, accompanied by guitarist Steve McEwen. She played some of her best material, such as "Jericho" off of her Love and Murder album, some stuff from a forthcoming new album, a couple of Dr. John covers, and "A Human Touch", a song she collaborated on with Jackson Browne.

2
The Who


Tommy





Daltrey and Townshend played with a full band, plus an orchestra for most of the night. They did a mini-Tommy set, a mini-Quadrophenia set, a pair of new songs from their forthcoming album, and a bunch of their classics. They were a little rusty, as this was their first show after taking the whole summer off. But it was a really fun show.