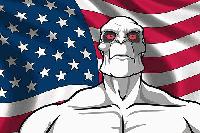 User
Reviews 163
Approval 97%
Soundoffs 13
News Articles 16
Band Edits + Tags 2,968
Album Edits 7,713
Album Ratings 2934
Objectivity 88%
Last Active 07-16-20 9:51 pm
Joined 08-18-16
Forum Posts
67
Review Comments 5,898
Santana, The Doobie Brothers

Saw this "classic rock" show at the Jones Beach Theater tonight. It was surprisingly chilly, but looked to be a sold out house. The show lasted four hours. The Doobies were good, although I'm a pretty casual fan of theirs. Santana pulled out all stops, and played many of their classics.
1
The Doobie Brothers


Listen to the Music: The Very Best Of





They played a full set, and sounded good. Don't like them enough to see them as a headliner, but they were a solid enough opener. Best part of their set was probably the encore, "Black Water" and "Listen to the Music".

2
Santana


Supernatural





They played for about two hours, and performed most of the songs you'd want to hear. I thought their vocalists sounded a bit strident, but other than that, they were smoking hot.