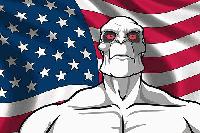 User
Reviews 163
Approval 97%
Soundoffs 13
News Articles 16
Band Edits + Tags 2,975
Album Edits 7,722
Album Ratings 2940
Objectivity 88%
Last Active 07-16-20 9:51 pm
Joined 08-18-16
Forum Posts
67
Review Comments 5,968
The Alarm, Modern English, Gene Loves Jezebel

Saw a solid '80s show on Long Island tonight.
1
Gene Loves Jezebel


Voodoo Dollies: The Best of Gene Loves Jezebel





This was actually "Jay Ashton's Gene Loves Jezebel". They were the only band of the night I'd never seen before. Solid (if short) set.

2
Modern English


After the Snow





First time I saw them do a full-length set. Was getting pleasantly carried away by the music, but the lead singer complains too much. Dude, we're having a perfectly pleasant time. Stop nagging us to move more and just sing the effing songs.

3
The Alarm


Sigma





Haven't seen them in almost 20 years. These guys are actually pretty raucous for an '80s band. Would have enjoyed them more except for these two obnoxious women sitting (well standing) next us, just repeatedly screaming, "Woo! Woo! Mike Peters! Mike Peters! Mike Peters! Mike Peters!" Geez, stfu. I know you weren't really that excited.