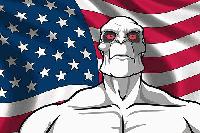 User
Reviews 163
Approval 97%
Soundoffs 13
News Articles 16
Band Edits + Tags 2,974
Album Edits 7,721
Album Ratings 2937
Objectivity 88%
Last Active 07-16-20 9:51 pm
Joined 08-18-16
Forum Posts
67
Review Comments 5,947
Chvrches and Charly Bliss

I see a lot of older bands live. But every so often, I like to go and see bands from this decade, just to remind myself I'm still alive. Caught Charly Bliss opening for Chvrches tonight at Radio City Music Hall.
1
Charly Bliss


Young Enough





These guys are a NY band, so needless to say, they were psyched out of their gourds to be playing Radio City Music Hall for the first time. They performed a high-energy set, and their enthusiasm was catchy.

2
CHVRCHES


Love Is Dead





These guys were also pretty psyched to be there. The sound was unfortunately a little muddy for them, but Lauren Mayberry was in fine voice, and the crowd stood pretty much from the beginning to the very end of their set.