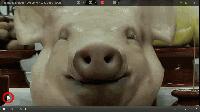 User

Reviews 5
Approval 87%

Soundoffs 16
News Articles 2
Band Edits + Tags 139
Album Edits 210

Album Ratings 181
Objectivity 69%

Last Active 03-13-17 1:39 pm
Joined 08-01-16

Review Comments 170


Mariupolis

The Story: Back in the spring, Voivod (the Sputnik user, not the band) asked me to comment on the documentary film Mariupolis, about a city in the East of Ukraine that is currently occupied by Russia. I wanted to watch the movie immediately, but certain hardships prevented me from doing it. So, I am fulfilling my promise now that I've finally managed to watch the movie by providing my thoughts on it here. The music: the list is Ukrainian bands and artists that are worth checking out. Some of them were already present in Sputnik database, but with incomplete discographies, while some I've added from scratch.
1
Atomic Simao


Levitation Loom Four



The movie: Back in 2015, Lithuanian filmmaker Mantas Kvedaravičius came to Mariupol, which was then under constant threat of yet another attack by the russian forces. He observed the daily life of a city located not so far away from the frontline and diligently filmed what he saw. Those recordings formed the basis for the documentary Mariupolis, released in 2016.

The music: Atomic Simao is jazzy space rock or spacey jazz-rock, something like that. Mostly instrumental.
2
Koloah


Salon Imaginalis



The movie: As the full-scale russian invasion started in February of this year, and Mariupol was subjected to an even more savage siege than the one experienced by the city in 2014-15, Kvedaravičius came back to film a sequel. Sadly, he did not live long enough to complete the movie. At the end of March 2022, he was captured and shot by the Russians while attempting to assist with the evacuation of civilians. In a way, this text is my attempt to honor the man's legacy.

The music: Koloah is a one-man project, creating ambient electronic music. It is mostly instrumental, although sometimes the guy brings in fellow artists to help with the vocals.
3
My Personal Murderer


Cauchemar



The movie: I'll reiterate this because it is an important point: Mantas Kvedaravičius came to Mariupol back in 2015 at a time of the city's dire need to shed light on its struggles. When the trouble came back tenfold, he returned to tell the story of Mariupol again. So, Mariupolis clearly represents the point of view of a man who loved the city.

The music: My Personal Murderer is gothic rock/post-punk. A bit on the pretentious side, if you ask me, but an interesting band nonetheless.
4
Zavoloka


Ornament



The movie: Now, there's one thing you need to know: Mariupol is a tough city to love. It's easy to fall in love with a place like Paris in all of its glamour or with some clean and peaceful European town. Mariupol is (or should I say "was"?) a sad industrial city, with decrepit Soviet-style buildings, a shallow sea nearby, and rough, down-to-earth inhabitants. Well, that is precisely what Kvedaravičius wanted to show in his documentary: the city as it is without the extra sheen and polish.

The music: Zavoloka creates folksy electronic soundscapes. Her works are mostly or maybe even completely instrumental.
5
Kat (UKR)


Guernica



The movie: The film steers as far away as possible from the usual tropes typically associated with documentaries and television reports. You won't hear an overenthusiastic voiceover accompanying the visuals, there won't be any trite excurses into the city history, or standard, pre-rehearsed interviews with handpicked locals. Clearly, Kvedaravičius was following his instincts while choosing what to film and what to show us, instead of trying to fit the city he wanted to explore as a filmmaker into some artificial conceptual framework.

The Music: Kat (Кат) gradually transitioned from raw hardcore to post-hardcore and alt. rock throughout their career. Their first EPs were sung in English, then they switched to Russian, and finally to Ukrainian on their latest LP.
6
Boombox (Ukr)


Family Business



The movie: To put it simply, the main focus is placed on people, the ordinary citizens of Mariupol. There are a couple of panoramic views showing the city of harbors and factories at the height of its beauty, but mostly we see close-ups of gears and wheels, waves and buildings, but mostly of people's faces. They are perfectly ordinary faces, often tired, wrinkled, and downtrodden, but not ashamed of themselves or trying to shy away from the camera. Here they are, as shown through the camera eye, going through their daily routine, seemingly oblivious to the fact that they are being filmed.

The music: Boombox (Бумбокс) gained some notoriety after their recent collaboration with David Gilmour, so I've added them to the database here. They do funk, rock, hip-hop, and some DJ scratching among other things. The songs are mainly in Ukrainian, some pre-war stuff is in Russian, and there are a couple of tracks in English as well (mostly far from their best ones, tbh)
7
The Hardkiss


Cold Altair



The movie: Instead of going for the usual "television report" style, Kvedaravičius aims at a "slice of life" documentary. Throughout the film, we see different pieces of people's lives, which form a sort of kaleidoscopic whole. A young couple is enjoying each other's company on a boat, a string quartet rehearsing a song a bit out of sync, people preparing a moody concert hall for some official holiday, a church service, a court session (resembling a church service) with some hapless guy being chastised for poaching, etc.

The music: The Hardkiss play a very eclectic brand of electronic music; I don't even know how to classify what this band does. A sort of folkish synth pop/techno. A very interesting band with strong vocals as well. Their first albums were sung in (a bit broken) English, but they gradually switched to Ukrainian.
8
Vivienne Mort


Teatr Pipinó



The war does not really take the central stage, but constantly looms in the background, and the political context, in general, is omnipresent, although never emphasized. Some transport depot workers can be heard discussing whether there will be any more bombings, and a woman nearly goes hysterical over perceived disrespect towards a symbol of WW2 anti-nazi resistance at some vaguely pro-russian meeting, at the same time enthusiastic yelling "Glory to Ukraine!" can be heard a couple of times throughout the film. It's all there, a part of daily life, one of the factors to consider. But Kvedaravičius does not really use the movie to make a political statement. He's here to observe, not to proselytize.

The music: Vivienne Mort is baroque pop/indie. Some delightfully quirky music; the lyrics are in Ukrainian.
9
Kazka


Nirvana



There is a persistent surreal feeling throughout the movie, even though the events ad locations depicted are perfectly mundane. In my opinion, this is due to intricate camera work, varied yet controlled editing, and general focus on the visuals, even in the moments when dialogs are present. In fact, Mariupolis is more of a visual essay than a documentary movie. Even though it lacks a defined narrative, there is an elusive yet persistent common mood and theme to every single frame, every angle chosen by the cameraman.

The music: Kazka plays electropop with folk overtones. Perhaps the most straightforward poppy item on the list. They are insanely popular in Ukraine, but basically unknown in the West, so, maybe you should try them out. The songs are mostly in Ukrainian.
10
alyona alyona


V Khati MA



All things considered, the movie is pretty much a niche product. It is a documentary with a distinctive style, a very well-thought-out artistic statement, but I wouldn't really call it exciting. Nor was it meant to excite. So, I can recommend it to viewers with a penchant for unorthodox documentaries or those interested in the history of the ongoing Russo-Ukrainian war (remember, Ukraine has been repelling the russian aggression since 2014, and last February putin just decided to raise the stakes).

The music: Alyona Alyona is rap/hip-hop. I don't really listen to rap, but the big girl was recently signed by an American label, so she must be quite good.
11
Palindrom


Придумано в черзі



As I've said before, in 2022 Mantas Kvedaravičius returned to Mariupol to film a sequel, only to be tortured and killed by the russians at the beginning of March. However, his fiancé managed to retrieve his body and the materials he managed to film before his death. Those were later used to create Mariupolis 2, which premiered in theaters in Ukraine last week, on November 17. I don't know if it's available online at the moment.
The music: Palindrom's albums were already added to the database thanks to Voivod. I'd disagree with the genre tags, though. I'd say it's primarily trip-hop/hip-hop, and then anything else. I also hear very little of black metal in this. At least in the first two albums (haven't heard his newest one properly yet).