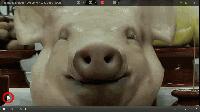 User

Reviews 5
Approval 87%

Soundoffs 15
News Articles 2
Band Edits + Tags 139
Album Edits 210

Album Ratings 180
Objectivity 69%

Last Active 03-13-17 1:39 pm
Joined 08-01-16

Review Comments 168


Some Ukrainian music and a bit of general info

Just so you remember about the struggles my country is going through currently. I wanna expand your horizons a little, so this list won't contain the bands you already know, like Drudkh, Nocturnal Mortum, or Jinjer (who are assholes btw, as they continued to perform in russia despite russian annexation of Crimea and partial occupation of Donetsk (my hometown) and Luhansk regions). Instead, I'm offering you a selection of pop/rock/electronic music artists, most of whom sing in Ukrainian. Since they are mostly not in the database, I'll use an album of the one band that is listed here for every entry of the list, but the descriptions will contain links to Youtube videos of other Ukrainian bands. Hope you'll enjoy it
1
ONUKA


ONUKA



Onuka (pop/electronic): https://www.youtube.com/watch?v=fSTkFjfC1Cg
We are holding on, although it is tough since the motherfuckers are attacking from several directions, while also trying (to varying degree of success) to bomb those cities that are out of reach for their ground forces from the air. Still, both the army and the citizens are highly motivated. My cousin tried to enlist today but was denied for now, since the number of those willing to enlist is too high and the priority goes to the people with actual combat experience.
2
ONUKA


ONUKA



Kozak System (folk/pop rock): https://www.youtube.com/watch?v=ulbEgem8W-Y
There is a general air of kindness and mutual support around (seamlessly entwined with a healthy dose of hatred towards the occupants). Banks, shops, restaurants, and different businesses try to help the civilians to pull through by providing food, shelter, and support. The hotels are offering a free stay to those who are afraid/unable to fight. People try to equip the bomb shelters with furniture to lend some semblance of comfort and coziness to those waiting out the bombings, as well as food and water. Everyone is doing their part, from President Zelenskyi to the youngest and the oldest Ukrainians. It's too early to tell whether or not this will be enough, but we're giving all that we've got and it won't be easy for the occupants.
3
ONUKA


ONUKA



Бумбокс (ENG: "Boombox". Rock/pop/funk: https://www.youtube.com/watch?v=7ont6PDBXPs)
The official russian narrative is that they are after our "nazi" government and not the people of Ukraine, so supposedly they are only targeting military objects and not civilian buildings. Which is absolute BULLSHIT. An orphanage and a kindergarten were bombed yesterday, at least one 7-year old girl died. During the first day of invasion 40 civilians died, including children. Make no mistake, this is a war against all things Ukrainian, against our very right to exist.
4
ONUKA


ONUKA



Антитіла (ENG: "Antibodies." Pop/rock: https://www.youtube.com/watch?v=B9gvM_-WYwo)
We ARE grateful for the help of our allies. We DO understand why there won't be any direct military support. Nobody wants this to lead to a nuclear war, and the dickhead said he'll use the nukes on any country that interferes directly. We are not asking anyone to fight our war for us. But the weapons we're receiving now and received before are of great help, the sanctions seem to be heating up and there is hope that NATO will cut off the supplies to the Russian army by closing off the skies. So, there is that.
5
ONUKA


ONUKA



Павло Зібров (Eng. transliteration: "Pavlo Zibrov." Old-fashioned kitchy pop for grannies. He is a fun and good-hearted old geezer, though: https://www.youtube.com/watch?v=lgtWLZGD1D8)
As for myself, I currently reside in the city named Vinnytsia, which is also occasionally bombed but is not besieged the way Kyiv, Kharkiv and some other cities are, at least not yet. I'm not trying to get into actual combat, since I am a bit crippled, have very weak eyesight, and never ever held a gun in my hands. However, I donated my blood today to help our wounded, and tomorrow I'm planning to provide some potable water, food and means of hygiene to our hospitals.

My 80-year old grandmother is in Kyiv, and I am worried about her. However, neither I, nor my other relatives have the means to move her to a safer city, and her health may not be strong enough for the trip. She's tough and she refuses to leave, anyway (we ran from Donetsk in 2014 and we are sick of running).
6
ONUKA


ONUKA



Тінь Сонця (ENG: "Shadow of the Sun." Manowar-style cheese metal: https://www.youtube.com/watch?v=KtKaXc_AEF8)
My aunt is also in Kyiv, she's tougher than nails, and she does various volunteer jobs, while her husband is a journalist, so he provides some informational coverage. My youngest cousin is currently studying in Prague, she provided some humanitarian aid for us and she attended the anti-russian rally in Prague.
7
ONUKA


ONUKA



Верка Сердючка (transliteration: "Verka Serduchka." Eurovision pop/kitch/drag: https://www.youtube.com/watch?v=YvCt5d1kWNM)
Please, don't say "russians must be fine chaps, it's just that their leader is crazy." They've tolerated putin for 22 years. The majority of them celebrated the Georgia invasion in 2008, the Crimea annexation and intervention to the Eastern Ukraine in 2014. They show limited willingness to condemn the dickhead now. I kindly ask you to treat all citizens of russia as the pieces of shit that they are.
8
ONUKA


ONUKA





Tonight is going to be tough, especially for Kyiv. russian MoD announced a coordinated attack from all directions. We don't know how and when will this war be over. One thing we know for sure: a lot of kind and brave men and women have died before and may die tonight because of russian invasion. So, pray for us. Pray for Ukraine. And help us, if you can.