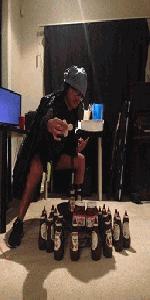 User

Reviews 2
Approval 94%

Soundoffs 213
News Articles 58
Band Edits + Tags 151
Album Edits 121

Album Ratings 2686
Objectivity 69%

Last Active 01-06-23 2:36 pm
Joined 02-20-16

Review Comments 28,641


Goodbye Dad

Last week I lost my dad after a 4 year battle with prostate cancer. (1960-2022)
1
The Police


Synchronicity





My dad always referred to us as partners, and over the years we went on countless adventures together that took us all over the country. We drove from NY down to Texas, back up to Colorado, up to Wyoming, and then all the way back on a couple weeks long trip back when I was in high school, and that was so much fun. The last journey we took together was just before he told me about the cancer, and we went to an amusement park. We had a blast together, it was like my dad turned into a kid again that day.

2
The Police


Outlandos d'Amour





My dad became a father in 1987 with my oldest sibling, my brother, and became a father of 4 in 1995 when I was born. I always felt closest to my dad, in large part because I was the only sibling that lived with him after the divorce of my parents (my sisters lived with my mom and my brother was on his own). My dad taught me a lot about being kind and selfless; he was always thinking of others before himself, even in his final days.

3
The Police


Ghost in the Machine





He was a teacher for nearly 30 years, mostly known as a high school (11th and 12th) English teacher. His love of literature was strong; he could tie any situation to a lesson taught in the books he loved reading. His favorite author was William Shakespeare, and he could dissect that man's work like no other. I've received countless emails and writings from former students saying what an inspiration he was to them, all written beautifully as to be expected of a student that had my dad as a teacher.

4
The Police


Reggatta de Blanc





He loved art of all forms. In my city there's an event downtown called "First Friday" every month (the first Friday if you will) where art is shown in galleries all over, and he rarely missed an opportunity to go with my stepmom. As a teenager and into his 20s, my dad loved disco music, and that love never truly died (even tho disco itself did). He enjoyed it whenever I showed him new music, and we bonded over a lot of different bands I would show him over the years. I always looked forward to showing him the next Polyphia track that got released.

5
The Police


Zenyatta Mondatta





Back in June we were told the cancer spread to his liver, and I didn't want to believe it. Over those next few months I saw him get weaker and weaker every day, and that tore me up. He was completely bed ridden two weeks ago when he said he couldn't make it down the stairs. After many rough nights helping him in any way I and my family could, he finally was able to sleep peacefully for a night without getting up. Surrounded by loved ones, he passed peacefully the next afternoon.

6
Sting


Ten Summoner's Tales





My dad passed away on October 24th, 2022 at 2:01 pm, just 5 days before his 62nd birthday. I'm glad you're not suffering anymore dad, I'm gonna miss you so much and I'll always love you.