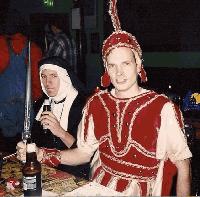 User
Reviews 1
Approval 100%
Soundoffs 90
News Articles 12
Band Edits + Tags 135
Album Edits 43
Album Ratings 1216
Objectivity 58%
Last Active 11-26-18 6:06 am
Joined 01-02-16
Forum Posts
0
Review Comments 4,007
I Wanna Kill Everything

I was writing a paper for rhetoric and I was getting ready to finish it up when I went and double checked the rubric and it turns out I've done almost all of it wrong, meaning I have to pretty much redo the whole thing and it's due Friday. I am so fucking furious. If my roommate wasn't here, I'd actually be going completely fucking ballistic. I honestly don't know how I'm holding it together right now and I'm so mad my taint is quivering. On top of that, my headphones are only working on one side, so I can't even properly enjoy some angry music as a means of catharsis. AAAAAAAAAAAAAAAAAAAAAAAAAAAAAAAAAAAAAAAAAAA
1
Full of Hell and Merzbow


Full of Hell and Merzbow





Oh yeah, just remembered that I have THREE other papers due that day as well that I haven't even started on because they were all assigned today. Just... just fucking end everything.