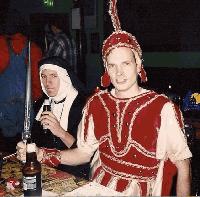 User
Reviews 1
Approval 100%
Soundoffs 90
News Articles 12
Band Edits + Tags 135
Album Edits 43
Album Ratings 1216
Objectivity 58%
Last Active 11-26-18 6:06 am
Joined 01-02-16
Forum Posts
0
Review Comments 4,007
RIP Stephen Hillenburg, creator of SpongeBob

First Stan Lee, now this.
1
SpongeBob SquarePants


It's a SpongeBob Christmas! Album





I am truly without words. There's been a lump in my throat for the past 10 minutes and I'm genuinely on the verge of tears.

2
SpongeBob SquarePants


The Yellow Album





SpongeBob is one of the most important cartoons ever and has united a generation. Very few shows have brought such long lasting widespread joy.

3
xSPONGEXCOREx


How Tough Are Yah?





Sure, the later seasons tailed off in quality, but the amount of quotables and jokes from the first 3 seasons is never ending. We have lost a legend today.