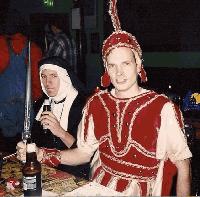 User
Reviews 1
Approval 100%
Soundoffs 90
News Articles 12
Band Edits + Tags 135
Album Edits 43
Album Ratings 1216
Objectivity 58%
Last Active 11-26-18 6:06 am
Joined 01-02-16
Forum Posts
0
Review Comments 4,007
This House is a fuCKING NIGHTMARE

Post-midnight food escapades at my house, the complications that follow, and digs.
1
Night Verses


From the Gallery of Sleep





So, I hadn't eaten much all day because I just do that sometimes (like a lot), so I made myself some wings, and that went off smoothly without a hitch. Got a new wing sauce for my birthday from my girlfriend's parents and wanted to try it out and it's so fucking good. If you're into wings, pick up Solomon's Spicy Wing Sauce. Really good. Ate seven wings and put on some Friday Night Lights.

2
Have a Nice Life


Deathconsciousness





Next food item went off mostly without a hitch as well. I was still hungry after my wings, so I decided to make myself some Kraft Triple Chees Macaroni and Cheese. (SIDENOTE: for those who bag on Kraft Mac and Cheese, go fuck yourself. The homemade "real" mac and cheese genuinely tastes like vaguely cheese flavored anteater semen and noodles made from whale scrotum that was boiled at 100 degrees Fahrenheit in Lake Eerie. And that's the better kinds that I've had. So yeah, keep that gross ass shit to yourself and I'll stick to my superior Kraft that takes four minutes instead of four hours). After it was done and the flavoring powder was added, I decided to add a little extra milk for that prime creaminess. Sadly, we didn't have the whole milk that I was expecting because I forgot that my 7 year old brother made the executive decision of the household that we would no longer be drinking whole milk because it's "too unhealthy", despite that being what he's drank for most of his life.

3
Slint


Spiderland





The kid is genuinely underweight and basically needs to be force fed to regularly eat. Whole milk is one of the ways we keep any sort of weight gain consistently on him, so I have no idea why my mom decided to switch. Irrationally irritating smaller siblings aside, 2% would do pretty much just fine, nit picky at that point. The Mac was tasty and I continued on with my show.

4
The Antlers


Hospice





Shortly after that though, I had a bit of a sweet tooth craving, and with a glass of recently poured, unfinished milk that accompanied my now finished mac and cheese, I thought that some Oreo's would do swimmingly. The minor hitch ups continue and the package of Oreo's is nowhere to be found. I searched through the cubbard for some time before I came to the conclusion that my fat ass had already finished them.

5
Crywank


Tomorrow Is Nearly Yesterday...





Disgruntled but not yet discouraged, I moved on to my next favorite treat, honey. Yes, straight fucking honey. My mom calls my Pooh due to this (it may also be due to the fact that I am a shithead, but I choose to believe the prior of these two options). There was a bottle that was nearly finished that I was snacking on the other night with some very nice crystallization and solidification going on at the bottom that is just MONEY. I went searching for it, and again, came up empty handed in pantry spelunking. I felt defeated, refusing to settle for the leftover cake and pie from earlier today, as I do not like cake and already had pie. However, in my pantry foraging, I came across some Sriracha ketchup that sparked a new hunger in me: the midnight hotdog. I challenge you to name a better time for a hotdog than at a time like this; morale is down from a lack of desired sweets and it's past midnight. No better time.

6
Brand New


Science Fiction





This is where the story reaches its climax and I, my breaking point. I go to the fridge to find myself a package of hotdogs so that I may extract one to microwave. I easily find a package, but when I go to look for buns, t h e r e a r e n o n e t o b e f o u n d. Not a singular bun. It's not like this package was near empty and we just ran out at an inopportune time, no, not at all. There were at least 12 perfectly good, uneaten hotdogs in there. Where the plot really thickens is that in my searching, I found not one, but two more packages of hotdogs with 10 or so hotdogs in each. So let's put this in perspective: we have a fridge filled with 30~ hotdogs, a n d n o t a s i n g l e b u n. What has this household come to? I really don't have any idea how such a travesty could have occurred.

7
Carissa's Wierd


Songs About Leaving





I have two slight ideas. one possibility is that we recently cleaned out the fridge and maybe when that was happening, the hotdog buns were thrown away without much inspection for some reason. That theory doesn't really make sense because we've ordered hotdogs since then and usually when you buy hotdogs, you buys buns with them as well and obviously, there are no FUCKING BUNS. My other theory is that my mom's ex-boyfriend is coming over and stealing them. That sounds crazy, but I've forgotten to lock the door a couple nights and he's done similar shit (i.e. cutting the cord to my gaming headphones because he thought that my brother (His son. We got different dads, long story) was playing too much video games). I will be confronting my mother about this on the morning. Anyways, how's everyone else's night? Anyone have similar experiences? Thoughts? Prayers? Solutions?